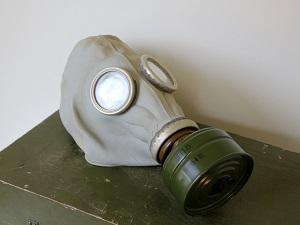 Hi, Today I would like to talk about the Soviet GP-5 gas mask. When the cold war was going on, the Russians built some extensive bomb shelters in most of the major cities in the Soviet Union. The civil defense system had to equip millions of men women and children with the basics in case of war. They had huge underground warehouses full of equipment they hoped they would never have to use.
After the collapse of the Soviet Union, some of the satellite nations broke away, becoming independent, but still had the Soviet civil defense stockpiles in their country. So they started selling it off to the west. The GP-5 is one of the things they started selling, it is like all things from the old Soviet Union, simple but practical. If you are looking for a cheap, fast on, fast off gas mask, this is for you.
The GP-5s are new as they have never been used, and were kept in storage. If you are looking for a serious biological warfare mask………then keep looking. Tests made in Poland on the GP-5 rated it effective for chemical / biological / nuclear protection for up to 24 hours. That's all fine and dandy, but I wouldn't trust it for biological. My attitude is that with modern biological, chemical warfare the way it is, you will most likely be infected before you are even aware of the threat. That is a scary fact folks, prepping for it is like a terminally ill cancer patient stopping smoking…….too little, too late.
The reason I picked this mask up is to protect myself from the two most likely things that I will run into, and they are OC and Teargas. The GP-5 will shine against those things without any doubt, I have a buddy that was an ex deputy marshal and prison guard before that. He told me that wearing that would indeed protect me from any OC and teargas.
The GP-5 comes to you (or should) with a military cloth carrying case, a can of anti fog, disposable lens rounds (keep the aluminum can, throw the anti fogs away….junk), and a canister. Throw the old Soviet canister away, as all are expired, buy a modern industrial canister for it, most will run about $35 apiece. The Canister will cost you 3 times more than the mask itself. The mask should be sized correctly, if a seller tells you one size fits all……..they don't know what they are selling, and you will most likely be paying too much for it.
Look for Eastern European sellers, that's where the old warehouses were, they know what they are selling and should give you a sizing chart to order from. Its easy on, just stretch over your head, you have complete head coverage, pull the canister stopper……..and you're in business!!!!!
For the price, you cant beat it. And it will indeed protect you from OC and teargas that will be used liberally by law enforcement in times of civil unrest. If you live in an urban area or where you think this may be a possibility, then the GP-5 is good to have.