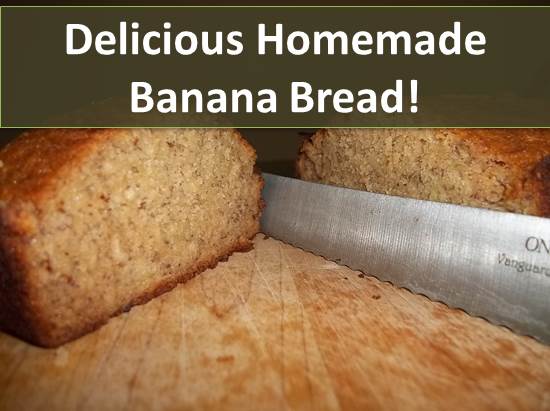 If you paid attention to last week's "Make it Monday" post on the makeshift tea light oven then you will have noticed that I made some delicious homemade banana bread and so I figured I would share that recipe with you here.
Personally, I LOVE banana bread and it's always been a treat when my sister-in-law or my wife makes it. It's so delicious, in fact, that I refuse to eat the store-bought stuff anymore… ever.
I should point out that this recipe is adapted from a vegan banana bread recipe but can be easily made with "regular" stuff which is mostly what we had around so that's what I used. I'll just list what I used here.
Ingredients
5 bananas, mashed (about 1.5-2 cups worth)
3 cups sugar (I used about 1.5 cups sugar and 1 cup honey; you can adjust to your liking)
4 eggs
1 tsp vanilla extract
2 sticks butter, softened (recipe calls for vegan butter but you can use regular sticks of butter)
4 cups flour
1 tsp salt
1 tsp baking soda
1/2 cup milk (recipe calls for almond milk but I used regular "cow" milk)
1 tbsp vinegar (I used apple cider vinegar and the directions actually say "a little bit" so I guessed 1 tablespoon)
Directions
Add vinegar to milk and let sit (I have no idea why I'm supposed to do this but I did it anyway).
Beat together sugar/honey, eggs, vanilla extract, butter (after being softened).
Add mashed bananas, flour, salt, baking soda; mix together well.
Add milk (with vinegar); mix again.
Grease 3 pans (with flour spray or whatever works for you).
Cook at 350F for about one hour.
Remove from oven and let cool completely on cooling rack.
The bread should rise to about half the height of a typical loaf pan and may crack down the middle but that's ok. You can store in the fridge or freezer to prolong the bread but it rarely lasts that long around my house. 🙂