Do you know what the 100 items to disappear during a disaster are? How about a nationwide collapse?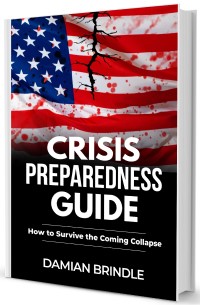 Traditional survival gear like a bow saw, cast iron cookware, and canning supplies only scratch the surface when preparing for nationwide collapse. In fact, many items most preppers consider crucial, such as a generator, propane cookstove, or kerosene lamp will soon become useless post-collapse if fuel becomes too costly or difficult to obtain.
Join Damian Brindle, long-time survival blogger with thousands of readers, as he breaks down the most VITAL actions, equipment, and supplies to have before the coming collapse. Whether it's another wordwide pandemic, nationwide riots, or an economic collapse due to skyrocketing government debt, your chances of survival drop dramatically if you don't have the proper gear to see you through. Damian has spent decades ensuring he and his family will be safe whatever life throws at them – now he's bringing his expert knowledge to you.
Inside this powerful survival guide, you'll discover:
How to Prepare Yourself Financially (it's not just about having gold and silver or Bitcoin)
How to Feed Your Family During Lean Times (a vegetable garden is only part of the solution)
Precisely Which Equipment and Supplies to Stockpile (including 11 essentials that are hard to make post-collapse)
7 Primary Concerns for Collapse Survival (there's more to your survival than having plenty of food and water)
Additional Considerations Few People Recognize (including why bartering is a bad idea, how pest control is crucial, and why a bug out bag is pointless)
And So Much More!
Don't risk getting caught out during our impending collapse by having the wrong supplies – or even worse, having failed to prepare before it's too late. Now you can ensure that both you and your family are well-fed, healthy, and ready to face what's coming with this powerful survival guide.
Don't leave your survival up to chance! Fast to read and easy to implement, buy now and discover precisely how to prepare for America's coming collapse starting right now.
(Note: If you prefer the paperback version, click here.)