The basic disaster information you need to know follows. Most of this disaster information comes directly from the Federal Emergency Management Agency (FEMA) or the Centers for Disease Control (CDC) via PDF files (for download) or website links. Note: this website is NOT affiliated with FEMA, the CDC, or any other government or charitable entity.
For the Kids…
If you have young children I suggest you visit Ready Kids to find a variety of information aimed at educating children about disasters. Another useful child-related site includes Sparky the Fire Dog as well as plenty of articles and videos about Fire Safety for Kids here. Check them out and let your kids learn!
DISASTER-SPECIFIC INFORMATION
Check out Disaster Preparedness at Home: Filter Out The Damage for a good overview (including bullet points) of what to be aware of for blizzards, floods, hurricanes, tornadoes, earthquakes, and droughts.
Also, if you rent you should review Disaster Safety for Renters: What You Need to Know to Keep Your Family and Your Belongings Safe as it includes both warning signs of past damage as well as questions to ask your prospective landlord about the rental property before you commit.
And if you own a small business, consider an SBA disaster loan and understand how to get FEMA assistance when you need it most. Also, read this Natural Disaster Risk Management Plan for Business Leaders.
Now, onto the specific disaster information to know…
Earthquake Disaster Information

Earthquake Home Hazard Hunt [PDF File] – A useful two page to-the-point document you can use as a thought-starter to prepare your home for future earthquake disasters. Most ideas are relatively inexpensive DIY projects.
Protect Your Property from an Earthquake – Links to a lot of information about staying safe during an earthquake; look to the "additional resources" links at the bottom.
Homeowners Guide to Earthquake Safety [PDF File] – A good look at the various weaknesses a home might have in an earthquake, how to identify the weakness, and possible solutions. Know that some of the solutions are probably quite expensive to remedy, although you need to know these problems and solutions exist.
Hurricane Disaster Information

Tropical Cyclones – A Preparedness Guide [PDF File] – A several page document that introduces what a hurricane is, how to stay safe, what to do if a hurricane is coming, etc.
Avoiding Hurricane Damage: A Checklist for Homeowners [PDF File] – Briefly outlines several actions you can take before a hurricane to limit damage including protecting your home from high winds and flooding. Note that many suggestions may require a contractor to perform the work.
Cleanup of Flood Water – Brief discussion on how to expedite the cleanup process after a hurricane and another article specifically for flooded basements.
Cleaning and Sanitizing with Bleach after an Emergency – Recommendations on proper mixing and usage instructions to clean and sanitize various items including water, food, mold, etc.
Preparing for High Winds: How to Protect a Home from Damage – Discusses how to beef up doors, windows, roofs, siding and more. As with most things preparedness, doing a few small things now could save a bunch of trouble down the road.
Other Useful Resources
Recovering from Disaster: Getting the Most from Your Homeowner's Insurance
Hurricane Preparedness for Businesses
Hurricane Preparedness Tips for Parents
Tornado Disaster Information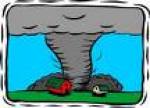 Tornado Information – Links to brief information outlining what to do before, during, and after a tornado.
Taking Shelter From the Storm: Building a Safe Room for Your Home or Small Business (very large PDF file) – An in-depth look at your risk for a tornado (or hurricane), whether you need an tornado safe room, and planning considerations.
Safe Room Construction Plans and Specifications – Links to several tornado safe room designs you can emulate depending on your home.
Safety Precautions for Tornado Season Travel – General information for staying safe if stuck out and about (like in a vehicle) during a tornado.
Winter Storm Disaster Information

Winter Storms and Extreme Cold – Links to preparation steps you can take including how to prepare your home and car for extreme cold during a winter storm as well as guidelines to follow during a winter storm.
Prevent Hypothermia & Frostbite – More detailed information regarding hypothermia and frostbite and what to do about it.
How to Prepare For A Blizzard: The Ultimate Guide – Discusses what to stock up on, how to prepare for a coming storm, mistakes people make (this is important), as well as what to do after the storm subsides.
Wildfire Disaster Information

Avoiding Wildfire Damage: A Checklist for Homeowners [PDF File] – Brief two page document that poses several questions you can ask yourself regarding wildfire preparedness.
Ready for Wildfire – An interactive website with plenty of helpful ideas to get your home read for wildfires.
Dealing with Burns [PDF File]- Basic information about burn prevention and what to do about first, second, and thrid-degree burns (see the second half of the document) if injured during a fire or otherwise burned.
Wildfire Smoke is Dangerous – Fires bring smoke, and wildfires can bring a lot of it! Here's what to know to keep yourself safe, even when the fire is miles away.
Protecting Your Home and Property from Wildfires – Discusses creating defensible zones around your home (with multiple PDF references I would suggest downloading), building material choices, and more.
Wildfire information – A quick reference about wildfires and wildfire safety if you're in a hurry.
Volcano Disaster Information

Are You Ready? Volcanoes – Links to  a brief description of what to do during a volcano eruption and how to protect yourself from falling ash.
USGS Volcano Hazards Program – Includes information about volcanic activity and more specific volcano hazards such as landslides, lava flow, falling ash, etc.
Flood Disaster Information

Protect Your Property from Flooding [PDF File] – Includes several actions you can take to reduce problems associated with flooding including such ideas as installing sewer backflows, raising HVAC and electrical equipment, and building tips. Understand that most of these recommendations should be performed by a qualified contractor.
Cleaning Up After a Flood – Various information about typical household cleanup after a flood.
Flood Waters or Standing Waters – Health risks of flood waters.
Cleaning and Sanitizing With Bleach after an Emergency – Recommendations on proper mixing and usage instructions to clean and sanitize various items after a flood including water, food, mold, etc.
UK Essential Guide to Flood Planning and Preparation – If you live in the United Kingdom this resource offers some good information about your flood risk, insurance concerns, creating a flood plan, staying safe during a flood, clean up, and plenty more.
What you should do if you get stuck driving in floodwaters – Floodwaters are dangerous, even in your car! Here's what to do should you get stuck in this perilous position.
Heat Wave Disaster Information

Heat Wave: A Major Summer Killer [PDF File] – Discusses what the heat index is, how heat affects the body, as well as how to prevent heat-related illness and more.
First Aid for Heat-Induced Illnesses – More in-depth guidance for dealing with heat-related illness common during a heat wave.
Extreme Heat – Another take on extreme heat from the CDC including FAQ, tips, specifics for the elderly, general prevention, etc.
Hazardous Materials (Biological / Chemical / Household Chemicals) Disaster Information

Are You Ready? Technological Hazards [PDF File] – Discusses hazardous material incidents (HAZMAT stuff), dangerous household chemicals (there are more than you can imagine), and nuclear power plant emergencies.
Bioterrorism – Links to basic information as to what to do during and after a biological attack.
Chemical Emergencies – More information that a normal person could want regarding chemicals including chemical-specific fact sheets, a chemical-specific toxicology FAQ, a more detailed look at sheltering in place, and how to cleanse oneself if contaminated with a chemical agent.
Nuclear Disaster / Nuclear Blast Disaster Information

Nuclear Power Plant Emergency – Links to discussion on what to do before, during, and after a nuclear disaster.
Are You Ready? Nuclear Explosion – discusses radioactive fallout and protections you can take before, during, and after a nuclear blast.
Are You Ready? Radiological Dispersal Device "dirty bomb" – Brief discussion on what to do during a "dirty bomb" attack (similar to the nuclear blast info).
Radiation Emergency Information for the Public – Information on dirty bombs, sheltering in place, potassium iodide, as well as other interesting info pertinent to a nuclear disaster.