Predators are, by their very nature, more cunning, agile and fierce than prey animals, making them more difficult to hunt. The coyote, for example, is a fast, adaptable and agile creature capable of running up to 40 miles per hour. Apart from being difficult to hunt, predators are also dangerous to hunt.
However, predator hunting can be beneficial especially for whitetail deer hunters. A study by the Pennsylvania Game Commission revealed that 84% of deer fawns are killed by predators before hitting nine weeks of age. In South Carolina studies indicate the 100 % of fawns killed by predators were killed within nine weeks of birth. All these statistics indicate that predators have a negative impact on whitetail deer populations. Predator hunting is one way to even the playing field and ensure more whitetail deer make it to adulthood.
When going predator hunting, however, there are somethings you will need such as rubber hunting boots. Below I have compiled a list of simple tactics you can use to achieve success.
Hunt in pairs
Most predators that roam our forests hunt at night. Unfortunately, our eyes do not work so well during the night. Animal eyes, on the other hand, have natural night vision meaning that we are at a natural disadvantage. Apart from having better eyesight, animals also have a stronger sense of smell. In fact, most animal's sense of smell is thousands of times better than ours, which means that, yet again, we are at a natural disadvantage.
Fortunately, thanks to technology we have been able to make the playing field a little bit more even. For example, with e-callers you can trick animals into going where you want them. In my experience, however, I have found that it's most beneficial to hunt in pairs.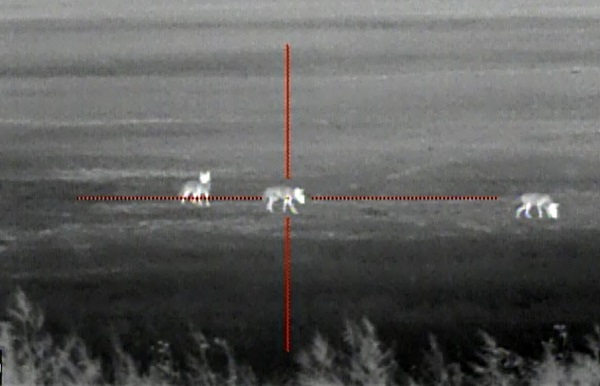 Due to the natural disadvantage we have, it is fair to say that two pairs of eyes are better than one. When hunting with a friend you can cover a wider area. More importantly, one of you can be the caller while the other takes the shot. Using e-callers at night helps draw animals to a specific place. One hunter will be doing the calling drawing the animal to them while the other can station themselves 20 to 30 yards away. The animals will be attracted to the source of the sound and not to the shooter. Hunting in pairs makes already difficult work a lot easier.
Take advantage of elevation
When hunting predators, a long-range rifle will come in handy. Unlike prey animals, which you can shoot from close range, predators are agile and cunning. So, the best way is to scope a predator from long range. Since our eyes are not designed for long-range viewing, a rifle scope is a must. To improve your chances, it is recommended you use some kind of elevation because, from an elevated position, you are able to see further.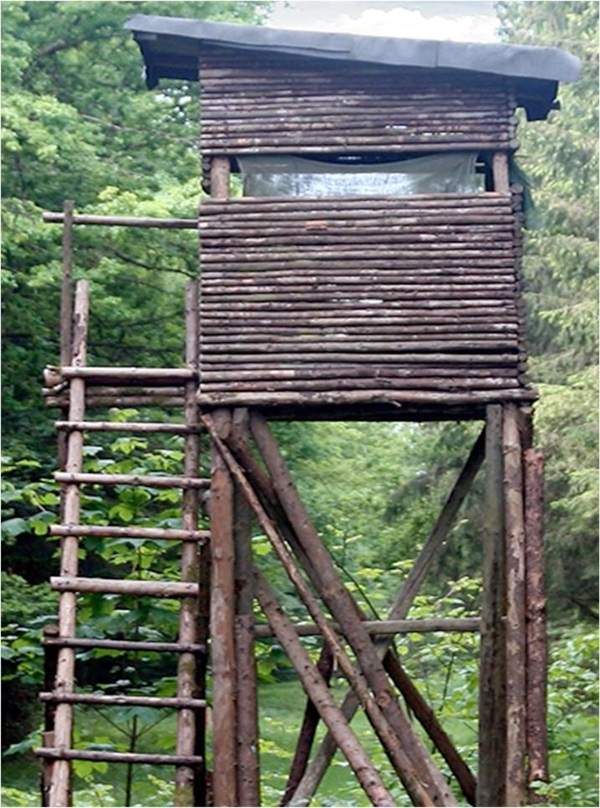 Also, from an elevated position, your calls go further. Camouflage is important when scoping an area from an elevated position as well. Thus, dressing in full camo is advisable. This is to ensure you blend in perfectly with your surroundings. To maximize your chances only move when it's time to take the shot.
Call after the shot
As I have already stated most predatory animals hunt at night. Therefore, the best time to hunt is early in the morning and late in the evening when visibility is low. After taking a shot do not make the mistake of leaving your position before calling again after five or so minutes. The reason is that another animal might be in the vicinity. You might take down one predator only to walk right into the clutches of another. Calling again after a shot is a precautionary measure.
Use the right tools
The tools you use to hunt predators will determine the success of your hunt. This includes scopes, firearms and even the ammo you use. When it comes to firearms, the AR 10 and AR 15 platforms are the most popular among predator hunters. The reason being is that these two firearms allow for quick follow up shots. Needless to say, the rifle you use should be in good condition. Regular firearm maintenance is crucial to your hunting success.
Predator hunters cannot seem to agree on which cartridges to use when hunting coyotes, bears, wolves and other predators. In my opinion, it all depends on what you are shooting at. A 22-250 is enough to take down a wolf from 150 yards. The 22-250 is preferred for wolves and coyote since it does not leave large exit holes which may damage the fur. As such, this cartridge is ideal if you are hunting for fur. On the other hand, a .308 Winchester is ideal for bear hunting.
Apart from a firearm and ammo, you will also need a reliable rifle scope. Finding the best 22lr scopes for predator hunting is not always easy. Ideally, you should go for medium to long range scopes. Medium range is from 75-150 yards while the long range is from 100 yards to 500 yards. A scope with a 3x to 9x magnification is suited for medium range shooting while one with a magnification of between 4x and 12x is designed for long-range shots.
In my experience, the best 22lr scopes include the Nikon Prostaff Rimfire and Simmon 3-9X 32 mm riflescope. On the other hand, the best scope for AR 10 is one with a 3-9x magnification. Also, you can go for a scope with a 4X-12X magnification for long range shooting.
Shooting sticks will also come in handy when you want to shoot accurately. I prefer shooting sticks over bipods because they can be used on a wide variety of terrain whereas bipods are best suited for flat terrains, but not for hilly or rolling terrains. Taller tripods are useful for nighttime applications and can be shortened for daytime use. If you prefer to hunt sitting down, I recommend the Harris S25C bipod, which allows for side to side movement.
Check waterways
Animals need water to survive. With that in mind, waterways such as streams and rivers, attract many animals both predators and prey. Early in the morning, you are likely to find animal tracks on the banks of streams and rivers. This is when most predator animals are active and searching for prey. Since prey animals are found near waterways, predators are never far off behind. Setting up a stand near a stream or river will increase your chances of a successful hunt.
Observe wind patterns
Predators have a very good sense of smell as probably already know. And thanks to the wind predators can sniff you out from a very long way out. This means that the wind can be your worst enemy if you are not careful. It is not advisable to have the wind at your back.
According to science humans shed hundreds of thousands of skin particles per hour, these tiny pieces of skin get carried by the wind and catch the attention of animals. Avoid this by moving so that you're downwind or, at least, to the side.
Do not be near vehicles
Often, we drive to our preferred hunting locations. Vehicles improve mobility but can hinder you from having a successful hunt. It is recommended that you move 100 yards away from your vehicle before you start hunting. Vehicles and other mechanical devices produce a scent that can easily be detected by predators.
As if that is not bad enough, predatory animals tend to shy away from vehicles. In fact, most animals will run away from anything that looks like a vehicle. Moreover, driving over dusty or gravel roads produce sounds that can be detected by animals.
Unfortunately, ditching your vehicle is not enough. The shoes you wear can also ruin your chances of success. There are many types of hunting boots out there. Rubber boots are ideal for hunting predators since they can withstand different conditions. The boots you select for your hunting needs should have an outer rubber sole to minimize noise when walking.
Pay attention to weather changes
Although the American black bear is one of the few bear species that does not hibernate during winter, they are not active during extreme weather conditions. During rainy and snowy days predators tend to be less active than on moderately temperate days. Predators also tend to be less active during extremely hot days.
It is important to take note of weather changes and how predators react to them. During winter, for instance, go hunting when the sun comes up after a snowfall. Days with moderate temperatures are also great to go out hunting. Predators are likely to go out hunting all day long after a storm as well.
Use traps
Hunting predatory animals require experience. If you are not an experienced hunter, the best thing to do is use traps, scents, and calls. Strategically placed scent lures can attract a predator in no time. If you are poor at making calls you can buy pre-recorded calls. Trapping can make things a lot easier.
The problem is that not all animals can be easily caught using the same trap. Thus, you must customize your trap to fit the animal you want to hunt. With fox hunting, for example, one of the best traps to use is the #2 Montgomery Dogless Coil Spring since they lie very flat and are easy to hide.
Be stealthy
Stealth is an art that is needed when predator hunting. Due to animals having heightened senses, it is important that you learn the art of being stealthy. The way you walk through brush can often make a world of difference. When predatory animals sense movement or human odor they can do either one of two things: run or attack. If an animal decides to do the former, then you will be in serious danger.
Walking stealthily is not enough, though, as you also must rid yourself of any scent. Buying scent blockers is one way of protecting yourself during a hunt. In addition, you should invest in camouflage. The camo you select should help conceal you and your weapons. A combination of scent blockers and camouflage can help achieve maximum stealth.
Use the right decoy
The use of decoys is prevalent among predator hunters, and for good reasons. Decoys and artificial callers increase a hunter's chances of going home with a kill. That being said, it is important to know what kind of decoy to use. The period between late February and March is breeding season for coyotes. In most instances, you will find coyotes traveling in twos to protect denning areas from unwanted visitors. Using a coyote decoy is an effective way to lure coyotes. Due to them being territorial coyotes tend to be confrontational during the breeding season. And there is nothing more confrontational than a rival coyote.
Whitetail deer breeding season is usually from late April to May. And, as I already explained, coyotes and other predators love whitetail deer fawns. Thus, when hunting coyotes, use a fawn in distress call. Anything that sounds like an animal in distress will attract predators. As spring comes to an end and summer begins predators will most likely be found under shade and near rivers.
Conclusion
We've outlined nearly a dozen actions you can take to increase your chances of bagging yourself a predator. However, it is important to note that predator hunting is a wide topic to cover and not easy. As such, it will require a bit more practice as compared to whitetail deer or turkey hunting. Nevertheless, when you use the tactics outlined above, few predators will stand a chance.
Author Bio
Glen Artis is the founder of OutdoorEver. A proud hunter, writer and weapon enthusiast, He has a deep respect for the animals that roam our forests and for the environment. His passion is sharing what he knows with those who are new to hunting or those who want to know.