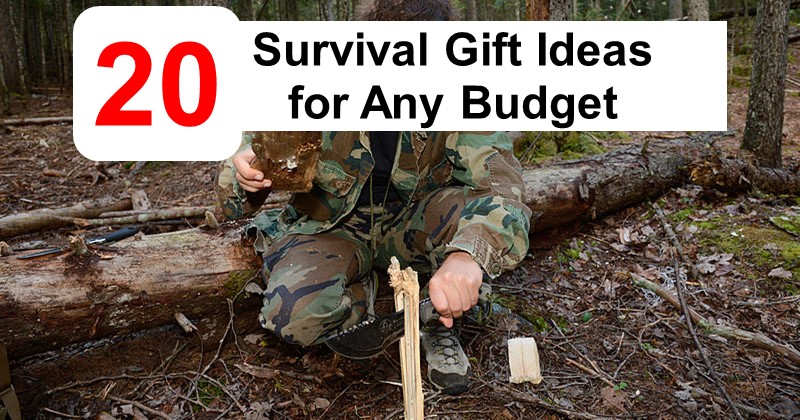 For the sharpshooter looking for the best "bang for their buck" to preppers who want to find a great deal on their next knife, we've compiled a list of high-quality, affordable gear that anyone can purchase — either for themselves or a gift for their ever-diligent friends and family members… but, let's be honest, we both know it's for you, lol.
In this list, we'll cover knives, firearm attachments and accessories, survival watches and camping supplies. Let's start with the basics:
Knives Under $100
Whether out in the wild or deep in a city, you may have to navigate many obstacles that require the use of a knife. A such, it should be something dependable that won't break or quickly dull, and you need something relatively inexpensive that meets their expectations.
Here are some quality blades that are under $100.
1. KA-BAR USMC Knife ~$75
With a recognizable design that continued to dominate for decades after its debut, the KA-BAR USMC Knife deserves its good reputation. At a length of 11.875 inches and a weight of 11.2 ounces, this classic model feels good in the hand and works well in the field. For those who want utility as well as an attractive aesthetic, buyers can choose between a Kraton and leather handle.
2. Gerber LMF II ~$80
The Gerber LMF II is a smart choice for those who want to stay within their budget without sacrificing quality. With a total length of 10.6 inches and a weight of 11.7 ounces, this is a small and lightweight knife made of 420H stainless steel, a robust material that's rust-resistant and durable. Designed by a former member of the military, who could expect anything less?
3. KA-BAR Becker BK22 Companion ~$80
Another excellent contribution from KA-BAR, the Becker BK22 Companion is a favorite among both new and experienced preppers. At an overall length of 10.5 inches and a weight of one pound, this knife is on the heavier side. But its ergonomic design accounts for this, offering easy handling of a dependable carbon steel blade with strong wear and corrosion resistance.
Knives Over $100
For those who are willing to spend a little more for their knives, here are additional options above $100.
1. ESEE 6P ~$120
Of all the knives in ESEE's inventory, the 6P is one of the finest, an excellent addition to any belt. At 11.75 inches long with a weight of 12 ounces, the 6P has considerable size and heft for those who are expecting heavy use. And with a wide selection of different color options, buyers can customize the knife to fit the style of the prepper they're purchasing for.
2. Tom Brown Tracker T-3 ~$250
Though this model is on the pricier end of the scale, users of the Tom Brown Tracker T-3 will find that the cost is well within reason. At 10.75 inches long with a weight of 13.26 ounces, it's not as lightweight as the other options in this list. That said, those who enjoy a truly unique design will find the appearance of the T-3 appealing, and its serrated back edge provides extra utility.
Firearm Attachments and Accessories Under $100
A reliable firearm is an absolute necessity for anyone serious about prepping. If the prepper in your life has a license and a weapon but lacks a good attachment, consider one of the products below as a potential gift. There's something for everyone with all of the choices available.
We'll start on the lower end of the spectrum with attachments and accessories under $100, then work our way up.
1. XS Sight Systems Standard Dot Tritium Night Sight ~$60
For those who prefer handguns as their weapon of choice, those with an S&W or Ruger model will benefit from the Standard Dot Tritium Night Sight. No batteries necessary, this attachment uses well-balanced luminescence to make targeting easy and intuitive, doing away with sights that are overly bright and counter-intuitive.
2. VGS Precision Gamma 556 Muzzle Brake ~$60
With a simple attachment, owners of an AR-15 can reduce recoil and muzzle rise. The VGS Precision Gamma 556 Muzzle Brake has a dual function, classified as a brake with the attributes of a compensator. Offering the best of both worlds, this product is an excellent addition that enhances the user's accuracy while improving the look and feel of the weapon.
3. VLTOR IMOD Improved Modular Stock ~$80
To say this stock is "improved" is something of an understatement. From its utility on the battlefield to practical applications, the VLTOR IMOD Improved Modular Stock goes one step beyond. Waterproof side battery compartments, multiple sling attachments and a rolled/angled butt-pad with a wide traction area make this a must-have product for any AR-15 owner.
Firearm Attachments and Accessories Over $100
If there's extra room in your budget, consider these options in the $100 range.
1. Bushnell TRS-25 Hi-Rise AR Optics ~$100
An optics component for an AR-15 can greatly enhance a shooter's accuracy, you will appreciate this attachment. With several power settings, a 3 MOA red dot, multi-coated optics and a high contrast, amber-bright lens coating, you'll get more than your money's worth. Regardless of ambient light, the optics self-adjust, letting the user focus on what's important, like the target.
2. LUTH-AR Modular Buttstock Assembly ~$130
The LUTH-AR Modular Buttstock Assembly allows users to customize their weapon, adjusting the stock's pull length and weld height for maximum comfort. The ambidextrous nature of the stock makes it an excellent gift for both new and experienced shooters looking to improve their arsenal, helping their accuracy and performance on the range. At only 1.26 pounds, this item is a small addition that can make a big difference.
Survival Watches Under $200
Knives and firearms are great, but there are additional necessities that no prepper should do without. One of these standard items is a survival watch, something functional and durable that can take a beating in any weather or circumstance.
Here are several quality options for under $200.
1. Timex T49612 Expedition Trail Series ~$110
Though the quality is what you would expect from a watch that's a little over $100, the Timex T49612 is an excellent choice for those on a very strict budget. With good shock resistance and a waterproof design, you can take the watch anywhere without fear of damage. And the Indiglo lighting feature, unique to the Timex brand, uses different electro-luminescent lamps for multiple levels of lighting.
2. Casio Gw7900b-1 G-Shock Black Solar Sport Watch ~$90-$150
A classic brand, Casio has a commitment to value. The Sport Watch model doesn't stray from this commitment at an affordable price point, carrying many of the same features as its competitors. With excellent reliability, the solar-charged batteries can last up to nine months without needing a charge, and the waterproof design allows you to traverse any kind of environment.
3. Casio Pathfinder Triple Sensor Multi-Function Sport Watch ~$150
A large name in electronics, it's no surprise that Casio has more than one item on this list. Similar to their Gw7900b-1 model, the multi-function model comes with a barometer and altimeter as well as a feature that displays the temperature. Users of this model also have access to a fully automated calendar pre-programmed until 2099, making this a truly dynamic gadget.
Survival Watches Over $200
If you're willing to stretch your budget, here's a few quality watches over $200.
1. Seiko Sun007 Kinetic Wrist Watch ~$250
The kinetic design of the model charges it without the need for sun or batteries, using the movement of the user's wrist to draw energy. This is an attractive bonus for those who live in areas that see very little sunlight and can't rely on it to power their equipment. That said, this product has fewer features than many less expensive models, but depending on location, its kinetic function has significant value.
2. Citizen Nighthawk Eco-Drive Watch Bj7000-52e ~$300-$400
Though the price may prove a barrier to entry for some, for those with flexibility in their budget, the Citizen Nighthawk Eco-Drive Watch Bj7000-52e provides both impressive functionality and incredible durability. With the inclusion of a slide rule, users can perform complex calculations and convert different units of measurement, which can prove useful in situations where precision is necessary.
Camping Supplies Under $50
You may have to endure prolonged periods of time in the wilderness, away from the dangers of a collapsed society. To help stock up on all of the proper supplies, take a look at the items below to see if any would catch the interest of the prepper in your life.
Here are several inexpensive options available for under $50.
1. Coghlan's Tinder ~$6
Small enough that they add virtually nothing to the cumulative weight of a prepper's gear, Coghlan's Tinder is an excellent alternative to trying to start a fire with the friction from a stick. Place this in your pocket or a side compartment of your bag until needed and, at such a low cost, this product is an excellent secondary gift to a larger item.
2. S.O.L. Emergency Bivvy ~$14
The S.O.L. Emergency Bivvy acts as a lightweight personal shelter for those who find themselves deep in the forest during inclement weather. Composed of tear-resistant polyethylene, the bag reflects body heat to maintain temperature and keep the occupant warm and safe from wind, rain and snow. With a SOL Emergency Bivvy anyone can weather the elements with little trouble.
3. Gregory Mountain Products Hydration 3L Reservoir ~$36
Without a reserve of fresh water or access to a natural spring, those who wander into the woods or across an arid desert won't last long. The Hydration 3L Reservoir accounts for this issue with a product that's easy to carry from place to place, making short trips across the desert a far less frightening proposition. It also opens like a water bottle for no-hassle cleaning.
Camping Supplies Over $50
For those who have don't have a problem spending more, here's two more good options above $50.
1. Suunto MC-2 Compass ~$57
Laymen and prepper alike understand the necessity of a reliable compass. It can determine whether you make it through a sketchy location alive and intact or not. The Suunto MC-2 Compass is one of the best available today, with a globally balanced needle, a liquid-filled capsule for stability, declination correction and a mirror for covert signaling, among other features.
2. Solo Stove Lite ~$70
Recommended by Backpacker Magazine, the Solo Stove Lite fits neatly in any backpack. Small and lightweight, the stove is easy to transport and won't overburden a prepper as they cross long distances of difficult terrain. In addition to that, the device doesn't depend on canister fuel, but twigs, sticks, pinecones and other organic material that's easy to find.
There's Something Here for Everyone!
From knives to attachments and accessories for firearms, to watches and camping supplies, make sure that you do a thorough search to find the best product at the best price point. There's no need to sacrifice quality as long as you put the time into finding affordable alternatives within your range.
And, remember, this isn't just a simple gift that you're giving: you're giving a gift that may just save someones life!
NOTE: THIS WAS A GUEST POST.