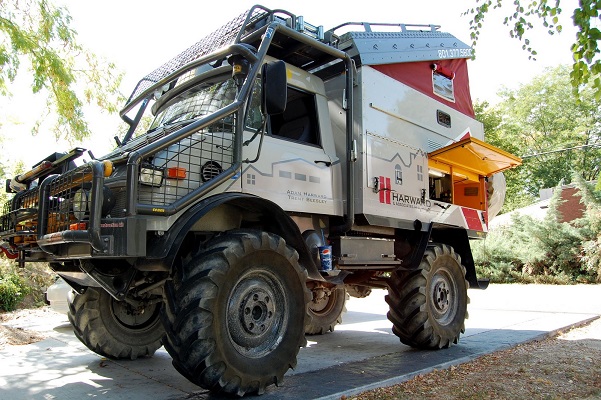 Recently I linked to an article on bug out route planning that reminded me why it's so important to have good alternate routes picked in advance of any significant disaster scenario.
There's no doubt in my mind that ANY and ALL major roadways–be they highways or city streets–will become an impassable parking lot in no time flat. You really do need to have a better plan.
Of course, there are those very rare circumstances where the ability to go off-road is a benefit but, IMO, I'd say they're far and few between. As such, the oft-touted advice that you should include a 4×4 for preparedness is overrated.
Don't get me wrong, I'd rather have one than not, and I do, but I'd say that anyone who lives in a city or suburb shouldn't make it a priority purchase. Focus on everything else first.
Why?
It's simple really: most cities and suburbs that I've been through aren't setup to allow for off-road driving whatsoever! Considering that they're littered with an assortment of barriers, guard rails, drop-offs (or embankments), an assortment of annoying buildings, as well as the occasional tree or shrub… most people wouldn't get very far. 😉 In fact, I'd say most people would get farther walking.
Think about it. Better yet, glance around as you drive along your normal routes on your way to and from work or wherever. Think: "What would I do if I came to a huge traffic jam right here, in this very spot?" Never mind that the nearest exit is within sight a quarter mile down the road… you're stuck NOW! Could you get around it… even with four wheel drive? Could you backtrack to get around it? Now do this several times over and don't just pick the spots where you have open space to maneuver… that's cheating.
I should note that there's obviously a huge difference in what each geographic region is like. In my former stomping grounds in the Midwest it wasn't unheard of to see open spaces where off-roading would be possible but, of course, these same places probably wouldn't be packed like a parking lot either. The roadways where traffic is often a mess in normal times are also the same places where it would be most difficult to get off-road.
On the other hand, where I now live in the Pacific Northwest, there's often nothing but a path cut through the trees and many two-lane roads… good luck to anyone off-roading through that. 😉
In conclusion, I'm not saying a 4×4 will make no difference during a bug out; I'm just saying that it's far less likely to be useful than most of use think. Obviously, as with more preps, the old adage still applies even to this: "I'd rather have one and not need it than to need one and not have it."