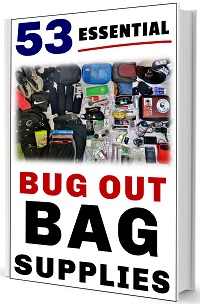 I'll keep this short and sweet, I'm running a $0.99 Kindle countdown deal on one of my more popular books, 53 Essential Bug Out Bag Supplies, and there's less than 36 hours to until the price rises again.
So, if you've yet to take advantage and to grab the book, now's the time to do so because the price goes up in about 33 hours as of this writing.
Built upon four tiers of gear and supplies, this book will show you precisely how to build a survival pack you can rely upon.
Besides the "53 essentials" we'll also cover…
The Problem with Creating an "Ultimate" Bug Out Bag List
Choosing a Bag: Which Comes First, The Bag or The Gear?
13 Unnecessary Items Most Go Bag Lists Include But Don't Need
…and plenty more.
Don't wait, grab the book while you can.