Since our move to Washington state I decided that–as much as I enjoyed using it–I didn't want to move and install our undersink reverse osmosis water filter yet again. After several years of relatively faithful use… it was time for a retirement party. And, so, I quickly convinced my wife we should part ways (err… with our filter, not each other) and purchase a complete Berkey Gravity Water Filter instead. Happily, she agreed.
Now, even though I already had Berkey filters and even created a makeshift "Berkey Clone" with 5-gallon buckets for emergency use, I figured I should finally make the investment and purchase the actual stainless steel unit so my wife will let me put it in our kitchen. 😉
Thus far I'm glad we've made the investment and I think she is too. Why?
Because it fits our needs really well and will provide consistently clean water for years to come. In fact, I did a little math and if each of us were to consume two gallons per day we could use this set of two filters for TWO full years! That's pretty darn cool if you ask me.
[Update for 2017: it's been over three years and the filters are still going strong as I haven't bothered to replace these filters, though, I have cleaned them a few times just to be sure.]
The reality is that, unless we're in a true emergency situation where we had to filter all of our water, a single set of black Berkey filters will last us significantly longer than two years. At our current rate of use I would easily estimate I could get three or four years of use from them without worry. FYI, here's a good infographic overview of the 203 toxins the Berkey filters eliminate… most of which I can't pronounce, lol.
Compared to replacing my under-sink filters roughly twice a year which easily runs over $100 per year, I'm definitely saving money buying a set of Black Berkey filters that will easily last for three or more years… and I LIKE the sound of saving money.
Did You Know There Are Different Sized Berkey Units?
I'd imagine you've heard people talk of "the Berkey" filter as if there is only one. In reality, there are a handful of sizes to choose from: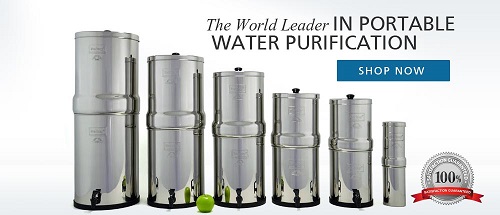 Basically, the difference is the amount of water each unit holds and, as you get into the large models, the number of filters you can install. But, for most of us, it's really about the amount of water each unit holds. Here's a quick breakdown (you can learn more about capacities and flow rates here) but this is all you really need to know:
Travel Berkey = 1.5 gal.
Big Berkey = 2.1 gal.
Berkey Light = 2.4 gal.
Royal Berkey = 3 gal.
Imperial Berkey = 4.5 gal.
Crown Berkey = 6 gal.
And a video on the differences if you're interested (skip to about the 1:10 mark to get to the comparison):
I choose the Royal Berkey filter system because it seems to offer just the right amount of holding capacity while not being too obtrusive. Of course, there's also something to be said for flow capacity, so, if you're needing more water faster then you're going to (1) need a larger unit and (2) need more filters installed at one time… like four or more. Granted, even the smaller units can hold four filters (excluding the Travel Berkey, I think) so flow rate shouldn't be a big deal for most family sizes… again, it's really about holding capacity.
[Update for 2017: While the Royal Berkey is just about right, with a family of four I'm finding I sometimes have to refill the Berkey, usually partially, more than once a day but not often. If I'd done this again I would have got a bit larger unit to make my life a bit easier.]
A Few Problems To Be Aware Of…
To be honest, it wasn't all roses to start with. Priming the filters was a bit of a mess for me because–long story short–I either didn't have a sink deep enough or the sink that was deep enough had a funny spigot with bumps on the surface that didn't allow for a clean seal and I wound up really pressing hard to keep from spraying water all over the place!! Eventually, I got it figured out.
Anyway, priming filters isn't a big deal and once you're done it's just a matter of installing them with a wing nut and washer. Here's a video on priming the filters:
The other major problem I had was that after purchasing the Royal Berkey (with 2 Black Filters and 2 PF-2 Fluoride Filters because my wife wanted fluoride out of our water) it turned out they included the WRONG fluoride filters! FYI, This was an Amazon.com purchase, not a Berkey.com purchase; regardless I don't know if there would have been a difference.
Anyway, there are two types of fluoride filters, one fits the black Berkey filter threads and the other type fits the ceramic Berkey filter threads, which are the ones I wound up with. I was not happy about that and will eventually get the correct PF-2 filters but, for now, we've ignored the fluoride filters and it all works just fine.
Some Things I Wish I Had Included…
I can already tell I wish I had purchased a water filter view spigot as I'm having to lift the upper chamber from the lower to check how much water is left so that I do not accidentally overfill it because the water WILL overflow and make a giant mess (ask me how I know) if there's still a fair amount of water left in the lower chamber. Granted, it's not a big deal to me anymore but it's still an annoyance I didn't have to deal with: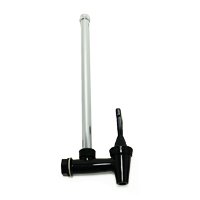 I also wish I'd purchased a stand made for the Berkey filters because our original plan was to just hang it over the counter-top but where it's located (which is next to the sink so we can easily fill it) the filter was in the way of our "daily operations" and so had to move ASAP. I've since built a temporary stand but now I either need to build something nice that will pass muster or purchase a proper stand like this: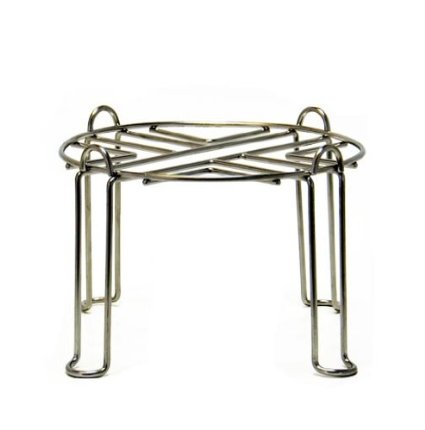 My Concluding Thoughts…
Overall, I'm very happy with my Royal Berkey and can't believe I didn't do this sooner! I'd imagine I thought it was cheaper (and maybe better or more convenient) to use my under-sink filter system but I'm afraid that wasn't the case at all. About the only advantage my under-sink filter had was that it was out of the way but in all other respects I think the Berkey Gravity Water Filters win hands-down… plus we've got space under the sink again.
A few resources to use:
Helpful Resources – Berkey Guides – Links to several popular articles that discuss choosing a system, differences in filters, comparison of Berkey to Reverse Osmosis systems and another comparing to distillation, manuals, and more.
Berkey Water Filters FAQ – Answers many questions about the Berkey filters, including regarding setup, maintenance, choosing a system, troubleshooting, and plenty more.
What about you? What experiences have you had with the Berkey water filters?