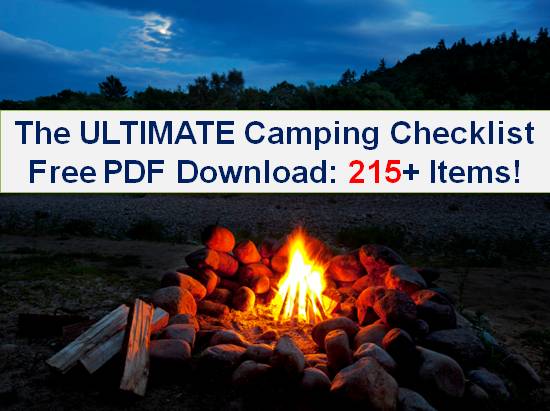 Do you enjoy going camping but find that you don't quite go often enough to remember everything you need and, without fail, you forget a handful of useful items? I know I have that very problem. If you can say the same then this camping trip packing list is for you!
DOWNLOAD FILE: Choose to download the following camping trip packing list as a PDF file for easier use. Right-click here to download now. Note that if the file opens in your browser instead then you still need to save the file by choosing "File -> Save" or something similar.
DIRECTIONS: It's easy to use, categorized, and sorted in alphabetical order. 🙂 Simply print out and check off items as you gather them for your camping trip. There is no need to try and take everything listed; some are just reminders, alternative options, or may not apply to you. Cross off what doesn't apply. Use the blank spaces to add your own items, if need be.
Feel free to share this post and the PDF file with anyone you like, be they friends, family, co-workers, fellow camping enthusiasts… anyone. Last, if you have suggestions to add for future versions please leave them in the comments section below the post. Thank you. Enjoy!
P.S. you might also enjoy these 35 Survival Foods to Stockpile as a supplemental to this list.
SHELTER / SLEEPING
Air mattresses / cots
Air pump
Eyeshades, earplugs
Hammock, rope
Mallet / hammer
Mattress repair patches
Pillows
Sheets, blankets
Sleeping bags
Sleeping pads
Tent
Tent footprint / tarp
Tent light, fan (and batteries)
Tent poles, stakes (include extra stakes)
Tent rain fly, guylines
Tent repair supplies
___________________
___________________
___________________
CLOTHING
(for each person)
Bandana
Gloves, mittens
Hat
Lightweight jacket
Long underwear
Pants, shorts
Rain poncho
Sandals (for around camp)
Shirts
Sleepwear
Stocking cap
Sturdy shoes, boots
Sunglasses
Sweatshirt
Swimsuits
Underclothes, extra socks
___________________
___________________
___________________
WATER
Portable water container (several gallon size)
Water filter / tablets
Water bottles, canteens
___________________
___________________
___________________
LIGHTING
Flashlights
Glow sticks
Headlamps
Lantern
Lantern fuel or batteries
Lantern mantles / wicks
Lantern pole, hanger
___________________
___________________
___________________
ELECTRONICS
AM/FM/Shortwave radio
Camera (with extra film and/or memory card)
Cell phone chargers (e.g., car auxiliary charger)
Cell phones
Two-way radios
Video camera
___________________
___________________
___________________
ENTERTAINMENT
Baseball, gloves, bat
Board games
Deck of playing cards
Fishing gear, bait, license
Football
Frisbee, boomerang
Kites
Paperback books and/or eBooks (on Kindle, iPad)
Puzzles (e.g., crosswords, Sudoku)
Soccer ball
___________________
___________________
___________________
DAY HIKING
Backpack, fanny pack
Bicycles, helmets, trailer
Binoculars
Compass
Geocaching materials (e.g., coordinates, trinket, etc)
Guidebooks (e.g., plants, wildlife, birds, bugs, etc)
Handheld GPS
Maps
Trekking poles
Whistle
___________________
___________________
___________________
COOKING / CAMPFIRE
Camp stove
Camp stove fuel (e.g., propane canister)
Campfire grill rack
Cast iron skillet (with lid)
Charcoal briquettes
Cooking utensils (e.g., spatula, tongs, grill brush)
Dutch oven, lid lifter, tripod, pie insert
Firewood (and kindling)
Hot pads / potholders
Lighter fluid
Lighter, butane
Marshmallow skewers
Matches, strike-on-box
Percolator, tea kettle
Tinder (e.g., fire starter bricks, newspaper)
___________________
___________________
___________________
FOOD PREP / USE
Aluminum foil, heavy duty
Bags of ice
Bottle opener / corkscrew
Can / bottle coolies
Can opener
Coolers
Cutting board, small
Disposable plates, bowls, cups, silverware
Drying rack, collapsible
Food storage containers and/or Ziploc bags
Funnel
Insulated mugs
Measuring cups, spoons
Mixing bowls
Napkins
Paring knife
Permanent marker (to mark names on cups)
Recipes (e.g., Dutch oven)
Tablecloth, disposable
Thermos / vacuum bottle
Utensils (e.g., spatula, ladle, whisk, potato peeler)
___________________
___________________
___________________
FOOD / DRINK
Beverages (canned, bottles, water, juice, etc)
Bread, bagels, muffins
Butter / margarine
Cereal / granola / oatmeal
Cheese
Cocoa / hot chocolate
Coffee, tea
Cooking oil / spray
Crackers, chips
Eggs
Fruit
Granola / energy bars
Jelly / jam
Meats (including jerky)
Milk (powdered or fresh)
Pancake mix
Seasonings (e.g., salt, pepper, bouillon, etc)
S'mores (graham crackers, marshmallows, chocolate)
Soup mixes
Syrup
Trail mix
Vegetables
___________________
___________________
___________________
CLEANING SUPPLIES
Dish soap
Dish towels
Dust pan and whisk (for cleaning out tent)
Paper towels
Portable camp sink or bins to wash and rinse dishes
Pot scrubber, sponges
Trash bags
___________________
___________________
___________________
CHILDREN
Blankets
Carrier / stroller
Children's pain / fever reducer
Diapers, pull-ups, wipes
Toys
___________________
___________________
___________________
TOOLS / SUPPLIES
Camp saw, hatchet, axe
Duct tape
Gloves, leather-palmed
Knives (e.g., fixed blade)
Multi-tool
Mylar blankets
Sewing kit, safety pins
Shovel, small folding
Umbrella
Wristwatch
___________________
___________________
___________________
HYGIENE / PERSONAL
Bar soap, shampoo
Brush, comb
Bug spray (e.g., DEET)
Camp shower
Clothesline, clothespins
Deodorant
Facial tissue
Feminine pads
Hand sanitizer
Laundry bag
Lip balm
Mirror, compact
Razor, blades, cream
Shower shoes / flip flops
Spare eyeglasses, contacts, solution
Sunscreen
Toilet paper
Toothbrushes, toothpaste, floss, mouthwash
Towels, large
Washcloths
Wet wipes / alcohol pads
___________________
___________________
___________________
FIRST AID SUPPLIES / MEDS
Adhesive tape
Antacids (e.g., Tums)
Anti-diarrheal medication
Antifungal foot powder
Antihistamine
Bandages, assorted
Burn cream
Butterfly bandages
Cotton swabs
Dental repair kit
Disposable gloves
Elastic wrap
Eye drops, lubricating
Gauze pads, assorted sizes
Gauze rolls, assorted
Glucose tablets
Hemostatic agent (e.g., QuikClot)
Hot / cold packs
Insect sting / itch relief
Irrigation syringe
Moleskin
Oral rehydration salts
Pain reliever (e.g., Ibuprofen, Tylenol)
Poison ivy scrub
Prescription medications (pack extra few days)
Thermometer, oral
Throat lozenges
Topical antibiotic ointment
Triangular bandage
Tweezers (e.g., for ticks)
___________________
___________________
___________________
PET SUPPLIES
Collar
Leash
Food
Food / water bowls
Toys
___________________
___________________
___________________
MISCELLANEOUS
Campsite directions
Campsite map
Campsite reservation info
Citronella candle
Extra batteries (for radio, flashlights, lanterns two-way radios, fans, etc)
Folding camp chairs
Folding table
Identification
Money (cash, credit card)
Notepad, pencil / pen
Personal fans
Utility bags
___________________
___________________
___________________
ADDITIONAL NOTES
_____________________________________________________________________________
_____________________________________________________________________________
_____________________________________________________________________________
_____________________________________________________________________________
_____________________________________________________________________________