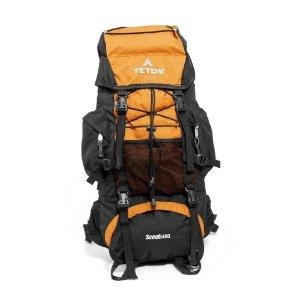 A bug out bag is an item anyone who is even slightly invested in prepping should own. A bug out bag is a collection of things that should give you everything you need to get through the first few days on the road. You should be able to grab it in a minute, and it should be your best friend when times are tough.
Obviously what you put in your bag is of the utmost importance. Let's look at 18 items that no bug out bag should be without.
THE ESSENTIAL EIGHTEEN
1. An Easy-to-Carry, Weather Resistant Backpack: You will need something to store all of your goodies in. Your backpack should keep you stash warm and dry in all environments.
2. At Least 2 Liters of Water: First and foremost, you need some water. Water is the key to life, and the key to keeping yours going more than a day or two.
3. 30 Water Purification Tablets: A secondary water option for long term survival. As we will soon see, redundancy is essential.
4. Protein or Granola Bars: You'll want some light weight, non-perishable, high calorie and nutrient food. Other good ideas are crackers and peanut butter, beef jerky, freeze dried food and MREs.
5. A First Aid Kit: A must-have for any survival kit. You can buy one, but making your own will help you get acquainted with how everything works.
6. An LED Flashlight: You will need some light for darker times. LED flashlights last longer and shine brighter. Store some extra batteries.
7. A Portable, Battery Powered Radio: This may be your only source of information while on the road. Store some extra batteries.
8. A Survival Knife: You will use this a lot for things like chopping wood, opening cans, etc. I can talk for ages on the subject but here's a quick, important-thing cheat sheet:
A stainless steel or carbon blade
A 6-9", single edged blade with a sharp point (nothing hooked, flat or rounded)
A 4-6" fixed handle, with full tang, solid pommel and no-slip grip
A sheath you can connect to your person, with crossover strap so your knife doesn't fall out
9. Strike Anywhere Matches, A Piece of Emery Board, in a Plastic Container: This is your fire starting kit. The emery board is used for striker.
10. Dental Floss, Fishing Hooks and Sewing Needles: These tools can be used for:
Making fishing lines
Sewing torn clothes and fabrics
Stitching wounds
11. Paracord, Plastic Sheeting and Duct Tape: For making rain shelters and sealing broken windows.
12. Garbage Bags: For removing waste, and fashioning into ponchos.
13. Warm Hat, Gloves and Socks: Keep your extremities warm to maintain your body heat.
14. A Mirror: For signalling to others visually, and inspecting wounds that are hard to see.
15. A Whistle: For scaring off animals and signalling to others.
16. A Pencil Wrapped in Paper: For leaving notes to others.
17. Photocopies of Important Documents: You should have some copies of any important documents you have, such as:
Your passport
Driver's license
Home and vehicle info
Contact phone numbers
18. A Compass and Maps of the Area: These will help you escape trouble and navigate you and your family to safety.
Keep your bug out bag in an out of the way place, but a place you can grab it quickly when needed. If disaster ever strikes, it will be your lifeline.
For more reading, check out How to Make a Wilderness Survival Kit.
Good luck and stay prepared!
Rambo Moe
————–
To enter your own article please email me at rethinksurvival (at) gmail (dot) com with your submission and review the rules here.
Please visit these fine sponsors and learn more about the prizes below…
Fortunately, we have some very gracious sponsors who are willing to sponsor this fun contest. Please visit their sites and review the products being donating as they are certainly good people doing good things for our community. Here's the prizes…
CampingSurvival.com is donating an Exotac nanoSTRIKER XL Ferrocerium Fire Starter in Olive Drab.The description says "We created an evolutionary derivative of the original nanoSTRIKER with a larger rod and striker handle. It utilizes the same innovative design as the original, but with just enough extra size and heft to improve its ease of use without making it too big or bulky for key chain carry. The striker handle is 46% bigger, making it easier to grip. The XL version also sports a 33% larger ferrocerium rod, which improves the durability and lifespan of the rod even beyond that of the original nanoSTIKERs. Slowly scrape shavings off the rod into a small pile. Use these shavings on top of your tinder bundle for even better sparks! Use the nanoSTRIKER? to light gas stoves, alcohol stoves, fuel tablets, BBQ grills, etc."
MayflowerTrading.com is donating an The Guardian First Aid Fanny Pack. Contents include: 1 – Fanny Pack, 1 – Eye Wash, 2 – Instant Ice Packs, 1 – 3″ ACE Bandage, 1 – Bandage Scissors, 1 – First Aid Guide, 1 – CPR Mouthpiece, 3 – Iodine Prep Pads, 6 – Pair Nitrile Gloves, 3 – 2 x 2 Gauze Pads, 4 – 4 x 4 Gauze Pads 1 – Tissue Pack, 6 – Alcohol Prep Pads, 2 – Water Gels, 1 – 1 x10 yds Adhesive Tape, 1 – Bio-Hazard Waste Bag, 1 – Box 3/4 x 3 Bandages, 1 – Tweezers1 – 4 ounce Hand Sanitizer, 2 – Eye Pads, 6 – Wet Naps, 1 – Hydrogen Peroxide, 1 – 5 x 9 Combine Dressing Bandages
OzarkMountainPreparedness.com is donating $100 Gift Certificate to any of their wonderful survival courses."Our mission is to provide the highest quality instructional courses to people who desire to pursue a self-reliant lifestyle; whether in the wilds or right at home. By blending both modern and primitive methods into our curriculum, we offer a comprehensive and practical view of survival and preparedness. Our course topics include wilderness and urban survival, fur trapping, bushcraft, primitive skills, long-term wilderness living, land navigation, home disaster preparation, outdoor cooking, food procurement and storage, foraging, wild edibles, and others."
RifleStock.com is donating a set of five Self-Watering Grow Buckets. I recently got a set and will review them soon. What is a grow bucket? "It is a 4, 5 or 6 gallon bucket altered to grow vegetables and flowers using a water reservoir in the base. Growing plants in self-watering buckets has been around for quite a while now, but our design has improved on the old method of using two buckets, one inside of the other, to create the water reservoir."
I figured my sponsors shouldn't do all the work, so I'm throwing in a McNett Tactical Aquamira Frontier Pro Ultralight Water Filter:
•Military edition portable water filter system with straw-style design
•Attaches directly to water bottles, cups, or bladders
•Removes 99.9 percent of Giardia, Cryptosporidium, and other contaminants
•Activated carbon improves taste; universal connectivity adapter system
•Filters up to 50 gallons; removable bite valve doubles as hanging drip filter