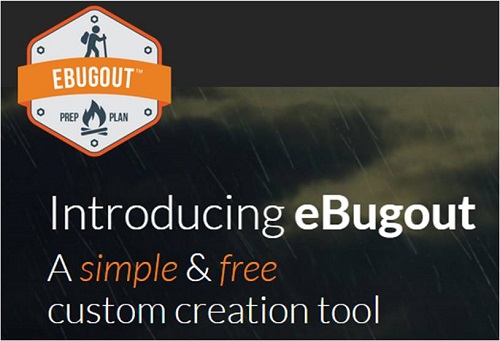 The folks at eBugout.com reached out and asked me to take a look at their website which has the sole purpose of allowing you, the user, to quickly create a bug out bag.
Overall, the site is fairly easy to use and certainly intuitive.
Just go to their home page and click the orange "create now" button to get started.
Once on the building screen the choices cover the necessary topics, including water, fire, tools, food, medical, shelter, backpacks, and more.
Each category then has sub-categories to choose from. For example, water has three sub categories: bottles, purification, and filters.
Clicking on any of the sub categories then presents you with additional options. Click on the "purification" category and you're presented with the choice of "drops" or "tablets." Clicking on the tablets thumbnail then provides me with a handful of specific solutions to choose from.
Each other category / sub category is done the same way… like I said it's all really easy to navigate and a pretty slick interface for sure.
Once you've made a selection you can quickly add it to your cart (all items are purchased via Amazon) or look at something else if you prefer.
A few things I noticed that I liked were the fact that each item has a quick description shown, the price, and most important is the fact that each and every item has a review from their staff members which, they say, are avid outdoors-men and women.
Their reviews, in my opinion, are always positive (in that I never noticed a bad or poor review) which is fine but I do like to see that they're willing to point out flaws… maybe I just missed them.
Beyond that, there are some very obvious product omissions that you may wish were there. For instance, they don't have what is perhaps the best water filter straw out there for the price, the Lifestraw. Similarly, I didn't see any camp axes or saws which I thought was odd… maybe there's still a bit more to be added.
All that said, if you're in a hurry they do offer an "auto fill your cart" option but I wouldn't suggest it. I should point out that as you add items to your cart they will tally the price and even calculate overall weight too which is a neat idea.
If you're looking for a new way to build your bug out bag with a slick interface, eBugout.com seems to be a great way to cover your bases.