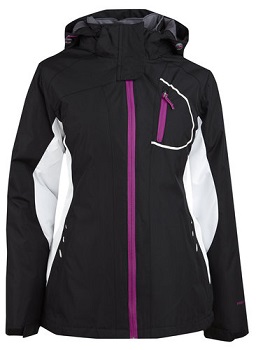 A little over a month ago I was contacted to review the Free Country Snowridge 3-in-1 Systems Jacket. I said "sure" but had a better idea: I requested my wife to get the jacket and review it instead. This was both a good and not so good of a decision as I later realized because she now loves the jacket but her writing skills… not so good. So, I proceeded to sit down with her and help review the jacket a bit better.
If you're unaware, a 3-in-1 jacket is essentially two jackets that can be used or combined in three ways: wear the outer midweight jacket alone for warmth and wind/water protection, wear the inner polyfilled jacket alone just for warmth, or combine them both for greatest warmth as well as wind and water protection.
This particular setup offers a wind and water resistant midweight outer jacket that is plenty warm by itself. In fact, my wife found herself wearing the outer jacket most of the time, even in relatively cold weather that hovered in the mid-40's. She also found herself out and about during some days with a good amount of windchill and never had a problem.
The inner jacket can be worn alone if you like and would work perfectly for cold days where you don't expect any rain as it's plenty warm by itself. She didn't do this, yet, but I suspect it will get plenty of use over the coming winter. And, of course, the two can be combined and I think my wife choose to do this once or twice, particularly while sitting outside all day during a recent garage sale. She got so hot (even in below 50 degree weather) that she wound up removing the inner jacket as it was too warm. That prompted me to read reviews of similar 3-in-1 Free Country jackets and that trait alone was the #1 benefit everyone cited: that the jackets were sooooo warm, even in cold Chicago and New York City winters they said.
Now, you can look for yourself but these jackets come in two different color patterns that are actually quite stylish. She opted for the black (with white and purple trim as shown) which comes with a solid purple inner jacket that's quite pretty… if you're a girl, that is. 😉 Heck, if it didn't have the purple inner I probably would have "stolen" the jacket and worn it myself…. but, I gotta' keep up the bravado… can't be caught in any girlie colors!
As for material, I can't say that it's going to stand up to a bear fight but for normal everyday wear and tear it should do just fine. It seems to me that the important inner workings of the jacket functioned fine as well, including zippers, flaps, straps, and so on but I didn't wear it (just tried it on) and found no obvious problems.
The jacket does include a removable hoodie that includes nice drawstrings to cinch the hood around your head when it's really cold. This is a pet peeve of mine as I own a jacket that doesn't allow you to cinch the hood down and, as such, it's always flopping around, driving me nuts. Had I realized how annoying that would be I never would have purchased that particular jacket.
This Snowridge jacket does include two decently-sized outer pockets, though, not quite as deep as I would prefer… my wife thinks they're fine. It also includes a smaller upper pocket for small things if you like. I would have preferred to see an inner pocket too but that's not a big deal. Again, the "boss" didn't seem to care. The inner polyfilled jacket does include two pockets as well. You can read the finer details about the jacket system on your own but by-and-large it's a good jacket, especially for the price.
Last, comparing this system to the two jackets my wife regularly wears–a lightweight wind/water resistant jacket for the fall and a much thicker coat for the winter–this Free Country Snowridge 3-in-1 Systems Jacket seems to beat them both hands-down and has become my wife's favorite very quickly. In fact, she's already packed up her other jackets in preparation for our move.
Considering that it should make for a fine fall and winter jacket for years to come I'd say you can't go wrong. The best part? My wife liked it so much that I wound up buying a similar Free Country 3-in-1 jacket for myself… just waiting for it to show up. 🙂
P.S. I have recently subscribed to their newsletter (you can do so at the bottom of their main page if you like) and occasionally notice flash deals and other ways to save money on their gear. In fact, I even looked for better deals on Google and Amazon for these jackets we've got and couldn't find any. I think they've turned me into a fan.