These days, you can't be too sure about your safety even if you're inside your home. With crime rate increasing in recent years, you need to make sure your house is safe from intruders. One way of doing this is by making sure you have a secure door.
Aside from the obvious solution of locking your doors, there are several other means of turning your door burglar-proof. Most home burglars would try to kick your door or pick the locks to force entry. After reading this article, you'll learn more about how to protect yourself and your family from harm.
Reinforcing Doors, Locks, and Doorframes
The primary thing you should look at is the type and quality of front door your house has. If you want something that can withstand any strong force, you can go with a reinforced metal door. Note that it should be reinforced or else it can be easily bent off the door frame using specific tools. However, these are prone to rusting so extensive maintenance is needed. Another good option is fiberglass doors. They're strong and durable so you don't have to worry too much about taking care of it. Then there's the ever reliable solid wood door. Not only do they provide a classic look to your house, wooden doors can also last for years especially with proper maintenance.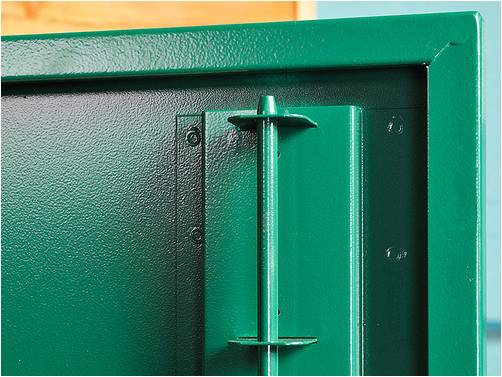 It would be best to pick doors without glass panels, sidelights, or windows installed. These can be used by burglars by breaking them so they could reach for the locks of your door. If your door was just recently purchased or if it is still in good condition but it has these features, you should use laminated glass as they don't easily break.
You should also make sure your doors are properly installed. Even if you have sturdy front doors, it won't make a difference if it isn't hung properly. Tightly screw the hinges in the inside to attach it securely. Some doors will require you to place the hinges on the outside. For this type of doors you should add locking pins to the hinges.
Making Sure Locks Are Secure
Front doors should have deadbolts that are at least one inch long into your doorjamb. If the bolt is short, burglars can easily pry apart the jamb using a screwdriver. To ensure security, you may also install a second deadbolt which locks from the inside leaving a blank faceplate outside.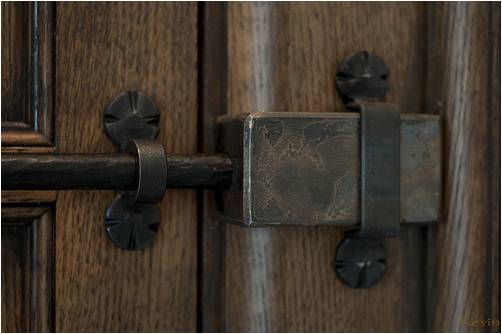 First class deadbolts cost about $150 each. You should look for the BHMA (Builders Hardware Manufacturers Association) seal as this certifies that the lock has a high standard. Medeco is a well-known brand when it comes to providing maximum security. It is said that even the Pentagon and White House make use of Medeco for their doors. Medeco locks are hard to duplicate and can withstand the common methods of forced entry such as picking, prying, drilling, and bumping. Bumping is the newest trick used by lock pickers where a universal key is used.
Fortify the Door Frame
You shouldn't forget about making the jamb and frame of your front door stronger as well. If an intruder kicks your door, it's usually these parts of the door which gives in and not the door itself. The easiest way of fortifying the door frame is by replacing the existing screws that hold the strike plate in the doorjamb with longer screws. If the screws used are shorter than one inch, the doorjambs can be easily broken during a kick-in attack. The ideal length of screws should be at least 3 ½ inches long. It's still possible for the door jamb to be broken but it will take a lot of time, energy, and effort to do so.
There are some brands who sell strike plates which are specifically designed to enhance the security of your door. These are usually made of reinforced metal and have a wrap-around design which can take heavy force.
As for the door frames, wooden door frames are popular among home owners as they are inexpensive. The downside to this choice is that it is susceptible to termites and rotting. Wooden door frames also require a lot of attention to keep it from weakening. Experts advise the use of steel frames or high-heat composite frames instead. You can also apply the Door Jamb Armor to make your steel door jamb even stronger. The manufacturer even claims this can take the power of a battering ram. The Door Jamb armor adds a strip of galvanized steel around the entire door to make it sturdier.
Jove Arthur is dedicated to his work as online sales manager for Door Emporium, which sells a variety of beautiful solid wood interior doors as well as mahogany doors, knotty alder doors and wood French doors. He loves to do a lot of research first before starting a certain project as he is very meticulous about his work.