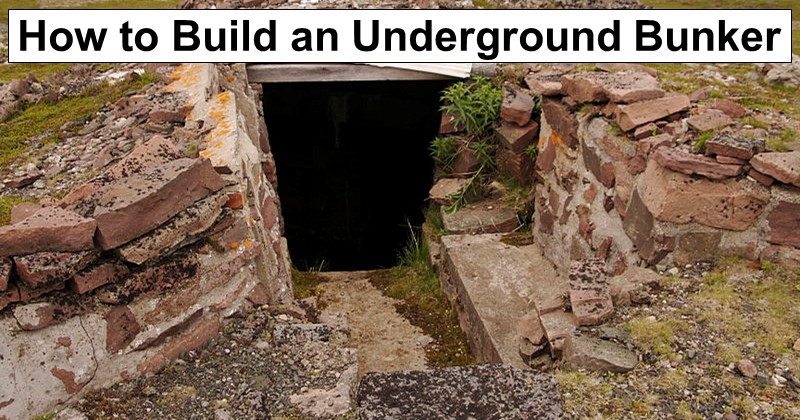 An underground bunker could be your best asset in many different survival scenarios. It gives you a place to wait out whatever chaos might be going on above-ground and helps ensure you and your family stay safe — even comfortable — no matter what's happening in the world. Many survivalists dream of having an underground bunker. While it's not cheap or easy to build one, it is doable. If you're ever in a situation in which you need a bunker, you'll be glad you invested the time and money. Here's our guide for building your underground bunker.
Get a Permit
Before you start building your bunker, you need to get a permit to ensure you stay on the right side of the law. Consulting local authorities will also give you crucial information about utilities, such as gas or water pipes, that might be on your property — one of the main reasons you need a permit. Before you do anything else, research the laws in your area and take the steps required to make sure your project is legal. You don't want to spend a bunch of time planning a bunker, only to find out you can't legally do so.
Start Planning
Before you start building your bunker, you'll need to have as many details planned out as you possibly can. However, planning is second nature to a survivalist, who is always thinking about the future.
Choose a Location
One of the first things you need to plan is the location of your bunker. You probably need at least half an acre to build a decent bunker. Some important considerations when deciding on a bunker location are:
The type of soil on your property
The depth of the bedrock
Any natural gas pockets
You'll also need to decide where you want to locate your bunker in relation to your house. Some people build their bunkers directly underneath their home, which allows for easy access, but can make it more likely you'll run into obstacles like plumbing pipes and electrical equipment. You can also put your bunker elsewhere on your property and build a tunnel to your home, or erect a small shed to conceal the entrance.
Excavate
If you're building a decently sized bunker, you'll likely want to use some heavy excavation equipment. You can rent this equipment or hire someone to do your digging for you. If you're using heavy machinery, plan for excavation to make up a significant portion of your budget. Technically, using a shovel is an option, but that will take much longer unless you're just building a small shelter.
Build Your Structure
You've got several options when it comes to the structure of your bunker. If you want to go the quicker and easier route, you can use a premade structure such as a shipping container. While this is an efficient way to get shelter finished, it will give you a lot less flexibility in your design. If you do use a shipping container, make sure you reinforce it, as the design of these containers doesn't allow them to take a heavy load on the top and sides. You'll again need some heavy machinery to lower the container into the hole.
You can also build your structure yourself. While it will take more work and time to do so, you can customize your shelter to your precise specifications.
One significant consideration when planning your structure is what material to use for your floor, walls and ceiling. Wood is not the best choice for a bunker. While it's cheap, sturdy and easy to work with, it won't last as long as many other materials. Untreated wood is susceptible to weathering and rotting. Even treated wood will eventually break down and may suffer from insect infestation.
A better option is metal. Welding thick metal sheets together and supporting them with tube steel makes for a sturdy, moisture-resistance structure. The downside to using metal is that it's more expensive than some other options.
If you want a more affordable but still sturdy option, consider using bricks or cinderblocks. They last a long time and are relatively easy to install. Bricks will also provide excellent insulation.
Another excellent option is concrete. It's long-lasting, sturdy, affordable and relatively easy to work with.
Be careful when choosing the materials you'll work with. Even small items like the fasteners you select have an impact on your structure's durability and safety. Bolts, for example, can typically withstand more pressure than screws or nails.
Build Entrances and Exits
How you get into and out of your bunker is another vital consideration. Many survivalists opt to create a passage from their house to their shelter so they can get underground without going outside. You can also create an outdoor entrance and conceal it by building a small shed over top of it. You should always have at least two ways in and out in case one of your passages gets blocked off.
Ensuring you have correctly supported the passages into your bunker is essential. Use pillars made from concrete or bricks to keep your passages sturdy and safe.
Waterproof Your Bunker
When building your bunker, do everything you can to ensure moisture doesn't seep into it. Using a sturdy metal, concrete or brick structure is vital to keeping water out, but you may also want to place a waterproof sheet over the top of your shelter to provide some extra protection from moisture.
Plan for Air Filtration
You'll also need to make sure you have access to fresh air in your bunker, which will be crucial if you end up needing to shelter there for an extended period. Have at least two air vents. They'll keep fresh air flowing in your bunker and help cool it down during the summer. Also, invest in an air filtration system and stock up on air filters. You may also want to purchase a gas mask in case you have to leave your bunker before the outside air is safe to breathe.
Plan for Clean Water
Of course, you will also need access to water while you're in the bunker. While you can store containers of water in your shelter, you'll run out quickly if you're stuck underground for longer than you anticipated.
One option is to install a large water tank next to your bunker. Doing so means you'll have to do more excavation, but a water tank will provide you with a significant quantity of water.
Even a large water tank will eventually run out, though, if you're in your shelter for a long time. For this reason, it's ideal to have a water delivery system that can replenish itself, in addition to a water tank. You may be able to tap into the water table from within the shelter. You might need additional permits if you plan on digging a well in addition to your bunker. If you have running water nearby, you may be able to install piping to channel it into your bunker. You could also create a rainwater harvest system that collects water above the ground and pipes it to you underground. Just make sure you invest in equipment for filtering the water so you can ensure it's safe to drink.
Conceal Your Underground Survival Bunker
You also need to determine how you're going to conceal your bunker once you're finished building it. Your hideout is going to be a lot less useful if everyone can see where it is. So, how do you hide your bunker?
Of course, you'll cover your bunker back up with dirt once you finish building it. Use the dirt you dug out of the ground, so it blends in with the surrounding earth. Also, plant fauna that matches the surrounding area. You want to do everything you can to prevent the space above your bunker from standing out.
As mentioned earlier, you can build a small shed to hide an outside entrance to your shelter. If you have an entry in your house, cover it up with a piece of furniture or carpet. You can conceal your air vents by planting bushes over them and hiding them behind rocks.
Get creative with this step and use what you have to your advantage. The better disguised your bunker is, the more secure it will be.
You'll also want to make sure your bunker is relatively soundproof. Consider installing soundproofing materials, such as acoustic foam, to keep any noise from escaping into the outside world.
Add Access to Electricity
Having electricity in your bunker is optional, but it can make survival more manageable and allow you to be as comfortable as possible while spending time in your hideout.
Keep in mind fuels like propane and kerosene are off-limits. Even if you have a good ventilation system, it's dangerous to use these kinds of fuels in an underground bunker due to the fumes they create.
You can connect your bunker to the power grid, but in a real doomsday scenario, you likely won't have reliable access to it. You can consider connecting to the grid as a backup, though, if you like.
Your best bet for getting power in your bunker is an off-grid renewable energy system such as solar panels or a small wind turbine. If you have running water nearby, you may also be able to build a small water turbine generator. Having a power source can make it a bit more difficult to hide your bunker, but you could make it look like the system is powering your home, but also run wiring to your shelter. It would be useful to have a battery system alongside your renewable generation so you can have a more continuous flow of energy.
Even if you do include electricity in your bunker plans, make sure you can also survive down there without it, as your aboveground generation equipment could get damaged.
Stock Your Bunker With Supplies
Once your bunker is ready to go, what should you store in it? Everyone's list will likely look a bit different, but here are some supplies to consider.
Food: Obviously, you'll need a supply of nonperishable food items such as canned goods and dehydrated meals. One positive of keeping your emergency food cache underground is that it will naturally stay a bit cool. You might also want to dig an extra room for food storage. Just make sure it stays dry.
Medical supplies: You'll also need a first-aid kit that includes essential over-the-counter medications and emergency medical supplies such as alcohol wipes and bandages. If you need certain medicines that are specific to you, you might want to keep a supply in your bunker as well.
Weapons and ammunition: You might also want some method of self-defense. If you store a gun, make sure you have an adequate supply of ammunition. Just make sure you don't sacrifice too much space you could use for food or medical supplies to make room for more weapons.
Entertainment: Just because you're in an emergency, that doesn't mean you can't have some fun while in your bunker. Keeping a positive mindset will be crucial to your safety and survival, and having some way to entertain yourself can help you stay upbeat. Store some board games, a deck of cards, books, art supplies, a musical instrument, video games or whatever else you like to use for entertainment.
Keep Yourself and Your Family Safe in Any Situation
Building an underground bunker isn't easy. With adequate planning and the right attitude, it is doable and well worth it. It can even be fun. It's not cheap, either, but you can do it affordably if you plan and get a bit creative. Just make sure you never sacrifice safety to cut costs.
Having an underground shelter could be useful to anyone. Doomsday preppers have lots of reasons for wanting one, but they're also helpful during natural disasters such as tornadoes. Plus, they're excellent for storing emergency supplies. If you go all-out with your bunker, you might even find yourself wanting to hang out in it.
Note: This was a guest post.