I thought I would see how many useful survival items I could stuff into a small water bottle like this one (it's 16-ounce, hard-sided):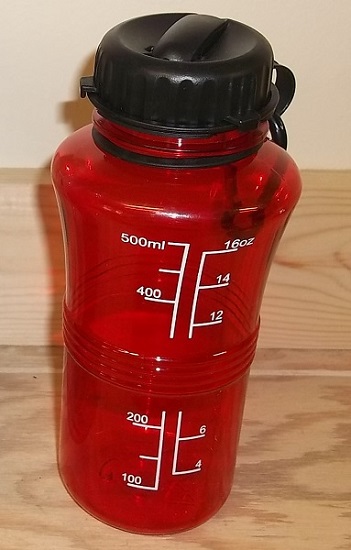 At 16-ounces it's not a very big water bottle and that was a part of the challenge! Of course, you could choose a larger water bottle if you prefer and it doesn't have to be hard-sided either. Since a water bottle is relatively small you could easily toss it into a bag, backpack, or the console of your car and not think twice about it.
Here's what I was able to stuff inside: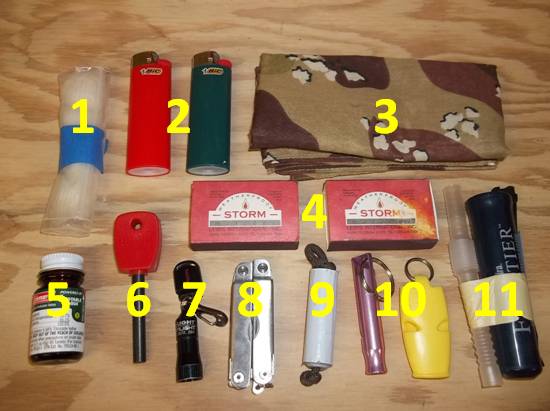 In no particular order:
Vaseline and cotton ball fire starters – I made these a while back and since they're fairly compact they got tossed in. Besides, fire-starting can be a crucial skill and anything you can include to make it easier is a plus.
Bic lighters x 2 – I was originally going to add just one lighter which is probably sufficient but I figured I had room so I added another.
Bandanna – I don't think I've ever seen anybody try to stuff a bandanna into a small survival kit. Seeing as though they're so useful I figured I would try to stuff one in there near the end. After some work I was able to do so.
Stormproof Matches x 2 – If you're going to add matches to a kit you may as well buy matches that you can rely upon. These matches are awesome! Again, I originally planned on adding just one box but two fit.
Potable Aqua tabs – These don't take up much room and it's wise to have redundancy in any kit.
Sweedish firesteel – I could have found a smaller firesteel to include (without the handle) but this is easier to grasp and it fit without a problem.
Streamlight Nano flashlight (and mini USB drive) – I couldn't think of any smaller flashlight than this one which is what I keep on my keychain. I thought about adding birthday candles but a flashlight is what I wanted. There are other small flashlights that I had laying around but this was the smallest. As for the USB drive, it's attached to the light and I didn't feel like separating them. 😉
Mini multi-tool – I'm not even sure where I got this particular mini multi-tool but it's just plenty small enough to fit inside the water bottle and just large enough to be useful.
Roll of duct tape – This small roll of duct tape actually belongs on a keychain. If this were a survival kit I intended to keep, I would add more duct tape; just wrap it around an old Bic pen (cut to size) and you're in business.
Rescue Howler Whistle x 2 – Again, I only intended to add one whistle but I had room so I added another.
McNett Frontier Water Filter Straw – This water filter straw is quite compact and can fit just about anywhere plus it makes drinking water easier while on the move.
Remember that this was just a first try. As you can tell I have fire-starting well covered with two bic lighters, two boxes of good matches, a firesteel, and Vaseline fire-starters. Similarly, I have water covered with the water filter straw and Potable Aqua tabs. And, of course, the hard-sided water bottle.
As for gear, I think the whistles are a good addition but I really only needed one. The flashlight (any small one would do) is a must-have in my opinion. Duct tape is always useful but I would want to add more. The multi-tool is ok but if I had a small enough knife I would have preferred that. Bandannas are also useful and it serves to hold everything in place.
I realize now that I could have also easily shoved in a few more potentially useful items such as wire ties, a needle and some thread, safety pins, maybe some small fishing equipment, and other small items like that. If I'd taken out a few of the duplicate items (the extra lighter, matches, whistle) these items–among others–would have easily fit.
Not quite sure what else to add to be honest. What about you? Have you tried this? If so, what did you include?