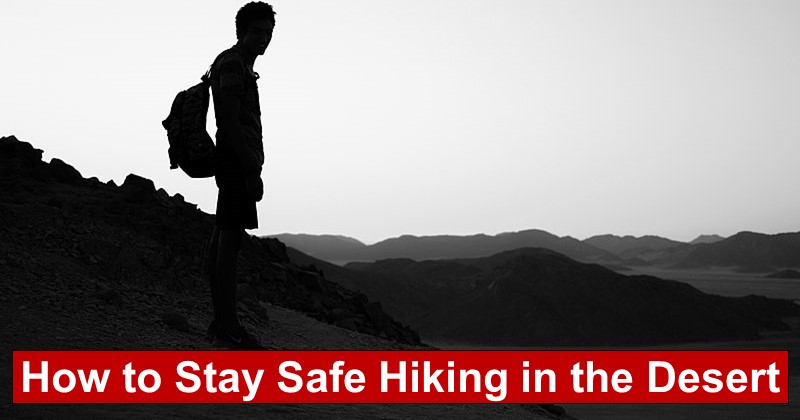 Death Valley's Zabriskie Point, the Slickrock trails of Moab, Utah and the vast array of amazing hikes that surround the Grand Canyon are just a few examples of outstanding hikes located in the middle of the desert. If you're not a fan of warmer climes, you might think to shy away from these iconic trails. However, with the right preparation, you can enjoy them just like you would any day hike.
As with any outdoor activity, it's possible to conquer hiking desert trails if you spend the time to learn the tricks of the trade. Lots of experienced desert outdoorsmen and -women have come before you in this discipline. Here are some of their best teachings when it comes to hitting the trail in desert territory.
Study the Climate
Imagine how difficult it must have been to get outside before the invention of weather satellites! A well-prepared traveler can make themselves more comfortable on a hot day, but to ensure your hike is enjoyable and not miserable, it's best to check the weather well ahead of time and plan to hike outside the hottest parts of the day. Usually, that's mid- to late afternoon.
Are you a morning person? That's perfect for desert hiking. Watching the sun come up from the trail is a magical experience, and you'll be through with your walk before things get too toasty out. Night owls can make their preference work as an advantage too, although you'll want to be careful to check whether trails remain open, understand park laws and regulations and bring plenty of lighting equipment if you're planning to night-hike.
Even though heat is the primary antagonist when it comes to desert trekking, it's not the only one. Flash floods and monsoons can make your sandy hike into a sloppy nightmare. Understand if your hike crosses land where flood weather can manifest, and whether it's flood season when you hike. If you get caught in a flooding trail, move to high ground as quickly as you can and wait for help or better conditions.
Have a Trail Map
Getting lost anywhere is frightening and dangerous. In the desert, it can be deadly. Before heading out on your hike, make some time to look at a topographical map of the trail. Print or acquire a trail map beforehand, and regularly track your progress using GPS if possible.
This advice is particularly relevant for longer hikes like the Grand Canyon's Rim-to-Rim adventure. Even if it's reasonably straightforward to see which way the trail leads, you need to have an understanding of your progress. If you find yourself moving too slowly and don't have the supplies or energy required to finish the hike, you should call for help.
Don't Hike Alone, and Leave Your Itinerary With Emergency Contacts
Like most activities, hiking is better with friends. When you go out alone, your risk of getting lost with no one able to find you increases significantly. Solo hiking trails you know and can complete in a relatively short period are OK, as long as you notify someone you're going. Unless you're a highly skilled hiker and camper, do not attempt long distances alone. And regardless of whether you bring company, always tell at least one person outside your party where you're going and when you expect to return.
Dress in Layers
Layers are always a smart idea for physical activity. For desert hiking, you're looking for the ability to add some warmth if things cool off quickly, or shed layers to a breathable base if it warms up. Go for moisture-wicking technical fabrics that will dry quickly if you need to douse yourself to bring that core temp down. Want a pro tip? Moisture-wicking underwear from brands like Exoficcio and Patagonia can help make your day more comfortable when it's warm on the trail.
A backpack is another essential part of your kit that can contribute to overheating. Technical hiking packs will often incorporate breathable fabrics, and you should only choose a pack as large as you need to accommodate the supplies you'll bring on the trip. Also, many modern hiking packs include water bladders, which are the simplest way to bring along critical hydration during a warm-weather hike. Have some extra water with you to refill your bladder and help cool yourself down if you're planning a longer hike — more on that later.
Wear Sunscreen and a Hat
This tip probably seems obvious, but when you hike in the desert, you're signing up for a whole lot of sun exposure. Your head, along with any other exposed skin, is likely to absorb some UV rays. So slather on some SPF — a good trick is to put your first application on before you leave for the trail. Doing so will allow it time to absorb before you're in the heat, which will help you stay comfortable.
Keep your SPF with you on the trail. Some hikers like to bring multiple types of sunblock, including zinc, aerosol-based spray and more conventional cream for re-applying to their face and body throughout the day. Don't forget lip balm with SPF as well. And, of course, a wide-brimmed hat will go a long way to shield your head, face and neck from the sun's rays. Even a ball cap is a great addition to your kit if you haven't got something a little more David Attenborough.
Pack Food and Water
Dehydration can be a killer when you're hoofing it through the desert. You can die of thirst in a matter of days, so do not leave home without plenty of water. A good rule to go by is to bring about two cups of water per hour of estimated hike time. If you're always thirsty, bring more. If you're planning to camp out, have a good understanding of where you can find fresh water, and bring a means of filtering it to make it safe to drink.
If you're bringing pets along, don't forget plenty of water for them to drink, as well as a vessel for them to drink out of. We're not always advocates of bringing pets — be sure it's safe for your four-legged friend to come along. Overcommitting your dog to a long hike in the heat can be dangerous, because dogs can't sweat and don't know when to stop following their owner if they get dehydrated.
As for food, will you need snacks for a two-hour jaunt, or is this going to be a longer-distance journey? You can probably guess what kinds of snacks work well on a hot trail. The typical selection of fruits, trail mix, energy bars and dried foods comes to mind. Don't go overboard with caffeinated gels and snacks, because they can lead to dehydration if you use too many. Always pack more snacks than you think you'll eat. You don't want to get caught in a pinch if there's an emergency or you have to stay out longer than planned.
If you're planning a longer-duration hike, you should think about meals to bring. The time-honored tradition of sandwiches can make for a fun trail lunch and should provide enough protein and carbohydrates to get you through a longer pull. You can meal-prep ahead of time or find some pre-made at a nearby market.
If you'll be spending the night on the trail, there are many tasty options to cook up. Depending on the size of your pack, you may be able to bring a legitimate camp cooktop and grill up some meats or veggies — extra points for s'mores.
Those who are more interested in saving weight should check out a camp stove such as a Jetboil or MSR. You can use these highly packable stoves to boil water, which you can then use to rehydrate freeze-dried meals. The selection of these types of meals is impressive these days, with everything from chicken casserole to beef stroganoff to mac and cheese and even stir-fried vegetables. Not willing to pay the premium for fancy backpacking food? A box of dried pasta and dehydrated vegetables cooks up in a snap, too.
Bring First-Aid Items
A basic kit with bandages, a tourniquet, cold compresses, tweezers and painkillers is probably all you need for shorter hikes. If you're staying out longer, it's probably smart to come prepared with additional supplies. Treatment for foot conditions like blisters can come in handy if you're covering lots of ground, as can aloe vera gel for sunburns. Make sure you have a supply of any medicines you need to take regularly, even if you don't plan to stay out long. In case of emergency, it's better to be safe than sorry.
Go at a Safe Pace
Even if you feel like you typically keep a fast pace, the effects of the sun and heat can slow anyone down. Moving too quickly can cause dehydration, cramping and other issues. Ultimately, your best bet to complete your hike in a reasonable amount of time and still feel good is to go at the pace your body tells you is OK. If you're part of a group and need to move slower than your friends, say so. They should understand you don't want to push yourself too far, and should be willing to adopt a slower pace if you need to.
Treat Wildlife With Respect
There's a real chance you'll see some wildlife while you're on the trail. It might even be part of your motivation to go hiking. However, remember when you spot wildlife on the trail, you're not looking at a domesticated animal. The best policy is always to remain at a safe distance. Don't pursue wild animals, which could turn aggressive or could hurt themselves while trying to evade you. Many endangered species are under legal protection, and you'll be breaking the law if you bother them — but more importantly, trying to force a wild animal encounter could have negative consequences for everyone involved.
That rings true of all animals you spot on the trail, but use particular caution when you encounter larger animals and predators such as bears, mountain lions, coyotes or even larger herbivores. It is not safe to approach these animals. Remember, you're a visitor in their habitat. Be respectful and don't attempt to bother them. Doing so could result in a tragedy.
Have a Supply Stash in Your Vehicle
Imagine taking a wrong turn on a hike. You recognize you've made a mistake, but not before you've made your way far off the trail you had planned on taking. You're going to have to dig into your extra supplies, which means by the time you get back to your car, you won't have anything left, and you'll have had to make the extra effort to get back. In this scenario, you can understand why it's critical to keep extra supplies in your car.
Extra water, snacks and even a change of clothes are all great things to have on hand in your car for when you return from the trail. If all goes as planned, you may never use them, and that's OK. It will give you peace of mind to know they're at the ready in case you or a fellow hiker needs the help.
Know How to Get Help
Cell phones have made venturing outdoors much less daunting than it once was, and that's all for the best. Before you head out, though, make sure you have mobile service while on the trail. Many remote locations still lack cell coverage, which is why it's smart to have a radio or GPS beacon, some additional means of summoning help if you need it. If you find yourself on the trail with no means to reach anyone, go back. It's not worth the risk.
Have Fun!
Desert hikes can expose you to vast arrays of plants and wildlife and bring you to new and fascinating places, all while you're getting fresh air and good exercise. You'll have the chance to spend some quality time in the great outdoors with your friends and family, in places many people never make an effort to enjoy. So get outside and have a great time — just keep the tips we mentioned in mind to ensure things go smoothly and safely. Where's your favorite desert hike? Let us know in the comments below.