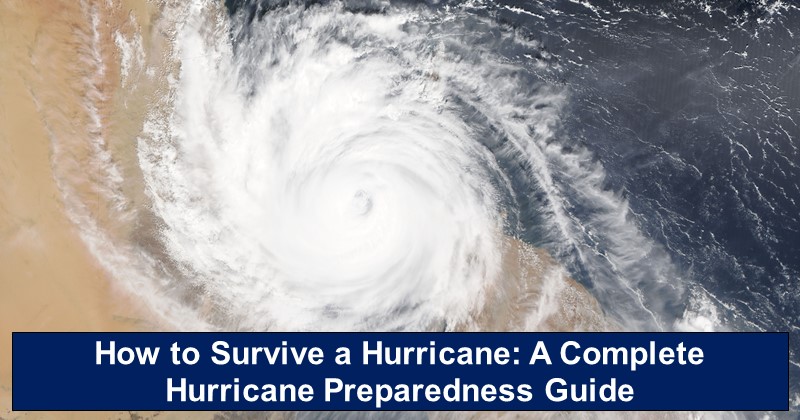 Hurricanes are violent. They can bring a handful of serious and dangerous hazards- from storm surge, high winds, heavy rains, and even tornadoes. If you and your family aren't prepared, you're risking your safety.
As a guide, here are the following steps you can take to ensure your family's safety.
Before A Hurricane
Learn your hurricane facts
Knowing your hurricane facts is important in understanding hurricane forecasts and knowing exactly what the news reporters are telling you.
You can start with the following important terms:
Eye- This refers to the clear and well-defined center of the storm. It usually has calmer conditions.
Rain bands- These bands create severe weather conditions, like tornadoes, wind, and heavy rain.
Hurricane watch- These watches are typically issued about 48 hours in advance of the expected onset of the tropical storm.
Hurricane warning- These warnings are usually issued 36 hours in advance.
Create a plan
One of the most important things you need to prepare prior to a hurricane is a plan.
To start, you and your family need to know where to go. If you aren't sure where your local hurricane evacuation areas are, you can contact your local emergency management agency.
If family members get separated during a hurricane, they need to know where to go. You can assign out-of-state relatives or friends to act as your family's point of contact. Let everyone know that person's name, address, and contact number.
In case you have pets at home, be sure that each of them has identification tags. Ask your veterinarian about any other emergency preparation instructions.
For kids, you may want to practice evacuation drills with them. This will help them remember what they should do in case of a disaster.
Complete Your Emergency Supplies
Another thing you shouldn't miss is your inventory of emergency supplies. Your family should have:
A manual can opener
3-day supply of non-perishable foods (minimum)
A gallon of water per person per day (minimum of 3 days)
Flashlights with extra batteries
A sleeping bag per person
Personal hygiene products
A solar charger for mobile phones
A complete change of clothing per family member
Cash
A full tank of gas in your car
Don't forget to include some bandages and antiseptic products in your emergency supplies. You may also want to add some pain relievers, eyewash, and ammonia inhalants as these are some of the most frequently overlooked first aid kit items
Secure your home
In case you live in an area that's prone to hurricanes, it's a good idea to secure your home even before the actual season for tropical storms hit.
Begin by checking the gutters if they are free from debris and clogs. They should also be stable and secure. Next, clear nearby trees and remove any dead or dying limbs.
It can also help if you build a safe room inside your home. There should also be a functioning generator. Every three months, make sure to start it. This is one way to guarantee that it's working properly.
In case you have a shed, lock its doors tightly. With a hurricane, it will be easy for them to be blown off the hinges and become dangerous projectiles. Remember to bring in any outdoor house ornaments, like wind chimes and wreaths.
Keep your potted plants inside your garage and remember to keep your cars inside it, too. Don't leave any vehicle under trees.
Keep important documents safe
Your passports, insurance information, deeds, and other important documents should be stored in a stormproof container to keep them safe in case flooding happens. For added security, you may want to keep digital copies. Store them on a portable device which you can take with you everywhere.
During a Hurricane
Remain inside your home during a hurricane
If you live in an area where the storm is expected to create the greatest impact, remember to keep everyone inside at all times. Stay away from windows, glass doors, and skylights.
Stay away from your basement. Although it sounds like an ideal place to hide during a storm, it's not your safest option, particularly if your area is prone to flooding. You can easily get trapped there.
Your power and water mains should be turned off if instructed by your local authorities. This is one way to avoid a power surge after electricity has been restored. While the power is out, avoid using candles for visibility.
In case you're outdoors when the storm hits, get out of your car right away. Move to higher ground to avoid getting undertaken and trapped by the water. As much as possible, stay away from low spots, canyons, underpasses, and dips as these areas are prone to flooding.
Don't use a generator
Well, you can actually use one as long as you have a battery-operated carbon monoxide detector and smoke detector.
Carbon monoxide is tasteless, colorless, and odorless. It's easy for people to get poisoned with this gas, particularly if they aren't aware of the risk.
Know when to evacuate
While it might feel safer to just stay at home, follow your local authorities when they tell you to evacuate for your safety. Below are some of the conditions that may require you to leave your home and stay in an evacuation area:
If you are in a high rise building
If you are in a mobile home
If you live near a river, on the coast or on a floodplain
Even though you don't find yourself in any of those situations, follow your gut. If you sense that you're in danger, get out of your house and go somewhere safer.
Shelters, however, aren't always comfortable. With that in mind, try to stay with relatives or friends if possible.
If not, you can take some snacks and food with you. Most of the time, meals aren't available in shelters for the first 24 hours.
To ensure your comfort, bring your own blankets, pillows, and sleeping bags. The supplies in shelters aren't always enough.
If you have a baby, don't forget to take his supplies, too. If you have special needs, bring a caregiver with you if possible. This is because shelters don't provide hands-on care but they can do medical monitoring.
Take your identification and other valuable papers, too. If you are currently taking medications, bring them in their original containers.
To pass the hours, you can bring some books, cards or games to the shelter. Remember to take flashlights and battery-operated radios, too.
For pets, only service animals are allowed to stay in public shelters. You may need to make other arrangements for them.
Monitor the weather condition
With a battery-powered NOAA weather radio, keep yourself updated with the latest report on the storm path. Don't leave your house or evacuation area until you're sure that it's safe to do so.
Turn off electricity
For your safety, it's best if you don't wait for your home to lose power. Turning off electricity at your main breaker will reduce damage. As much as possible, don't use any electrical appliances during a hurricane.
Use your phone for emergencies only
Since electricity is cut, you need to conserve your phone's battery. Make sure to use it only for communication.
Keep your pets safe
You should keep your pets in a designated area in your home. Place enough food and water in that area. If your pet has needs for special care, make sure to provide it. Animals, just like humans, can also feel scared
After A Hurricane
Use caution when entering buildings
Hurricanes can leave a lot of dangers behind. The list includes compromised electrical wiring, structural issues, and even carbon monoxide poisoning. With that, it's best to avoid buildings with questionable safety.
If you really need to enter one, make sure that its electricity is turned off at the main breaker. Do it without immersing yourself in standing water.
Listen for any unusual noises as they can indicate weakening of the walls or floors. If you notice clear structural damages, get out of the building and stay away from it.
Be careful in inspecting your home
It's normal to feel concerned about your home. After all, it's one of your most expensive investments.
If you've evacuated your home and you need to inspect it after the hurricane, remember to exercise caution. If possible, try to visit your home during the day. This is to make sure that you'll have light to check every area and room.
Remember, after a hurricane or any disaster, it may not always be possible to restore electricity right away.
If you happen to find your electricity on during your inspection, be extra careful. Being in standing water and powering up an appliance often ends up badly.
Don't forget about contaminated water, too. If there's flooding in your area, expect contaminants in the water. Stay away from floodwaters and remember to clean any open sores or cuts that have been exposed.
Clean up molds properly
With flooding and water, you can expect mold and it's quite challenging to kill it off. While it's tempting to just leave it alone, particularly during the first few days after the hurricane, it's best to tackle the problem on the first day.
You see, mold can bring a lot of health problems to the family, like asthma attacks, skin irritations, and even infections. If you have any of these issues, don't attempt to fight the mold by yourself. Consider hiring professionals or get someone else to do the job for you.
Check your insurance policy
If you have existing insurance, look at it closely to know who you can contact as well as the extent of your coverage.
As a rule of thumb, the first thing you need to do is document everything. Take pictures of all the things affected by the hurricane.
While you are repairing and cleaning your home, save your receipts as they may be eligible for reimbursement. Take note of all the expenses incurred.
Don't start any major repairs until your home has been checked and evaluated. Your insurance company will need to conduct an inspection.
Don't eat anything left in your refrigerator
Don't eat anything from your refrigerator or drink tap water until you are sure that they are free from contamination. It's also a good idea to clean your refrigerator first before placing new foods inside.
Check for reptiles and rodents
Be careful in entering every room in your home. Check for snakes and other animals that may have been driven by floodwaters to higher ground. If you happen to find one, don't deal with it along, particularly if you aren't trained to do so. Call your local authorities as they are much more skilled in catching wild animals.
Don't forget to inspect your outdoor property
Just like the interior of your home, your yard may also experience damages. For security, check your fences to see if there are still intact. You may want to check their hinges and locks, too.
Check your roof and see if there are no dangling power lines there. Because of strong winds, it may also be possible for large tree branches to get stuck there.
If you have a pool, avoid swimming in the current water. Because there's always the risk of contamination, drain the water first and clean the entire pool. You can only take a swim after it has been filled with fresh water.
Final Thoughts
Hurricanes can't be prevented but there are ways to minimize the damages they can cause to your property. The key is early preparation and being aware of what. Learning the tips on how to be safe during a hurricane should start even before disaster strikes.
As much as possible, plan ahead of time and make sure that everyone in the family is involved. Orient your kids about what they need to, who they should contact, and where they can go in case the family gets separated from each other. Don't forget about your pets, too.
The most important thing to prioritize is your safety. If your local authorities tell you to evacuate your home, then leave. Even if it feels like the hurricane has passed, don't go outdoors. Wait for the official clearance before you step outside or return home.
Note: This was a guest post.