Exploring the wilderness is a pastime for people around the globe. A routine day hike, bike ride or climbing excursion is as far as most people ever go. But what if you want to stay out longer?
Enjoying wilderness areas after dark is quite possible, but without the proper knowledge and education, it can be intimidating. You'll want to practice a few essential skills and have the appropriate equipment. Get caught in the dark without them, and you could be in for an uncomfortable evening.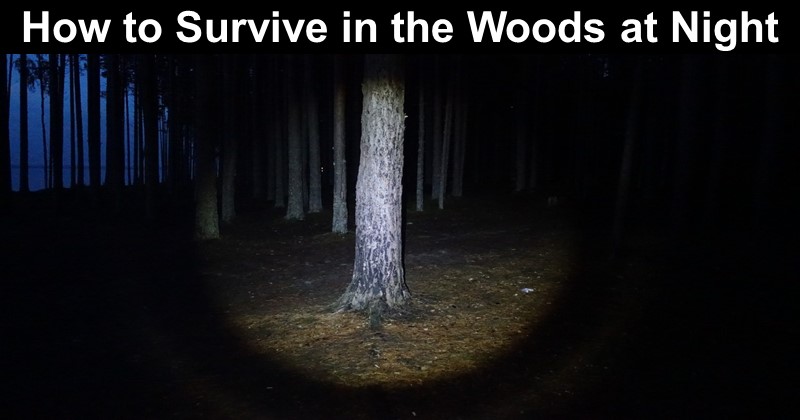 Plan Your Outing
Spending a night camping should never be an off-the-cuff decision. Even a seasoned woodsman, able to get organized and execute an overnight trip with a few hours of planning, has a strategy before heading out. Communication is the first component of your plan.
Have at least two friends or relatives record the location to which you're traveling and let them know how long you expect to spend in the field. Check in with them once you're back. If they don't hear from you, make sure they know to follow up and get help from the authorities if you're unreachable. If you're going alone, a rescue beacon is an expensive investment, but the best way to ensure people can find you in remote areas.
On a less anxious note, planning is a smart idea so you'll understand your surroundings. What is the climate like this time of year in your wilderness zone of choice? What is the elevation? Where are the best natural sources of water? If you're planning to stay out overnight, you'll probably choose to filter or treat water instead of bringing everything.
Will this be a backpacking trip? A hunting expedition? Are you going to tackle the latest and greatest climbing locale? The answers to all these questions will inform what gear you bring and who's coming with you, which influences how fast you can move, the size of campsite you need and the type of shelter you'll employ. Allowing your trip to take shape spontaneously is a good way to forget things, and it's something you should avoid.
Pack the Right Gear
Specific items probably spring to mind when you consider a trip into the wilderness. When the aim is to stay comfortably overnight, shelter should be the first thing on your mind. Even if you're trying to save weight, gram-light solutions can provide a much more restful evening then camping out beneath a sheltering rock. Some areas won't have natural shelter whatsoever. Select a practical tent or bivouac, or if you're doing the ultralight thing, you can use a shaped waterproof fabric such as silnylon to lash to the surrounding topography.
You'll likely need a backpack to carry your gear, and you want something comfortable and not over-sized for the expedition. Never go camping without a sleeping bag and sleeping pad, and then, of course, you'll need whatever cooking equipment you plan to bring along with your food supply. For quick trips, you could attempt to make do with only dry food that requires no cooking, but it can be great fun to enjoy a hot meal cooked on a camp stove — not to mention hot coffee or a mountain mocha in the morning.
Additional supplies to consider are:
A small first-aid kit
Lighting such as a flashlight, headlamp or alternative lighting solutions to provide visibility in camp and on the trail
A whistle to call for help if needed
A knife and eating utensils and a water filter or treatment solution — we're fans of the filter, since you can avoid adding chemicals to your drink that way.
A compass or way-finding tool such as a handheld GPS — your cell phone may not have service once you're off the grid.
Finally, dress for the occasion. We recommend technical fabrics that will wick moisture and potentially some insulation if it's going to get cold. Dress in layers for colder climates so you can easily regulate body temperature. In warmer climes, shorts, a lightweight shirt and sunscreen are essentials, and don't forget the sunglasses. If you're prone to insect bites or know you'll be around lots of creepy crawlers, permethrin-treated clothing offers protection without having to soak yourself in bug spray. You can also treat your clothing at home if you plan far enough for it to dry.
Practice Essential Skills
Have you ever made a fire? It's one of those things that sounds simple — however, a small change in conditions can make it extremely challenging. Practice starting a fire with the gear you're going to bring. Some outdoorsmen like to use greasy corn chips as tinder because they can double as a ration. Maybe you're carrying flint and steel, which you'll want to practice with if you are. Or, perhaps you prefer a good old-fashioned lighter and white gas, which can be helpful as long as you're mindful of the environment.
Whatever you've got, gather firewood early and know how to start your fire. Be sure to put it out safely with water, and avoid making smoke in designated areas.
Know how to set your shelter up. This task is another one you can practice at home ahead of time, and depending on the type of shelter, it can be simple or complex. Know whether your shelter is waterproof on its own or requires a rain fly. Understand the best way to situate your sleeping equipment in it, and how to face it into the wind.
Be familiar with how to set up your camp stove and how to prepare the food you're planning to make. If you're cleaning water using a filter, practice using it with tap water, as it may require some assembly or could need a change of element. Know how to recognize a contaminated or cracked filter element, two things that can render your filter ineffective in the field.
Reading a map and making sense of landmarks can be challenging. Those who came before you may have left markings on the trail in the form of blazes. Understanding how to orient yourself and use these simple markers can make the difference between reconnecting with the trail and winding up more lost. Study up beforehand and only go off-trail if you're very competent at navigation.
Of course, whatever specific reason you're on the trip will require preparation, too. Let's assume if you're going to hunt, climb, fish or birdwatch, you have those skills well-honed. But they're worth brushing up on and nothing to downplay if you want to enjoy the trip and stay safe.
Prepare to Encounter Wildlife
You're venturing into the natural habitat of wild animals when you go on an outing. Never forget that. While it's true many people spend years taking trips to the great outdoors without ever giving a second thought to the animals they encounter, seeing an animal can go from a pleasant surprise to a dynamic situation quickly. Always respect wildlife around you — for example, by securing any food you bring to areas designated for bear canisters in a locked container far enough off the ground.
Be aware of the types of wildlife you might see before going on your expedition. Not only will this inform you of any potentially harmful or poisonous critters that inhabit the area, but it will also make the trip more exciting. Have you ever come across an animal, only to say to yourself, "What is that?" Telling the story of the amazing woodland creatures you saw on your trip will be difficult if you haven't got a reference to call them by.
If there are dangerous animals, understand how they behave toward humans and how to resolve an encounter with one. Rattlesnakes make a noise warning you to get away, and that's exactly what you should do. A territorial bear might give you a harsh look, but turning and running isn't a good idea. Puff your chest up and make yourself appear larger than you are. Some animals are more dangerous than others, and if you know that the area you'll visit includes a risk of encountering large predators, you should consider bringing a firearm.
It's best to avoid feeding or consciously interacting with wild animals while you're in the wilderness. You don't want to draw more attention to yourself while out and about, and you also don't want to create a dependency for wild animals. If they learn to gather food from humans, animals will continue to do so, which makes it more difficult for them to survive as they should and also creates pests for your fellow outdoorsmen.
What to Do If You Get Stuck in the Woods
Until this point, we've focused this guide on situations where you've planned your trip and have a working knowledge of the area you'll visit and what to expect. But what should you do if something goes wrong? What if you're on an outing and you get lost? What if your planned day hike takes a frightening turn, forcing you to spend a night in the wilderness? Stay calm. You won't perform well with anxiety. Chances are you can see your way out of the situation if you make it through the night.
Finding water is critical, and this scenario is why it's a good idea to carry a small kit with basic first-aid materials and purification tablets anytime you go out. Include hand sanitizer, which can keep you from ingesting more than is necessary if you must resort to the best drinking water you can find. Look for clear, fast-moving water, ideally at high altitude. In places where snow is available, it can also constitute a good source of drinking water, but you should put it in a container and allow it to melt.
If you cannot find a good water source, don't climb attempting to locate one. Instead, move downhill looking for areas of vegetation and dark spots, which might indicate water nourishing healthy plant life. You can also get water from certain types of tree, which have watery sap that will sustain you. Cut a slit in the side of the tree and position a container beneath it to collect the sap.
Edible plants can add to your sustenance if you don't have any food with you. Many types of berries and nuts, including elderberries and walnuts, grow in the wild and are safe for human consumption, although some require knowledge of how to process them correctly. Avoid hunting game even if you have the means, unless you know it's legal in the area and you have the required equipment to process your kill and turn it into food.
Find shelter beneath the topography somewhere protected from wind and rain. If you're in a cold area, it's possible to stay warm by building a snow cave, but be sure you know what you're doing to prevent a cave-in that could leave you buried. You might have to sleep on the ground. We recommend doing so with your clothes on to give yourself some skin protection from biting insects and weather.
Being stranded in the wilderness is an ideal time to use your beacon, whistle or signal mirror to reach out for help. If you have no other means, the smoke from a fire can be one way to get attention, but be warned you will likely be guilty of a crime in the aftermath, unless authorities have declared the area safe for burning.
Remember, this situation should never happen. That's why it's critical that even when you go hiking for the day, you let a friend know. Ultimately, the wilderness is not something to fear, and we want everyone who ventures forth to enjoy themselves safely. It just takes a little preparation, and you can ensure that will be exactly your experience.
[Note: This was a guest post.]