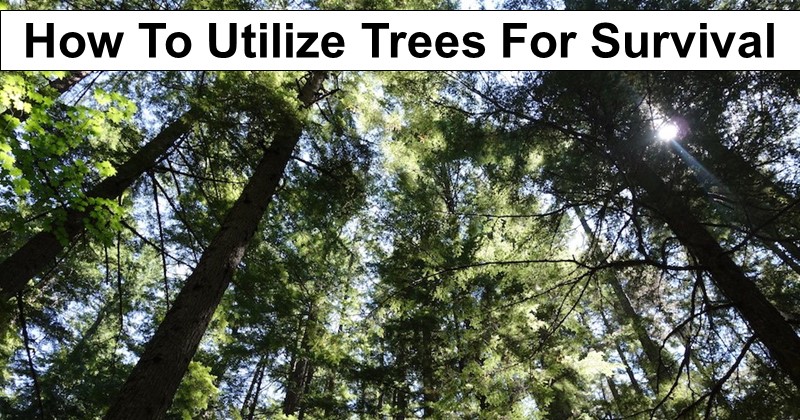 Earth Day always gives us a little time to think about the trees. Planting a tree on Earth Day is a tradition in many places, namely because these life-giving plants help provide clean air and natural resources like wood, as well as habitat for other living creatures.
But trees aren't just worthy of our appreciation on Earth Day. In fact, you can make use of them so many ways that you'll be a generally better survivalist just by understanding their many applications. With the right knowledge, trees can provide food and water, shelter and even basic construction materials.
A Long History of Utility
Today, the construction industry is probably the first thing that comes to mind when we consider how important trees are. Lumber from all types of trees is harvested every day around the world to be used as building material, fuel for fires and pulp for paper products. But even before we were building things from trees, hunter/gatherer tribes were collecting nutritious tree nuts as a source of food. They later discovered the value of trees as one component of a farming system.
Prominent historical figures like Thomas Jefferson and George Washington revered these important crops and understood well the value they lent to the North American continent. Before the founding of the United States, indigenous peoples made use of tree-based products like nuts and sap for use in daily life. Nearly every part of a tree can be put to good use, and no one knew it better.
Knowledge of how to get the most from American icons like oak, maple and pine has been handed down for generations. You might be surprised how much there is to know!
Tree-Based Foods
You've probably consumed a great many tree-based foods in your life without ever even thinking about it. Tree nuts are the most obvious, with popular and time-honored examples including acorns, walnuts and pine nuts. Almonds, popular edible tree nuts revered for their health benefits, are actually not safe to eat raw in the wild because they contain natural toxins. Stick to the first three if you're looking for a tree-based snack in the American wild.
In addition to tree nuts, many fruit-bearing trees form the backbone of the exceptional variety of fruits we enjoy nearly year-round in the United States. Apples, peaches and citrus fruit like oranges and tangerines all come from trees, although some are more common in the wilderness than others.
Mulberry trees, while lesser-known to those seeking fruit in the market, can offer a snack while you're exploring open spaces. Cherry trees are both farmed and naturally occurring. The bright yellow honey locust tree and rare hackberry are native varieties that produce edible fruits and seeds and are less commonly farmed.
Not surprisingly, many types of food-producing trees have been put into large-scale farming operations in places like California, Florida and New York. If you're a fan of fresh orange juice, you might know how sensitive these farming operations can be. To enjoy the great selection of exotic fruits available to us — a luxury almost no other country enjoys as well as the USA — we have to take care to keep our tree farms healthy and adapt to shifting weather patterns.
Some tree farming operations have even created new forms of hybrid fruit. Examples like the grapple and tangelo take characteristics of naturally occurring fruit and leverage genomics technology to offer an entirely new experience. This genetic experimentation has recently given us the SnapDragon and RubyFrost apples, products of work done at Cornell University. Trees are continuing to provide new sources of food today!
Water, Sap and Resin
In addition to delicious fruits and nuts, trees can provide life-sustaining water and other liquid products, including the popular sap, used for making syrup. In addition to sap, the thick, amber liquid you might think of as sap is in fact a different substance altogether called resin. Pine, fir and ceder trees, along with their relatives in the Pinaceae family, produce resin, which is typically thick and tar-like and makes a much better adhesive than thinner, watery sap.
To collect sap, whether it be for use in making syrup or just to have a drink of the high water-content liquid, bore a hole in the side of a tree and insert a tube for the sap to flow through. You can drink raw sap right from the tree as a source of water. To make the maple syrup or other sweet products requires processing. Called "sugaring," the process of making syrup involves first setting a tap in place and then allowing enough liquid to pool in your bucket or other collection device so that you can boil off the extra water.
Sugaring rigs vary in their size and design, but a "stereotypical" rig consists of a wood-fired stove with a broad pot or pan at the top. Sap is poured into the pan and kept at a low boil for hours on end. Removing the right amount of water to make syrup and not hard candy takes a little finesse and a lot of practice. However, once it's ready, maple syrup can be kept for many months as a stable food. It's a great way to have a treat around and prepare some sugar for a survival situation. Not a bad gift come holiday time either!
Unlike maple syrup, pine tree resin won't help your breakfast taste better. However, it does have some good-to-know survival uses. It can be collected around a damaged area of the tree, and it will harden when it's exposed to sunlight. Native Americans have been known to use pine tree resin to close wounds — it's a natural antiseptic because it keeps moisture from entering the wound, and it can be peeled from the skin once healing is far enough along. It's also helpful treating rashes and can be made into a tea to treat a sore throat.
Aside from its medicinal uses, resin can be used to help with starting fires, as a sealant to waterproof clothes and shoes and even as glue when it's combined with crumbled charcoal. To make your glue, heat resin until it's thin and mix it with the charcoal powder in a ratio that's two parts resin to one part ash. Use a stick to collect the dark-colored mixture as it cools. The cool glue won't be good for bonding things, but you can reheat it to apply to a surface when needed.
Additional Medicinal Uses
Many survivalists find tree-based products to be useful for curing ailments along with their nutritional value. Similar to the pine resin tea we mentioned earlier, nature provides us with a slew of natural medicine available just by processing basic tree-derived items. Pine nettle tea, for example, is a famous cure for vitamin C deficiency that early frontiersmen relied on because of the prevalence of scurvy.
Many outdoorsmen still enjoy making pine nettle tea for its woody flavor, and while boiling for too long can remove some of the vitamin C from the brew, you can decide how strong to make it if you're not in need of saving from scurvy.
Willow tree bark contains salicin, a naturally occurring compound that's similar in makeup to aspirin. If you're far from home and in need of pain relief, peel a hunk of bark from a nearby willow and chew it to unlock the tree's natural anti-inflammatory properties. We've listed some additional herbal remedies derived from trees below:
The sap of the alder tree can be used to calm itching and wash wounds. Alder leaves and bark can be boiled to make a tea that will reduce a fever.
Apple trees provide a number of digestive remedies. Peeled apple tree root can be consumed to cure diarrhea, while stewed unpeeled apples can be used as a laxative. Apple cider with garlic and horseradish can be used to treat skin conditions.
Ash tree leaves can be made into a tea to reduce gout, jaundice and rheumatism, and the tea is also a laxative.
Tea made from the flowers and berries of the Hawthorne tree can have positive affects for cardiac health and lower blood pressure.
Linden and closely related basswood products can calm nerves and are effective remedies for headaches, spasms and pain.
Green walnut husks can be slit to produce a sap that's effective for treating ringworm.
Witch hazel is a famous remedy for many conditions. It is anti-inflammatory, hemostatic and antiseptic.
Using Trees for Shelter
Up until now, we've been mainly focused on the ways you can use tree-based products by ingesting them. However, trees make an effective survival tool as a form of shelter too. Perhaps you've noticed the way a healthy redwood offers shade on a hot day. Maybe you've enjoyed climbing the trees in a nearby orchard as a child. Being large and stationary, trees can provide these basic benefits of coverage and a high vantage point, but they can also do a lot more in a survival situation.
If you're in need of a calm place to set up camp while in the wilderness, a thicket of trees might be just the thing to provide shade and knock down wind that could otherwise interfere with your tent or other camp shelter. Don't have a tent? Why not just use the trees themselves? Assuming the trees in your area provide suitably hard wood, you can collect large, fallen branches and arrange them in a lean-to to shield yourself and your belongings from animals and elements.
If you can find a large enough dead tree, you can even hunker down inside the hollowed-out trunk itself. Doing so sounds rather idyllic because it is. Finding just such a tree is rare, and if you do plan to use one as shelter, be sure to check its structural integrity. A dead tree with a hollow trunk may not endure a bout of strong wind, and you won't want to be in it when the upper regions come crashing down. Maybe take a picture and move on.
Of course, wood is an excellent building material, and if time is on your side, you can use tree products to construct your own shelter. You can do so by planting and growing a protective shelter belt to keep wind and elements off your encampment or crops or by harvesting existing wood and constructing a small structure. Using basic tongue-in-groove construction, it's possible to stand up a simple log building using a good set of trees, a sharp ax and perhaps a few other basic tools. Keep in mind that this undertaking is not a beginner-level project.
An Alaskan mill, a lumber-processing tool that can be built using a fallen log and metal brackets, is a handy way to produce real, right-sized cuts of lumber in the backcountry, but it takes a skilled saw-man to run. Still, in a situation that requires you to fabricate a sturdy wooden structure without help from the kinds of tools you'd find in a larger-scale construction setting, the Alaskan mill is the perennial go-to. If you're going to look into using one of these, find someone who's done it, and practice safely getting to know the ins and outs of this tool, as it can be very dangerous.
Man's Other "Best Friend"
Your dog is probably a lot more fun than a tree, that's not asking much. But when you consider all the wonderful things trees do for us — providing fresh air, healthy snacks and sustenance for wilderness adventures, handy sap and resin products, medicines and lodging and more — trees are absolutely amazing.
This guide gives you a good overview of the many ways you can benefit from trees in wilderness settings. Hopefully, what you've read here will prove useful. There's so much you can do with the numerous tree-based products covered here and elsewhere. What plans do you have to make use of this new knowledge — are you going to begin brewing pine-nettle tea or harvesting maple sap for use in syrup? Let us know in the comments below!
Note: This was a guest post.