Thus far I've had a chance to read and review all three of William Weber's exciting survival book series, Last Stand. It's been a fun, interesting, and continuous read and, in fact, the Last Stand series has been the ONLY fiction books I've read in years.
Weber's newest addition to the Last Stand series is titled simply Last Stand: Warlords. The other two are Last Stand: Surviving America's Collapse and Last Stand: Patriots, in that order.
According to the Amazon description:
"Tormented by a past he can't forget, Mayor John Mack is about to face the toughest fight of his life. The tiny town of Oneida, still reeling from the Chairman's violent overthrow, stands in the crosshairs of the foreign armies threatening at any moment to push across the Mississippi river. With the country fragmented and on the brink of military collapse, John will need to dig deeper than ever in order to help defend his loved ones and the town he swore to protect."
If you haven't read the other books then that description won't make much sense. Here, read my review of the first book so you can get a sense of the series. For some reason I can't seem to find a review of the second book, maybe I didn't write one but I did read the book.
Anyway, the story continues to follow the main character, John Mack, as he takes charge of various groups of people to unite them against common enemies in each book, this time against foreign troops who have invaded and are pushing across the United States with a quickness. Through both fortune and determination, John and his people struggle to push them back all while trying to survive a post-collapse world.
Last Stand: Warlords, like the others, always has an unexpected twist or two as well as plenty of good prepping tips and tricks that will surely make you smile throughout.
Obviously, there's a certain sadness too as it plays out scenarios that are certainly a possibility in the near future, as grim as they may be. Regardless, if you're looking for a fun survival book to read this weekend, pick up a copy of Weber's Last Stand books. If you would prefer Kindle books you can get them immediately and for less money too.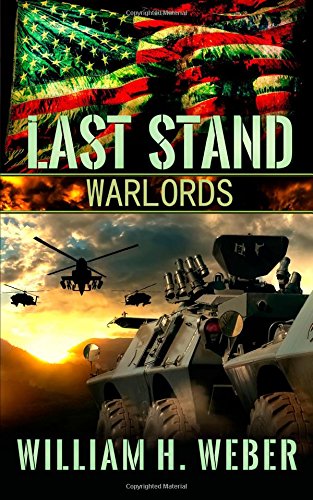 Book Giveaway
William Weber sent me a copy of Last Stand: Patriots (the second book in the series) for helping him review it before being published and since I've already read it I figured I would offer the book to you fine folks.
Simply submit a comment below and I'll pick a random winner to send the book to after the coming weekend. Remember, this is the SECOND book in the series so you'd need to read the first one if you haven't yet done so.
If you're the winner I'll email you requesting your shipping address and, if I haven't heard from you after a reasonable amount of time, I'll move on and pick a new winner.
Thanks!