I was recently sent this Legacy Food Storage 72 Hour Emergency Food Kit in exchange for an honest review. I figured rather than reviewing the entire bucket contents at once that I would taste test a few of the meals and share my thoughts each time… probably once a week or so.
With that in mind, let's get a few things out of the way:
First, the food is freeze dried which means it's both super-lightweight and able to be stored for years without worry if not subject to extreme temperatures or conditions.
Second, according to their literature their ingredients are non-GMO and even offer some gluten-free meals as well, though I don't believe the meals that came in this kit are.
Third, the meals come in this handy bucket which can certainly be used for storing a variety of items (not food) once everything has been consumed. After remove the safety seal it's easy to open and close again: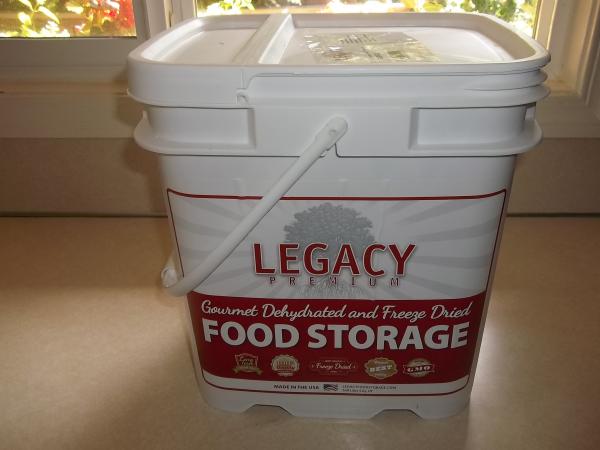 While I'm not sure, I assume the buckets can be stacked atop each other if you purchase more than one and because they're roughly square these buckets will ultimately take up less space in storage than round buckets will, a nice benefit.
As you can see from the photo below, there are a good variety of meals included, such as pasta primavera, stroganoff, enchilada beans and rice, chili mac, and plenty more.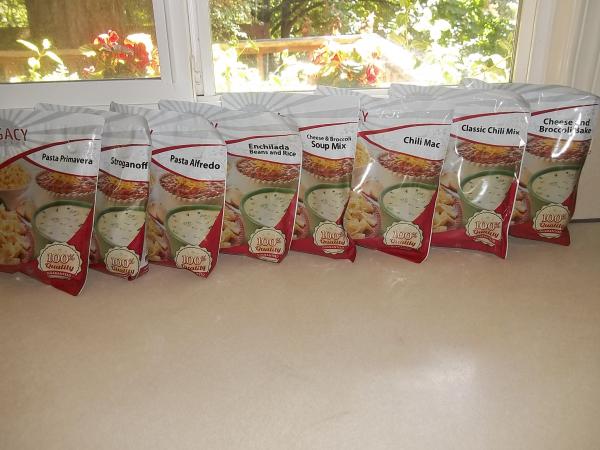 Now, this is a good time to point out that one thing I would have preferred be different was the images on the front of each pouch. As you can see each one is the same which makes it a bit difficult to show my kids exactly what each meal "looks like." Though not a big deal it would have been nice to have the photos of each meal on the front of the package to make it obvious what you're about to eat.
All total there are eight meals included. Since this is a 72-hour kit I would have assumed that a total of nine meals would have been provided (3 meals over 3 days) and that a few breakfast meals would have been included as well, but that's not the case. No big deal here either as I would honestly prefer better lunches and dinners in my 72-hour meal kit.
While I can easily come up with my own breakfast meals, if you're expecting no additional forethought you would be wrong. Maybe adding in several dry oatmeal packets into the bucket would be a great start? I'd say that's the way to go here.
Anyway, my boys voted we try the pasta primavera first: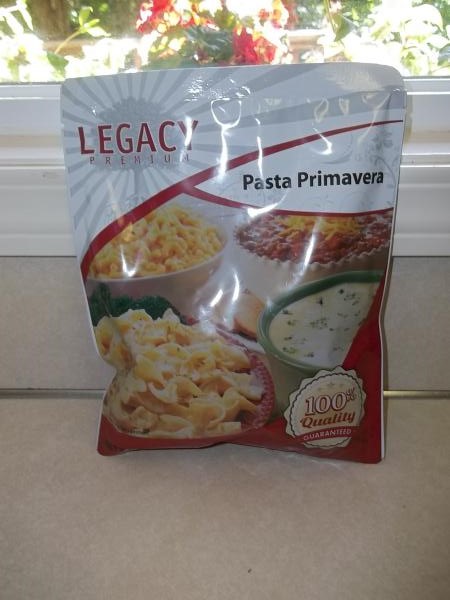 And here's the backside:
I did notice a rather significant amount of fat, particularly saturated fat, which is good in a survival situation but it was a bit surprising from pasta; I'm guessing it's the coconut oil included.
After boiling water, adding the pouch contents, and cooking for about 15 minutes it was done. Here's the finished product: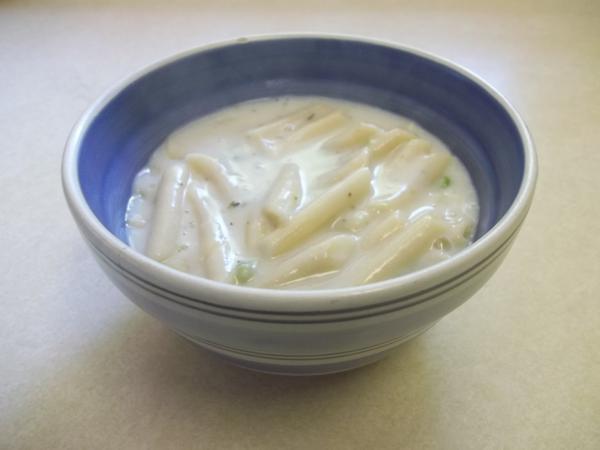 Ultimately, this one pouch made three large bowls of pasta primavera which was plenty for me, just about right for my oldest child who eats nonstop, and a bit too much for my youngest who actually saved the last bit of his (which I ate the next day). If we had to split it with my wife too then we probably could have made it work so everybody got enough, but I'd imagine my "chow hound" teenager would still be looking for something else to eat, lol.
I should point out that they include directions for using only half of the pouch if, for instance, there's only two of you to feed.
How did it taste?
Quite good, actually. I thought the seasoning was just about right but I did add pepper. Of course, I add pepper to pepper so that's not saying much. My kids both wanted a bit of extra salt but they're used to my wife's taste buds who seems to add salt to salt. 🙂
I can say that I've had some experience with other freezer dried foods (specifically Thrive Life, Mountain House, and Wise Food) and I'm pleased with my first introduction to Legacy Foods. There was a good amount of food provided–enough for my entire family to have a decent meal–and it was tasty too. What else can you ask for?
The price wasn't too bad either considering I can feed the four of us with a single pouch. Nearly every other freeze-dried pouch meal I've experienced wouldn't have done that.
More to come next week.
[Amazon Affiliate Disclosure: As an Amazon Associate I earn from qualifying purchases. FTC Disclaimer: I get commissions for purchases made through links in this post.]