I was sent this Lock Pick Beginners Box from LockPickWorld.com in exchange for an honest review and, honestly, I really had no idea what they were going to send because I basically said "send whatever you like" as I had no experience with picking locks and, thus, no expectations either.
Anyway, the box arrived a few days later and was smaller than I'd anticipated at about 7″ x 5″ and not a whole lot bigger than most cell phones these days, lol: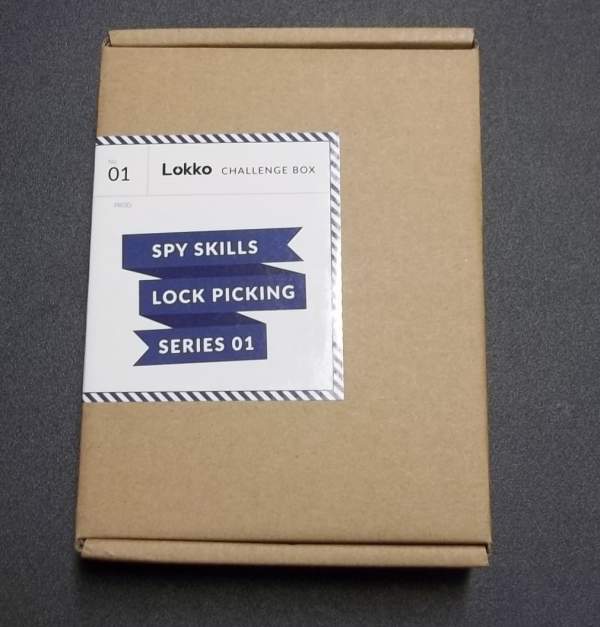 After opening the box, everything was well-contained and included the lock pick set, a smaller concealed credit-card-sized pick set, and two different see-through training locks: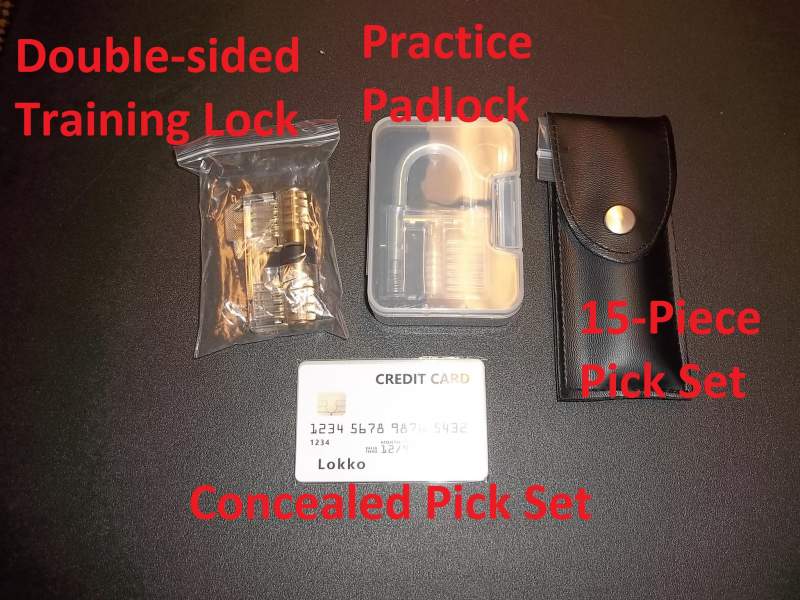 Here's what I found after taking it all out of their respective packages, with the 15-piece lock pick set lined up along the top in the photo below, the credit-card pick set at the bottom left, and the two practice locks shown on the bottom and bottom right: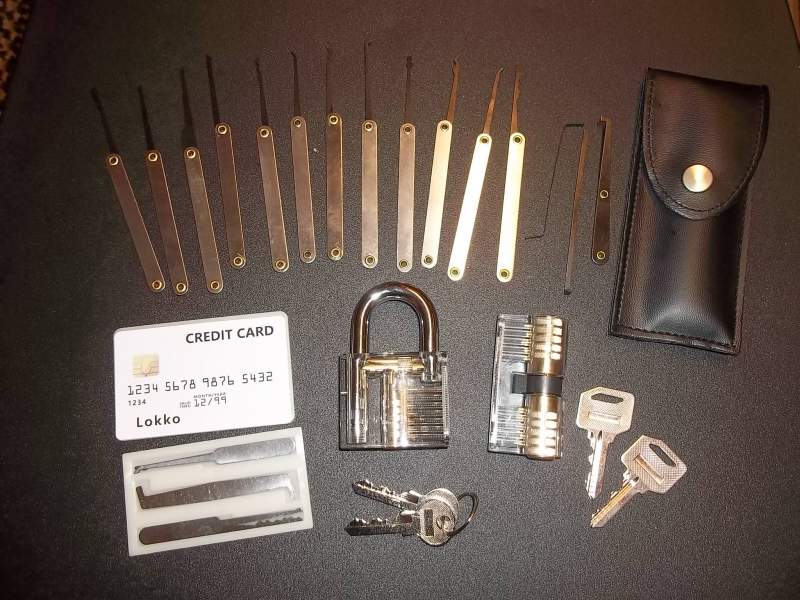 Scratching my head at everything, the first thing I looked for was a set of instructions, yet I found none. Truth be told, I typically ignore instructions, at least, until I get suck, but this time I really had no idea what I was doing.
After heading back to the product page I realized that I should have received an ebook to go along with the pick set, but since this was a review product I guess I didn't get the appropriate email. No big deal, I got my hands on the book and actually found it rather interesting… and I even read most of it too.
The problem I found was that reading how to pick a lock was far different than actually seeing it done. And, so, I headed to YouTube and found this video which helped me get started:
I watched a few others which I won't bore you with, but I can attest that picking locks is much harder than I thought it would be!
I tried for a while to use the lock picks like I thought I should on the practice padlock without any success. Then I tried the "raking" method discussed in both the book and shown in the video above using a "triple peak" pick and I quickly picked the training padlock! Uh oh… I might be hooked.
It was neat to get something to actually work, so I tried the double-sided lock using the "raking" method but was stumped again.
Long story short, I went back to using the tension wrench and "short pick" on the double-sided lock and, after fiddling with it and watching the tumblers move I actually got the lock to open, but that took some time and more patience than I tend to have.
Regardless, it was neat to accomplish. I actually went around the house and tried a few door locks using only a tension wrench and short pick, but had no success.
And, if I'm being honest, the rest of the lock pick set looks like Greek to me. I also tried to use the credit-card set on the training locks and eventually got them to work as well.
I briefly considered adding the credit-card set to my wallet, but it's already filled to the brim with other stuff and, knowing my luck, I would probably get arrested the next time I tried to board a plane with them, lol.
Ultimately, I was pleased with the lock pick beginners box set. It's an interesting skill that I never tried before and, whether or not it may come in handy during any sort of disaster scenario, the tools are certainly fun to practice with and may just make an entertaining gift for the upcoming holiday season.