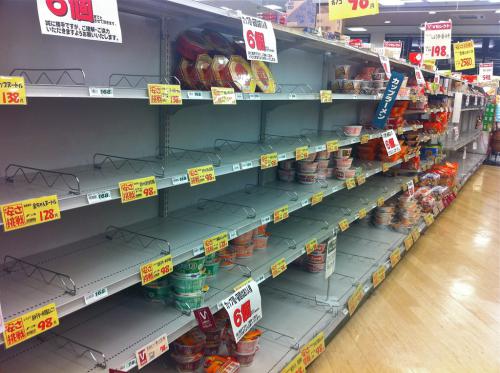 Just yesterday (the day after Christmas) we went to the local grocery store during our twice monthly shopping trips to get perishables like fruits, vegetables, and whatnot.
I was pleasantly surprised to see it wasn't that busy at all, though, I assume the days before Christmas were insanely busy… I don't know because I didn't brave the crowds.
Anyway, I was looking for a few vegetables such as  potatoes and asparagus and found the store shelves to be picked clean. So, I asked the guy stocking the shelves if he had any in back (I was feeling hopeful) and said something to the effect that "no freight for two days it's hard to keep anything in stock."
He wasn't kidding. Walking along the outer perimeter of the store I noticed the meats were nearly out… fortunately, I found the bacon I was looking for. 😉 It seemed to me that a lot of the perishables were thinned out but most of the non-perishables were still relatively abundant.
My thoughts quickly drifted to what the stores would REALLY look like if this were a disaster scenario, likely not a can of beans to be found if you're not among the first at the store…and I'd suspect people wouldn't be nearly as nice as they were yesterday when nothing was in stock.
The thing is, the grocery stores KNEW this was coming. They knew the truckers wouldn't be delivering food and they still couldn't plan appropriately for it. Just imagine what the shelves will look like when the grocery stores don't get their deliveries and it's unexpected.
It won't be a pretty sight no matter the time of year.
Whatever you do this coming year, do your best to ensure your family has at least some food on-hand at all times. I would hate for you to be caught unprepared like the vast majority of folks out there.
It's a relatively simple matter, in my opinion, to keep at least some food in the pantry. You can practice copy canning, FIFO, or whatever works for you and your family. Just be sure to do it. 🙂