It must have been quite a while since I've looked into mountain bikes but this is first I've seen such as neat looking bike. This bike, if you're unaware, is the Mongoose Dolomite.
Of course, the very FIRST thing that popped into my head was "Now THIS is a Bug Out Bike!"
Obviously, it's all about the tires at over four full inches…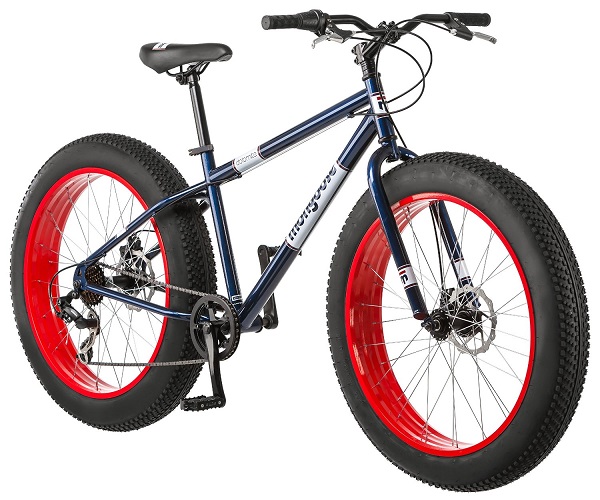 Yeah, the tires alone make it pretty neat and I'd imagine does quite well on bad terrain which is important if you're both in a hurry and possibly carrying a bug out bag or who knows what.
Beyond that, it's a 7-speed and has disc brakes which is a plus. I've read that people feel it works great in snow, ice, sand, and more. The product description states:
"The Mongoose Dolomite 26″ beach cruiser is designed to be ridden easily on a wide variety of terrain thanks to oversized tires for stability & traction. Cruiser frame geometry adds a comfortable but athletic riding position. The Dolomite is equipped with a supersized beach frame with plenty of clearance to conquer any terrain with the 4 1/4″ knobby tires. Alloy 4″ wide wheel set with disc brakes for easy stopping, low rise handlebars for comfort and stability and 3 piece cranks, the 7 speed gearing with Shimano rear derailleur make this the perfect bike to go conquer anything."
As cool as this is, there are some potential cons. For instance, the very wide tires may keep it from fitting in some bike racks. Worse, the thing weights over pounds… yikes! That could spell trouble if you had to pick it up over a stream, up a hill, or something like that. Apparently, there isn't a women's model but since the frame angles downwards at the seat I don't see how that's much of a problem.
Regardless, while this might not be my first choice in bug out bikes because of the weight and price, it sure is neat to look at. 🙂 That said, check it out anyway.