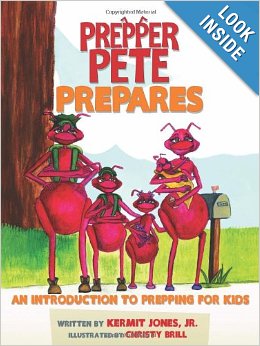 A while back I was asked by the author to review his book on preppping for children, titled Prepper Pete Prepares: An Introduction to Prepping for Kids. I happily said sure!
Introducing the concept of being prepared to children–especially young ones–can be difficult for some parents to get the concept across. You know why you should discuss prepping with your kids, you just may not know how. After all, children tend to have short attention spans and, well, it's all grown up stuff to them anyway. That's where a colorful book aimed at children can help…
I found myself smiling as I read the book–the illustrations were certainly appropriate–and the message was a good one, discussing both reasons why you might be prepared and some good things to do to get better prepared. Obviously, this book is for children so it's not like he's telling you how to do anything, just the what and why in very general terms.
And, while my kids are probably a bit too old for this book, I did ask my youngest (who's eight) to read the book and tell me what you though after I read it first. He seemed to like it well enough but it's not like he hasn't been exposed to prepping before either. I would suggest it's good for young kids such as first graders and younger, even if you're reading it to them.
Here's a bit about the book from Amazon's description:
The original Prepper book for kids!

Prepper Pete works very hard to keep his family safe by preparing for events that may happen in the future… things such as power outages, bad storms, illness, and other disasters.

Join our hero as he explores the many reasons to "be prepared" and fun things your family can do, too!

Children will love this fabulously illustrated book that shows them, in a fun and non-threatening way, how to be ready in case things go wrong.

*****

"Some people prepare because they are afraid.

Our family does not have to be afraid…

because we are prepared!"

-Prepper Pete

*****
You can get this particular book, Prepper Pete Prepares: An Introduction to Prepping for Kids, in both paperback and kindle format (at about half the price of the paperback). It also seems that there are other books to come. You can learn more about them at PrepperPeteAndFriends.com.
Book Giveaway
Since I don't need this book for my kids I figured I would be happy to send it to a family who does. So, just comment below if you're interested in my copy of the book and I'll pick a random comment from those below at the end of the week. I will contact the winner via email.