I was recently sent this Roadside Emergency Kit by Survival Hax for review. It's all nicely contained within this handy bag: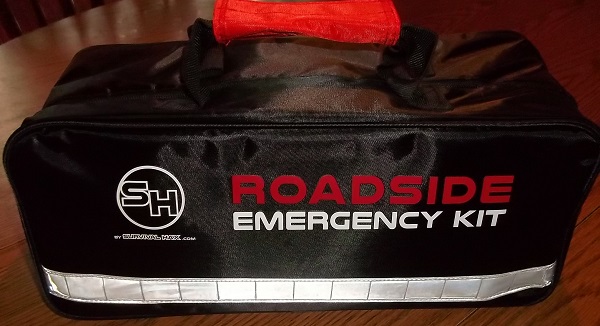 Most items are further protected inside plastic bags which is nice and all items are easily returned to the bag after removal.
Now, the first thing I went looking for, believe it or not, was an owner's manual (yes, I'm getting old enough to WANT one even though I don't need it, lol) but couldn't find anything. Oh well, no big deal.
Here's a photo of the kit contents: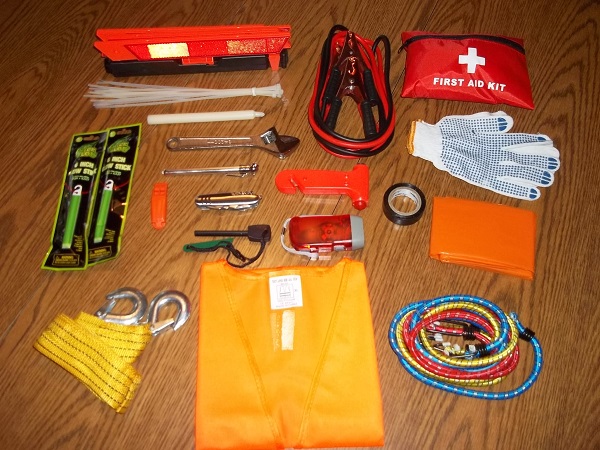 And, the contents of the first aid kit bag: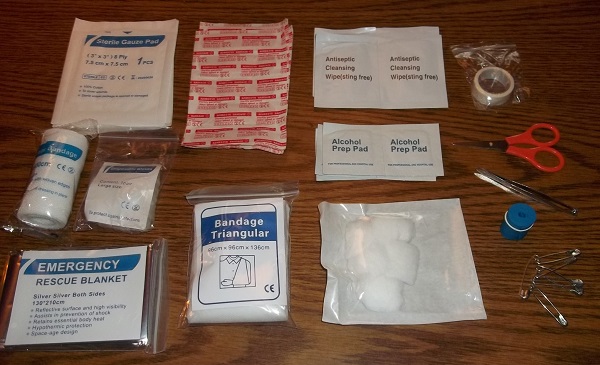 They say it's a 96-piece roadside kit which I'll assume is correct, but a bit misleading simply because a majority of the kit contents are small items like bandages, zip ties, and safety pins.
That said, here's my take on what's included, starting from the top left and working more or less down and to the right:
Triangle signal – Although I didn't put it together, the item above the zip ties folds together to make a reflective triangle which can then be placed on the ground behind your car. While I would have preferred flares of some sort, this signal seems relatively sturdy and would, at least, get a passing driver's attention when lights hit it.
Jumper cables – These are about as basic as you can get since they're not heavy-duty cables. Expect charging to take longer than it should but they will eventually get the job done, I'd assume so, anyway.
First aid kit – You can see for yourself what's included, but it's mostly small bandages, gauze, cleaning pads and so on. There's also a small mylar blanket included and few other small items which may come in handy, such as tweezers and scissors.
Gloves – These won't keep your hands dry for long but they will, at the very least, keep them from getting dirty and maybe provide a bit of warmth… plus they have a gripping side which is nice.
Assorted smaller items – You'll also find a variety of smaller items, such as zip ties, a candle, slip wrench, small whistle, and electrical tape. I'm not sure how useful any of this would truly be. The whistle is a good addition but not very loud, in my opinion. The candle, on the other hand, is just a fire hazard.
Glow sticks and flashlight – Two small glow sticks are included (I didn't try them) as well as one of those rechargeable hand-squeezed flashlights. They're not great for long-term use but good enough for this purpose.
Small utility knife – Includes various knives (which could use a sharpening to be sure), saw blades, corkscrew, etc. None of it is anything to get excited about and I honestly would have preferred a better quality single-blade knife.
Safety escape hammer / seat belt cutter – This tool might actually be of use but won't do you much good unless you move it to near the driver's seat. I would have liked to see it have a strap of some sort so that it could be attached to your seat belt to keep it from flying about the car… guess you'll have to hope that it stays wherever you stick it.
Firestarter – At first glace this looks decent, though, I haven't tried it. Honestly, I would have preferred matches or a lighter to start a fire.
Tow straps – I have no idea what they're rated. Regardless, I sure wouldn't bet my life on them and I'm not sure I would bet my car on them either. Of course, I could be wrong.
Emergency poncho, safety vest – The poncho is rather thin material but it should keep the rain off. The safety vest is a good addition.
Bungee cords – A few lightweight bungee cords are included which could prove useful somehow, I know I keep bungee cords in my cars.
Ultimately, I wouldn't pretend to suggest that this emergency roadside kit is the best that you can get. Most of the items included are basic / starter equipment. With that in mind, if you have nothing in your vehicle for a roadside kit then this one could work as a starter kit.
With that in mind, and while you're welcome to purchase it from SurvivalHax.com, they're offering readers a full $25 off their purchase from Amazon with the code "OFROAD50". Enter that where it says "enter a discount or promo code" during checkout.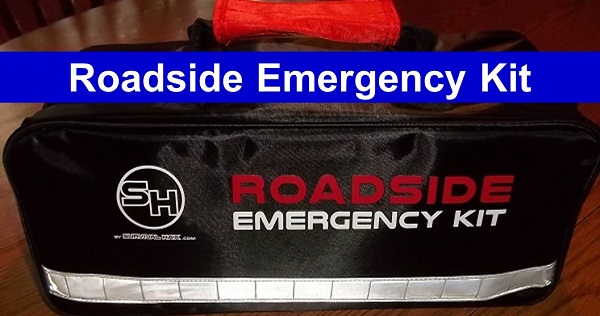 [Amazon Affiliate Disclosure: As an Amazon Associate I earn from qualifying purchases. FTC Disclaimer: I get commissions for purchases made through links in this post.]