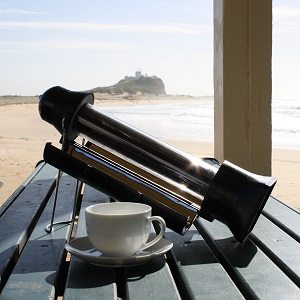 I believe I've linked to the Solar Kettle in the past but it's probably been so long I can't much remember anymore. 😉 And, though I don't own one myself, I can see how useful this SunRocket Solar Kettle (Amazon.com link) might be for a wide variety of circumstances, including while camping, hiking, and certainly for bug out.
Not only is this solar kettle meant to boil water using nothing but sunlight (just like a solar oven harnesses the power of the sun) to heat water for coffee, tea, or whatever, but since you're boiling water then it should also make the water safe to consume with regards to water borne pathogens. That said, you should always have alternative methods of water purification (e.g., tablets, filters, etc) in case the sun's not out that day. 🙁
Here's a bit about the SunRocket form their website, SunKettle.com:
"The Sunrocket solar kettle is easy to use. Simply fill with water, open the panels and recline in the sun. At intervals, check if the water is at the desired temperature. The longer you leave it, the hotter it will get. Steam will escape from the lid valve.

The Sunrocket is safe to use – the outside does not get hot and can be used in areas where there is a fire ban.

Once water is hot, you can use it to immediately to drink, cook, clean or rehydrate food. Or you can close it up to enjoy hot water later."
…and a video about it:
Ultimately, I'd suggest it's just one more "weapon in the arsenal" if you will. Obviously, the SunRocket isn't perfect and won't work in all situations but it sure can't hurt to consider one. At about $60 online the unit isn't cheap but seeing as though safe water is of utmost importance then it could be money well spent.