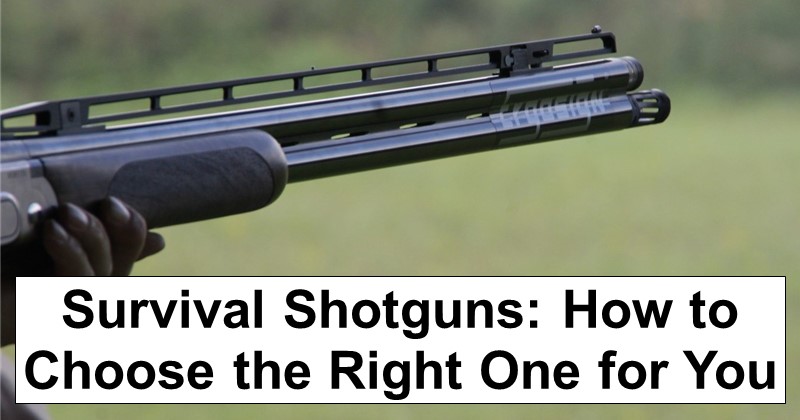 The shotgun is one of the most valuable survival firearm one can own instead of a rifle or pistol. It possesses a great force of firepower compared to shots fired from a pistol. Therefore, owning the right to say that "no one really wants to be hit by one" when it is draw out.
The main advantage that labels a shotgun as a good survival gear is the variety of ammunition. It generally means that a shotgun fires at least 8 to 26 large lead pellets from a single shot every time the trigger is pulled.
This is advantageous especially when we are not experts in aiming or in a chaotic state that our ability to aim has been blindsided. It increases the possibility of landing a bullet on the attacker without needing to constantly reload.
There is a wide range of shotguns offered in the market and each with different capabilities. Understand the characteristics of each shotgun to be able to select a suitable shotgun for survival needs.
Choose a suitable gauge
The fundamental of operating a shotgun is to fire numerous rounds of round lead pellets down a smooth bore barrel. Shotguns barrels are usually chambered in gauges instead of calibers.
A gauge represents the number of lead pellets it takes to enter the barrel to make a pound. The most familiar gauge sizes for shotguns are 10, 12, 16, and 20 gauge being the easier ammunition to find. It's important to select a gauge size that is suitable for your usage.
Recoil is typically the significant factor that decides what gauge size you will pick as not many can handle the recoil produced. If the recoil for a 20 gauge is too much to handle, consider going with a 20 gauge. But if a 20 gauge is overly powerful as well, you can choose the .410 bore as your last choice.
Other sizes are too rare and you will have a hard time finding ammunition on the shelf at a megastore.
Break open shotguns
This shotguns are classified as those that break open on the hinge to insert or remove shells. They are included in classes which is the single shot, over under and side by side.
Break open shotguns can come with single or double triggers and a wide selection of barrels. A double barreled break open shotgun with two triggers means that each trigger represents one barrel. So by pulling two triggers at a time, you will be firing two shots straight but you will most likely be abusing your shoulders.
These shotguns are the easiest to maintain and with good quality performance it can go up to 150,000 rounds without any problem. Break open shotguns with side by side or over under class usually comes with exchangeable chokes resulting to different shooting characteristics of each barrels.
However, the drawback of a break open shotgun is the limited amount of rounds they can shoot without reloading. As each shotgun only offers a maximum of two barrels, you are only able to fire twice and needing to break open the shotgun to reload thereafter.
Semi-automatic shotguns
Unlike break open shotguns, a semi-automatic shotgun has a single barrel and majority comes with a magazine tube that stores additional shells. This reduces the number of reloads you have to perform after firing a few rounds.
Semi-automatic shotguns is classified to two basic cycling actions. They can either be recoil driven or gas operated. Shotguns that are recoil driven are usually inertia or kinematic driven. Despites the difference in name, both mode operates similarly.
If the shotgun is kinematic driven, the recoil of the shell releasing will push the bolt back discharging the used shell and loading the shell from the magazine tube. If the semi-automatic shotgun is gas operated, some of the expanding gasses from the shell releasing are spread out through ports in the barrel ejecting the spend shell and reloading the next shell afterwards.
Anyhow the difference in method, both operate by using the force from releasing shells to recreate the action which in return lessening the recoil of the firearm. However, these shotguns do require a certain level of maintenance to keep them operating properly.
Instead of releasing gasses which are carbon filled like how normal pistols would, the gasses are spread throughout the ports in the barrel. This result to having barrels that are congested with carbon particles leading to further cycling issues. Fortunately, they are easy to take apart and reassembly so there is no reason for you to not clean it.
The reliability of a semi-automatic shotgun is definitely less than the break open shotguns or pump shotguns. Its only major disadvantage is the cycling problem. The spring within the barrel has an expected lifespan of firing approximately 10,000 rounds before wearing out even though with constant cleaning. However, this does not label the shotgun as incapable.
Pump shotguns
A pump shotgun is the one where the fore-end can be shift forward and backwards. This cycling movement is controlled by shifting the fore-end to the direction of the receiver to discharge the used shell and then forward to load a new shell.
The pump shotgun is usually single barreled with a magazine tube to store additional shells. Therefore, the movement rate of the fore-end is controlled by the speed of the user.
The recoil force from this shotgun is greater than a semi-automatic shotgun because it does not spread out energy throughout the port of the barrels. There are many other guns classified under this category such as riot guns, tactical shotguns and self-defense guns.
However, it requires less maintenance and greater reliability compare to semi-automatic shotguns. It will still be able to fire even after years of not cleaning just that probably its performance is slightly sluggish.
Nonetheless, here are the few common series of survival shotguns for you to consider:
Mossberg 590 Mariner
The Mossberg 590 Mariner is a 9 shot 12 gauge shotgun which means that it can store up to 9 shells in the magazine tube. It is a tactical pump shotgun with a single barrel that fires smoothly with a reasonable price tag for newbies.
The production of this firearm's barrel is stainless steel making it sustainable for harsh environments. This is suitable as a survival kit as storage in any condition will not affect the well-being of this firearm.
Mossberg 500 Lineup
The Mossberg 500 series is slightly similar to a Mossberg 590 Mariner but instead of a stainless steel barrel, it is manufactured based on an aluminium receiver. This lightens the weight of the shotgun remarkably. However, it prevents the use of majority sidesaddle slug carriers.
A shotgun sidesaddle is an accessory used by owners for convenience to carry more shells on their firearm. This series comes with a polymer safety button and trigger assembly. But the Mossberg 500's magazine tube cannot be lengthen due to the fact that the barrel is fixed to the end of the magazine tube.
Remington 870
The Remington 870 series consists of a wide range of selection with more that 30 different models. Its level of reliability is better compared to a shotgun from the Mossberg series in terms of having a smoother pump action. Furthermore, the Remington 870 is the perfect choice for hunting small game too, in addition to being an excellent home-defense shotgun.
In a scenario of unexpected home intrusion, you would want to be loaded with as many rounds as possible.
Shotguns from this series can be equipped with an extension tube to store 7 additional shells. To acquire this extension you must first remove the dimples from the magazine tube to attach the accessory. But by doing so, bear in mind that you may compromise your ability to manoeuvre.
The model most suitable for home defense would be the Remington 870 Express Tactical 18" barrel with a synthetic stock. It comes with a multiway synthetic stocks with a 18.5 inch or longer barrels making them versatile for both female or male user.
However, the Remington 870 uses a safety push button that is not as obvious as the Mossberg making it less safe to have around younger ones.
Winchester SPX Defender
This shotgun is known as the Winchester Super Pump X Defender with a 12 or 20 gauge size. It's probably one of the best value tactical shotgun out there with great performance, light weight, short barrel and all within a reasonable price.
The shotgun comes with a 18 inch slim barrel receiver made of aluminium. This results in lighter weight allowing smaller shooters to operate the shotgun with just a single hand on both the grip and the trigger.
Many shooters believe the Winchester SPX Defender to be one of the fastest performing reloading action out there. These shotguns loads and ejects shells smoothly and reliably without jamming up.
When the shotgun is fired, the tension of the spring produced by the shell pushing towards the rotating bolt partially opens the spring by itself and begins the pumping action.
However, just like the Remington 870, the safety push button is not as obvious. Its difficult to reach as it is place in front of the trigger guard. This makes it unsafe to have around children or young adults.
Benelli Nova Pump Tactical
The Benelli Nova is classified as a pump shotgun that shoots 12 gauge and 20 gauge. The barrel comes in different length variation such as 18, 24, 26, and 28 inches. It can operate on any load of weight such as a light 2¾-inch load to 3½-inch magnum load.
This shotgun is extremely reliable as it seldom has a problem even when cycling with different shells. Besides that, it is able to handle extreme weather conditions as it is made of part corrosion proof-polymer.
However, similarly with the previously stated shotguns, the safety push button is extremely small on this model making it difficult to find. Another downside would be the limited ability to customize accessory for this model due to its single-piece receiver. This also limits the magazine tube to only holding 5 shells at a time.
Conclusion
There you have it, a detail guide for picking a suitable survival shotgun. Take some time to understand the shotgun that you have selected to purchase. This will help you familiarise their functions and be able to react quickly during hectic timings. Bear in mind that having a shotgun lying around can be dangerous, therefore do not have it in plain sight.
Note: This was a guest post.