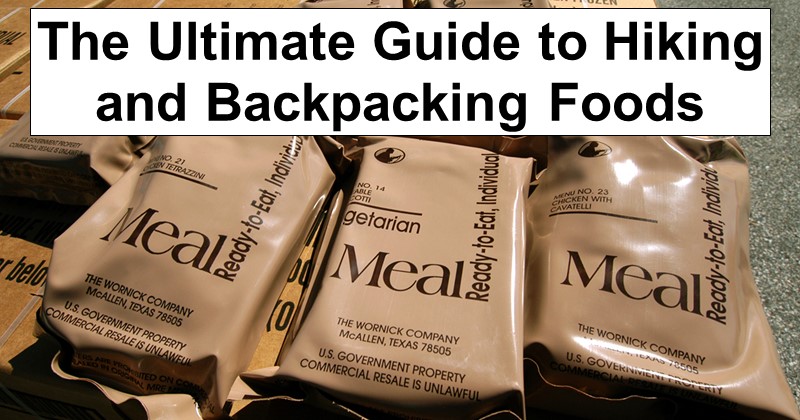 Protein bars can only sustain you for so long before you begin to crave variety. While the uninformed can get by on 48-hour trips into the wilderness, there are a lot of advantages to making yourself comfortable during prolonged outings. That means mixing up your diet, understanding how to pack nutritious food that won't weigh you down and even what to do in an emergency if you run out of food or something happens to render the food you packed inedible.
Despite our reliance on restaurants and grocery stores, you can trace everything you eat back to nature. That means with a proper understanding, you can feel secure about where your next meal is coming from, even when you're on the trail for weeks on end.
The Basics of Outdoor Eating
Most of the activities we associate with the outdoors are highly active. Hiking, camping, climbing and backpacking all put severe strain on your body, so it's essential that you carry enough fuel to see the journey through safely. Your choice of activity will determine how sensitive you need to be to things like water usage and weight. If you're heading out for a pleasant day hike, you can probably get by on a small pack of perishable foods like fruits and nuts, dried meats and nutrition bars. Once you commit to a longer foray into the wild, however, things start to require more planning.
Water is the cornerstone of your outdoor nutrition plan. You might know humans can survive for several weeks without food. However, without water, you'll be weak and unable to help yourself get home within as little as 72 hours. You should carry water for drinking on any excursion outdoors, but for longer trips, you'll need to plan to identify water sources and carry equipment to clean water for use in cooking and cleaning as well as for drinking.
Finally, in an emergency, you may have no food, water or both. This situation is when your knowledge of edible plants and water filtration becomes paramount. If something goes wrong and you lose the food and water you brought, your backup plan could be the difference between a safe return home and a tragic ending to your journey. This guide will explore these topics using a few different scenarios to help you craft practical and enjoyable meal plans for your outdoor journeys.
Short Trips and Day Hikes
When you're planning to return home the same day, you can give a little less precedence to weight and longevity in food. Since your food is the majority of what you'll be carrying, you don't need to be as weight-conscious, and it's best to bring slightly more than you think you'll need unless your hike is brief — for example, two hours or less.
A combination of simple and complex carbohydrates, along with some protein, will help you feel energized on the trail. It's best not to choose only sugary options like candy and cookies, which make excellent marathon snacks for outdoor runners, but can lead to spikes in your blood sugar and consequent lows that will have you feeling drained long before it's time to go home. Of course, pack your water bottle or use a backpack with a water bladder to make sure you stay hydrated.
Packaged items like granola bars claim to fit the bill, and while some do, many of these are mostly sugar. Instead, look for healthy fruits such as bananas that provide potassium to avoid cramps and protein-rich snacks like dried meats. If you are doing a trail run and need some sports nutrition, you can use salt tabs and some exercise nutrition products like gels and fruit chews that contain caffeine as a short-term pick-me-up if you're comfortable with it.
Weekend Backpacking and Camping
Now the fun begins. Depending on how long your hike into camp is, you may be able to use a car to bring in items that would otherwise be impractical. For the sake of this guide, let's imagine you need to backpack in. Some of the foods that you would have used in the day hike section will still make excellent on-the-trail snacks, but consider their shelf life if you're spending multiple days out. Compact munchies like mini peanut-butter packages and trail mix bags hold up well.
When it's time to settle down for a meal, you have some options that wouldn't be available for a longer excursion. You will need to pack a camp stove for most of these, which is essentially a grill plate you can place over a fire. More rugged survivalists may choose to use a self-contained fuel-burning unit like those available from MSR and Jetboil. Bring a brush to clean your cooking equipment and a pot to boil some water, as this is a critical element to many camp meals. Bring plenty of water. If you're car camping, this is simple. If not, use a high-volume filtration device and scout out a water source near camp beforehand using mapping software.
Frozen goods like hot dogs can make a fun campfire meal on night one, before they thaw out and get smashed in your pack. Canned goods like chili and soups make a quick, easy meal, too. You can cook and eat an entire bag of easy mac-and-cheese in the plastic bag if pasta is your thing. Just make sure you bring the right equipment to open them or you'll go hungry.
The team at The Adventure Bite has published a wide variety of recipes dedicated to whipping up premade foil-wrapped meals. These use fresh ingredients wrapped in foil bundles you can place on the grill plate and cook while enjoying a rustic evening around the campfire. They are too heavy and perishable for use in alpinist adventures, but make for a delicious end to your day on shorter journeys.
A true outdoor gourmand will learn to cook on a Dutch oven, which opens up a huge number of options around the firepit. You can cook breads, stir-frys, steaks and pancakes in one of these cast-iron camp stoves. However, before you go all Gordon Ramsay on your expedition, make sure you know who will be carrying the Dutch oven. These things are seriously heavy, and so is pancake mix. If it's an overnight trip or you're hell-bent on having flapjacks for breakfast, go for it. If you're more concerned about how heavy the pack on your back is, maybe choose a different option.
Drink packages are a fun way to expand on what you've brought without adding weight. If you're camping somewhere cold, make sure to stock up on hot cocoa mix, which makes an excellent complement to instant coffee for a mountain mocha to help you rise in the morning. Serve this sweet wake-up call with some instant oatmeal, perhaps with a handful of dried fruit, and you'll be well-fueled for another day on the trail.
Whether or not to pack a dedicated lunch is up to you, as many outdoors enthusiasts prefer to nibble along the way to cover more ground. You can find easily packable options like mini-flatbread, salami and cheese at most supermarkets for a quick sandwich option you can munch on while moving. Of course, this is one meal you can cover entirely with snack items like those we touched on in the day hikes section. Just make sure you divide what you pack appropriately, considering what you'll eat on day one and what will need to hold up longer.
Ultralight Backpacking and Mountaineering
Planning for long-duration expeditions where you need to conserve weight to ensure you can cover enough ground begins to narrow the number of options you can get at a conventional grocery store. Nutrition bars are still appropriate, and you should probably pack more of them than you think you'll need, because they tend to hold up well as emergency rations. Don't worry — you don't have to live on tooth-shattering cold Powerbars for the whole trip. It gets better, and the usual dried nuts and fruit still work for a day snack.
Once you've set up camp with a nearby water supply, you'll want to filter off enough water to prepare for the evening meal and for your company to drink. It's advisable to have multiple water filters as well as backup purification measures like iodine tablets available for this type of trip. A collapsible reservoir is another great addition to your pack that will keep you from having to refill the filter and put things on hold.
Start your camp stove up using a compact fuel canister and get some water boiling. Freeze-dried meals have come a long way since the crunchy porridge of the 1970s, and you can now enjoy everything from beef stroganoff to cheesy chicken noodle casserole in freeze-dried format. The pouches are lightweight, and you can cram them into a compact layer in your bag. To prepare them, you'll tear off the top of the pouch and pour in the specified amount of boiling water. Reseal the pouch, wait for the specified amount of time and voila, it's time for dinner. Invest in a set of lightweight or folding utensils and a metal bowl you can wash with boiled water for easy after-dinner cleanup.
Breakfast and lunch take on a more utilitarian format when counting grams. Oatmeal from a pouch, dried fruits and nutrition bars are probably your best bet here. Dried meats are a great way to add some protein and variety to your diet, and can make the outdoor experience feel that much more authentic.
Emergency Rations
Backpacking and mountaineering are challenging and dangerous, and sometimes things go wrong. When they do, your knowledge of your environment can help you feel confident you have a safe way out. Remember to bring those backup water purification measures, if your filter freezes and cracks or fails some other way you'll need them to avoid getting sick.
As for nourishment, if you have a weapon and are comfortable hunting game in an area where it's legal, meat is at the top of the wilderness food pyramid. That doesn't mean you should feel compelled to mindlessly kill animals, but in a life-or-death situation, the nutrition meat affords you will be far more substantial than what you can gather from edible plants.
Foraging still offers a variety of good options. Many insects provide a good source of protein. For example, when charred over a lighter flame, caterpillars and grasshoppers are not reminiscent of a crunchy French fry. Look out for bird's nests, which can yield nutritious eggs, and if there are trees that bear edible nuts in your area, you can forage for those and get more nutrition from those than leafy greens. Pine needle tea is a famous camping recipe that can stave off hunger pangs for a short time and is easy to make by boiling pine needles in water.
You should have a basic understanding of edible plants, which you can gain from reading a guide like this one from Popular Science. Many mushrooms, wild berries and aquatic plants are all safe to eat, but make sure you've identified them correctly. If you absolutely must, conduct an edibility test in five steps, allowing plenty of time between each to make certain you don't react. Smell the plant, rub it on the skin of your elbow or inner arm, kiss it and then take a tiny bite. If all goes well after 15 to 20 minutes, you're probably safe to eat more.
Plan and Enjoy Your Journey!
Truthfully, modern technology has made what used to be the exclusive province of the hardiest people into a pretty straightforward affair. It's important that you get it right, which is why we can't say enough how critical planning is for a longer trip. But if you consider the size of your party and how to accommodate for water needs, all that's left to do is choose what's on the menu. Sure, you might have to give up that cherished favorite dish for a week, but the days of eating the same meal thirty times in a row are long gone. No matter what Applebee's has to say on the topic, eatin' good can and does happen, far from yours or anyone else's neighborhood.
Note: This was a guest post.