This week I got into Thrive's Hearty Chili with Beans Express meal which was plenty for two adults or enough to have quite a bit of leftovers: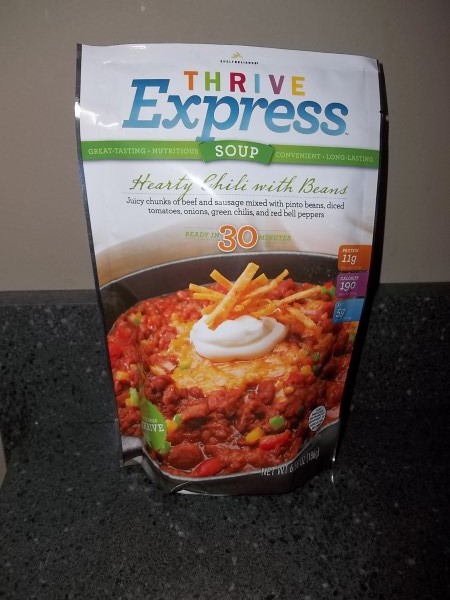 Here's the backside, though, it's much easier to see the nutritional facts and ingredients here: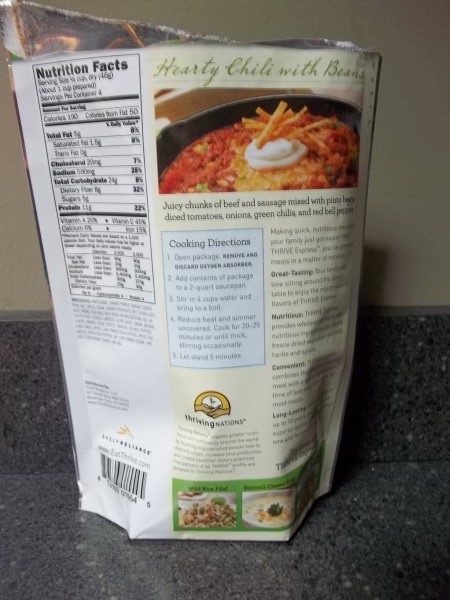 Unlike the other Express meals I've reviewed which want you to boil water first, this one wants you to add the dry food then to add water. Here's what the dry ingredients look like: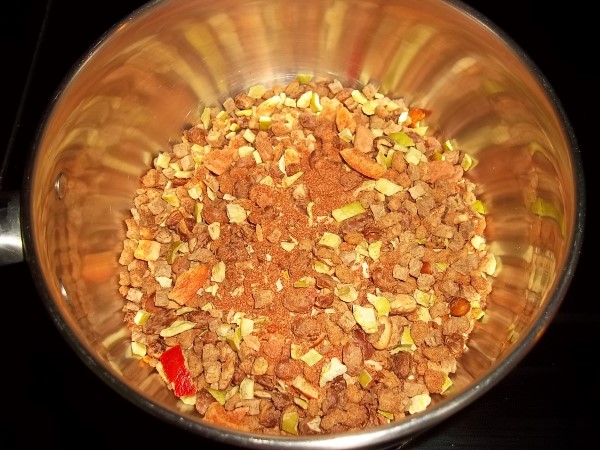 To cook, add the dry ingredients to a pot (be sure to remove the oxygen absorber), add four cups water, bring to a boil, simmer for 20-25 minutes, then let stand five minuets: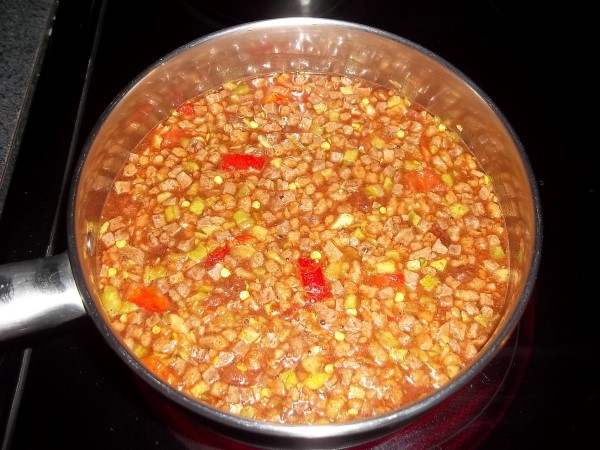 Ok. I've yet to have them steer me completely wrong yet. That said, I can say that oftentimes I've found the directions add just the tiniest bit more water than is usually necessary so I figured this would be a bit runny but I wasn't expecting this: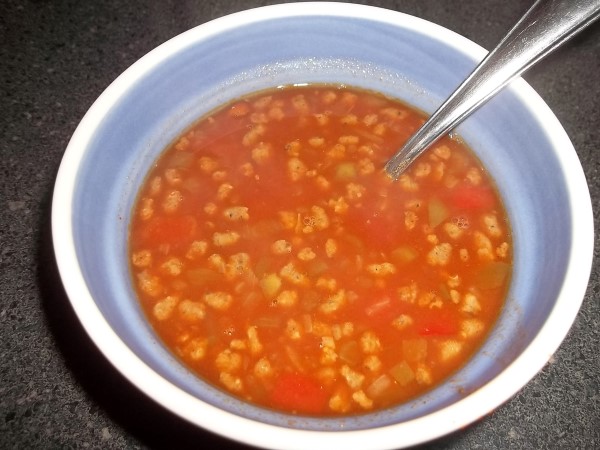 What I wound up with after following the directions properly was soup! This was not what I wanted or expected. I WANT and EXPECT my chili to be thick enough to pick it up with a chip if I wanted… not to need a spoon or straw.
Since I was hungry I dove in anyway. The taste was quite good and seasoned well-enough to have a bit of a kick but not enough that you need to follow it with a glass of milk. 😉
Though soupy, the Hearty Chili with Beans was quite good, seasoned well, and plenty for two people. Out of curiosity, I decided to see what other people said about it and, as it turns out, others had the same problem of it being too soupy. They offer some solutions as well as their opinions on the taste:
"This is amazing!!!! Tasty and spicy but not too spicy. For those of you who live at an elevation of 7200+, the cooking time was 40 minutes with a resting time of 5 minutes. Wonderful with cheese and sour cream! My husband loved it with crushed saltine crackers and cheese."

"We simmered ours for about 35 min, and it was fantastic! My husband said it was the closest thing to his mom's chili that he's tasted in 20 years. Paired well with the cornbread recipe. We will definitely be buying more."

"Surprised I like this as much as I did. Going to have this on hand for a quick winter dinner or lunch. Two thumbs up!"

"The Chili meal surprised me in how fresh and flavorful it tasted- my own recipie doesn't taste this fresh! Bright, full flavors (and texture) of fresh tomatoes, red bell pepper and green chilies with a pleasent heat that clears the head and leaves your taste buds intact but doesn't linger or hurt. Following the directions to the letter left the dish "soupier" than I care for, but that is easily adjusted. I'll be purchasing this often!"

"This was so good, but the cooking instructions are to be ignored. At 20 minutes, this was thin enough to pass through a straw. At 40 minutes, with the addition of a can of drained red beans, and a 5 min resting time, it was ready to eat. And it was amazingly good. Serving sizes were overstated–we got 3 medium sized bowls. It was perfectly spiced. Actually had a great flavor, lots of ingredients,spices, very satisfying with the addition of cheese, sour cream and green onions. My favorite Express meal, so far! Will buy a case of this to have on hand for emergencies, although it is way overpriced for a regular meal."
Right. I couldn't agree more. The meal was tasty but the cooking times or water needed was completely wrong. When I try this again I'm going to follow one of the suggestions above.