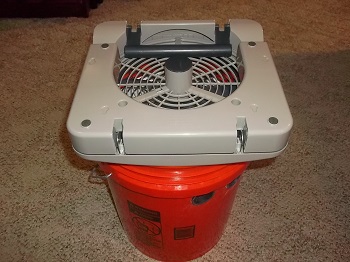 I was fairly impressed with the Homemade Air Conditioner DIY – The "5 Gallon Bucket" Air Cooler video that I posted a week or so ago. And, while I understand there are certainly better used for precious resources such as ice and my backup power supply, I thought it would still be a fun DIY project for this weekend.
Originally, my intention was to make this short and sweet and, in fact, utilize the styrofoam insert mentioned in the How to make a Simple "Hard-Sided" Ice Chest – "5 gallon bucket" style! video but when I went to Home Depot they were out of stock… bummer.
So, while I was there I picked up a 2-gallon bucket and decided I would wing it like I normally do. Just follow along in the gallery at the bottom of the post from steps 1 through step 8…
The first thing I did was to glue two scrap pieces of 2″ x 4″ to the bottom of a 5-gallon bucket so that I could create some space between the bottom of the 5-gallon bucket and the 2-gallon pail.
Next, I cut off the outer edge of a 5-gallon bucket lid so that I could use it later.
I then traced around the top of 2-gallon pail onto the same bucket lid used in step two above and cut that out.
After allowing the glue to dry a few hours I started adding shredded paper to act as an insulation to the bottom of the 5-gallon bucket.
Next I placed the 2-gallon pail inside the 5-gallon bucket, covered it with cling wrap so I wouldn't fill it full of shredded paper, and then added shredded paper between the 5-gallon bucket and 2-gallon pail as evenly as I could. I packed it fairly tight. When finished I removed the cling wrap.
Remember the lid we cut up in steps 2 and 3? Well, now it's time to turn it upside down and begin to shove it down the bucket (it's a tight fit) and keep shoving until it's beyond the top of the 2-gallon pail and firmly holding the shredded paper in place. This isn't rocket science.
Now it was time to cut the vent holes. Use whatever PVC you want but I wound up commandeering an unused leg from a set of plastic shelving. Just use an appropriate hole saw and cut the PVC a little long so that you have something to work with. Officially, the distance between each pail was 1-1/4″ but I cut my PVC at 1-1/2″ which worked out fine but I think I would have cut them a bit longer (maybe 2″) if I did it over again. I thought about caulking the entire setup but haven't bothered to do so yet.
 Add ice and top with a fan as shown in the photo at the top of the post.
So, how did it work?
Well, I started with a gallon jug of ice as shown in step 8. We placed it in our room which tends to stay hotter than the rest of the house. The original temperature started at 82 degrees and dropped to about 76 degrees after an hour. I was not very happy with those results so I removed the gallon jug and substituted with a small bag of ice (about 8 pounds) which immediately felt cooler. The problem is that after an hour of using the bag of ice the temperature didn't budge. Why? I don't know. I am not happy. Granted, he was measuring temperature coming out of the bucket cooler (at about 45 degrees) whereas I was measuring the room temperature. Regardless, I wasn't expecting a miracle here but I was expecting better results.
Any thoughts as to why this didn't work for me like it did in the video?