Everyday Carry (EDC) is an important part of any prepping strategy. After all, you're only really as prepared as what you have on your person at the time of an emergency. Today I'm not talking about my entire EDC but, rather, just what's in my wallet. So, I figured the best way to do this was to show you.
First, however, I should note that the contents are what I find necessary and useful for my situation, you should tailor your wallet EDC to your own needs. Second, I use a typical tri-fold wallet that has plenty of pockets and sleeves and I certainly make use of every nook and cranny. As such, my wallet is rather bulky and in order to be more comfortable I always keep my wallet in my front pockets which I prefer for anti-theft reasons as well.
Here's what I include, you can follow along in number order and click on the picture to enlarge if you like: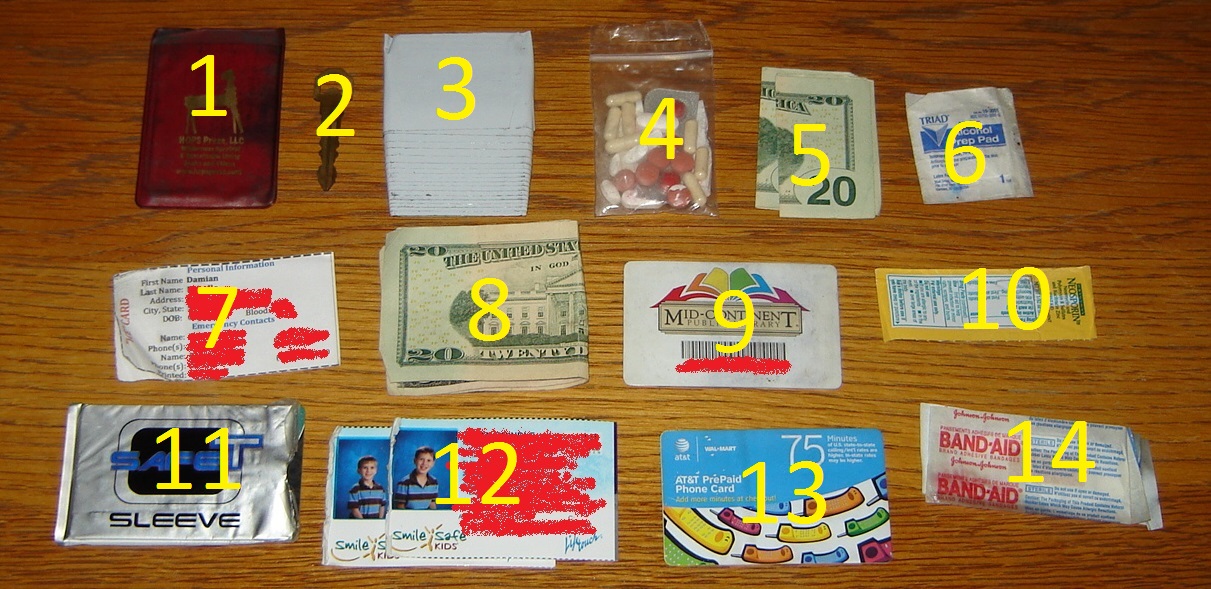 Let me also note that I also have my driver's license in my wallet but I didn't include it in the above photo:
Fresnel Lens – I originally put this in my wallet because they can be used to start a fire but I actually find it quite useful for seeing very small things these days (like splinters and stuff I can't read)… who knew!? Guess I must be getting old. 🙁
Spare Car Key – Though just a car door key, I keep it in my wallet just in case my wife locks her car keys in the car again. Of course, you could choose to keep a starter key instead. I would NOT advice including a home key as this allows easy access to your property if your wallet is ever lost or stolen… better to keep a spare key with a trusted neighbor, friend, or nearby relative.
Duct Tape – Don't laugh, I've used this stuff more than once and am very glad I have some on me at all times. Oh, and be sure to get the quality duct tape because if you're scrounging for duct tape in your wallet then odds are pretty good you NEED duct tape.
Assorted OTC Medications – I actually have quite a few OTC meds with me, including Ibuprofen, Tylenol, allergy pills, digestive pills, and a few other things in a small plastic bag I think I got at Hobby Lobby a long time ago. Note that if you put your wallet in your back pocket then this probably isn't a good idea as you'll likely crush these pills rather quickly. And, if you take prescription pills then I would include these pills in addition or in place of any OTC medications.
Extra Cash – I ALWAYS keep $40 hidden away (from me, not others) so that I have cash in my wallet should I need to buy a tank of gas or whatever. I've thought about including more–maybe up to $80–but just have yet to do so. Regardless, I think this is an important prep because you never know when you may need a small bit of cash.
Alcohol Prep Pad – Used to clean a wound site, I guess they could become makeshift wet-naps if you wanted. I actually need to replace this pad and should likely include another one or two in my wallet since they don't take up much space at all.
"ICE" Card – Perhaps the most important prep, this one's for emergency responders or perhaps a good Samaritan to identify critical things about me should I have a medical emergency, such as my name, emergency contacts, blood type, doctor, and more. I recognize this may not be something those who take their OPSEC very seriously would want to do but I feel it's important.
Cash – I actually only had about $25 here in the picture (besides the $40 emergency cash stash from above) but I had just got back from taking the kids to the movies and a haircut so I needed to replenish. Typically, I keep at least $60 and prefer about $100 if I can con my wife into forking over that much. 😉
Library Card – Can't say I use this everyday but it makes me feel special.
Triple Antibiotic Ointment – Also need to replace this but I'm sure you know why I include it here. And, yes, I have actually used this in the past.
Credit / Debit Card in RFID Sleeve – I actually keep a debit card, credit card, and my Sam's Club card together in an anti-RFID sleeve which is meant to protect my cards from being magically swiped out of thin air. Does it work or is an RFID sleeve even necessary? I haven't a clue. Regardless, while I prefer to use cash to pay for things I also recognize that a credit card has it's place as it's just one more form of payment that might be accepted, or perhaps I just don't have enough cash on me.
Child Info Cards – Pertinent info about my children should I ever need to relay that to the authorities.
Calling Card – Who knows if your cell phone won't work, be low on battery, or even get lost. And you can't guarantee that anyone will be nice enough to let you borrow their phone so I've always kept a pre-paid calling card in my wallet just in case.
Bandages – Though only a few typical bandages, I have had occasion to use them in the past and should probably figure out how to add a few other sizes, like knuckle bandages.
Well, that's all of it! I should say that once upon a time I used to keep a few matches, a compass, and I once even tried to fit a bandana in there (that didn't work at all) but I stopped because I usually keep a firesteel on me in my Leatherman Wave multi-tool case (as well as another small flashlight).
Hope that helps you get one small part of your EDC in good order!