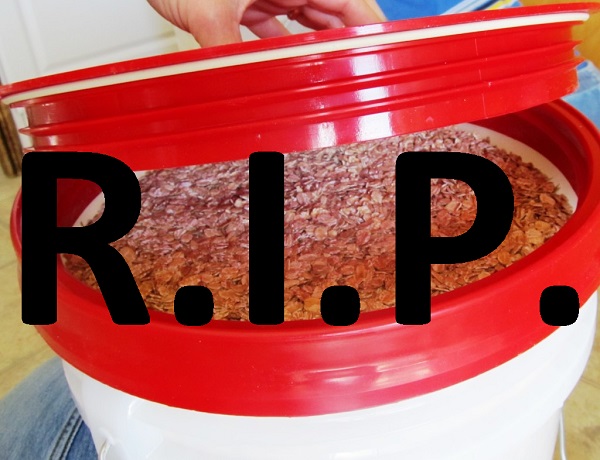 I've used these gamma seal lids and food grade buckets for years now without trouble. We've used them to store rice, beans, oats, and wheat.
In fact, they're rather easy to use and make accessing my food storage buckets convenient. But, alas, I'm not going to be using them any longer.
Why?
Well, remember when I had the trouble with bugs in my oats? I had it happen yet again, this time with my brown rice.
I know this is just the way it is when it comes to using bulk foods but since it's not SHTF and my family wouldn't think of eating bugs unless they have to, the last bit of rice I had in my bucket got tossed… which brings me to the problem:
It's all about usage.
You simply can't let food sit opened (even though it's in a "sealed" bucket) for years and that's by and large what we've been doing.
Sure, we get into these foods on occasion but I don't think I've had to add any rice or oats or beans to any of these buckets in years which is a clear sign we're not using our bulk foods very much anymore.
Fortunately, we haven't had any food spoil for any reason other than bugs–such as the rice going rancid–but I think I'm just going to store enough of these bulk foods in #10 cans since I have plenty of those.
If, however, you use your bulk foods regularly then the gamma seal lids and buckets work great.
How about you? Do you have this trouble with food in buckets or do you use it fast enough?