A while back I was asked if I would be willing to contribute to the 2017 Prepper Bundle and I said "sure, sounds like fun." But it wasn't until recently that I realized just how massive this prepper bundle truly is…
You see, I recently had a chance to find out just what's included in this prepper bundle and who's involved and I immediately realized this was going to be big!
For instance, you'll find contributors like Daisy Luther of The Organic Prepper, Todd Sepulveda of Prepper Website, Misty Marsh of Simple Family Preparedness, Lisa Bedford of The Survival Mom, Melissa Norris (of her own website), Jodi and Julie of Food Storage Made Easy, Paul Wheaton (he should need no introduction), and plenty of others besides myself.
Anyway, it's a huge group of knowledgeable folks who contributed their expertise on quite a wide range of topics to get you better prepared. Here's some of the resources to get you salivating a little (author's book description follows the title with the occasional redaction to speed this up, lol):
The Guide to Primitive Survival Traps – A book for all outdoorsmen and survivalist who enjoy the sport of trapping and wilderness survival. With an easy, basic read and images for an easier understanding, this book provides you with instructions to making primitive survival traps.
Meal Planning for Long-Term Food Storage -Start building your food storage today! This kit is the easiest step to building your long-term food supply. Including 7 different recipes for breakfast, lunch, dinner and dessert. Recipes are basic and easily converted for food storage cooking. Each group contains a shopping list for 1 week, 1 month or 3 months to help facilitate easy gathering of a family's food supply.
Build Your Own Emergency Off-Grid Power System – This book began as a project to prepare ourselves to survive without electricity for an extended period of time, maybe as long as a year. We share our research into battery-centric, electricity storage devices that most people refer to as "Solar Generators" using solar panels to collect electricity to store in batteries.
Fifty Ways To Make Survival Tools From Trash And Household Items – This is a collection of "how-to's" from the writings of Ken Youngquist as he explains the uses of "trash" as they apply to emergency and survival scenarios. Who knew that duct tape can be used as a magnifier? that a plastic bottle can start a fire? That a soda can combined with a potato chip bag can pasteurize water? Learn these "how-to" techniques so that you can be better prepared for what lies ahead.
Canning 101: A Primer – Start building your food storage today, from scratch! Canning provides a means to build your pantry, one batch at a time…of homemade, shelf stable food for you and your family. Not only build up your stock of healthy 'convenience foods' for your everyday pantry needs; but build a long (or short!) term food storage. Everyone has a 'rainy day', eventually. Be Prepared for it! Learn to what you'll need to start canning, where to find it and how to get started safely canning your own healthy, delicious food and meals.
Mini Seed Saving e-Course – Learn how to seed save your own garden seed every year from someone who has been saving the same strain of green beans in her family for over 100 years. Gain the foundational knowledge of seed saving, including cross-pollination, and never purchase seed from the store again. This course walks you through the amazing living history of heirloom seeds and how to start creating your own seed bank.
Prepared Kids – Our children are the next generation of adults in the world, and we get to help raise them! Whether we are their parent, grandparent, guardian, or family friend, we can raise children that are responsible and self-reliant. In this book, I share ideas that our family and others have used in raising our children that have helped foster in them an attitude of self-reliance and preparedness.
Homemade First Aid Kit – Have you ever wondered how to make your own homemade first aid kit using natural products? Then this is the book for you. It tells you exactly what natural items you need in your first aid kit, what to use them for plus covers miscellaneous items-like tweezers – that you might accidentally overlook when making your own first aid kit.
The Prepper's Guide to Disaster Water Security – When disaster strikes your community, are you going to be one of the 1000's waiting in a FEMA line every day for your ration of water? Or are you going to be the hero, the person who planned ahead and can take care of your family in the comfort of your home during the disaster and subsequent recovery? If you want to be the hero, you need The Prepper's Guide To Disaster Water Security your complete guide to building a bulletproof water program.
…and those are just the ones I bothered to highlight. Of course, there's my contribution too:
My Contribution To The Bundle…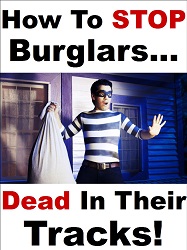 How to Stop Burglars Dead In Their Tracks – Inside my report, "How To Stop Burglars Dead In Their Tracks" you'll uncover who these criminals really are, how they plan heists, what factors deter them, which items they want most, 27 actions you can take right now to stop them (including easy security measures) as
well as a dozen hiding spots no criminal will suspect.
I know this doesn't necessarily feel like it's directly related to being prepared but you'd be dead-wrong when all your stuff gets stolen because you took your security less seriously than you should have. In my super-biased opinion it's probably the MOST important of all the topics covered in the bundle. 😉
That bit of sarcasm aside, there's a lot more included I haven't even mentioned yet covering a wide range of topics, including: first aid and survival skills, general survival, shelter, food and water, managing and organizing your preps, and more… you really should check it out for yourself.
There's Still More To The Prepper Bundle…
Prepper Supplies Checklist – Looking for a list of survival gear that can help you determine the right preparedness supplies for you and your family? Prepper Supplies Checklist is a workbook designed to help the user develop an emergency preparedness plan. It is presented in an easy to read format that includes stories, photos, illustrations, helpful tips, and some great survival gear ideas!
Building A Cob Style Rocket Mass Heater – A rocket mass heater (RMH) can heat your home with one tenth the wood of a conventional wood stove. A RMH is a DIY project that usually takes a weekend to build and about $200 in materials. This DVD will show you two rocket mass heater builds featuring the most popular style: cob.
Wonder Oven Recipes – For those interested in Wonder Oven style thermal cooking, this e-book is a convenient way to get all of My Food Storage Cookbook's printable recipe cards. It begins with a 6 page explanation of Wonder Oven cooking (including best practices and tips) and is followed by 28 recipes. All in one, baby!
6 Steps to Your Quick Win Emergency Kit – Once you know the peace of mind that a stocked and ready emergency kit can bring, you'll wonder why you waited so long to finish your own! This 4-week course helps beginners put together their emergency kit. We'll cover how to identify the likely disasters for their area, how to put together a simple kit to cover basic emergencies, and then how to put plans in place to personalize individual and family kits.
…and still plenty more not even mentioned yet.
What's The Bundle Cost?
By now I'm sure you're wondering how much this costs and you'll be shocked (and pleasantly surprised) to hear it's all ONLY $29.97 for the online, immediate access version. Better yet, you can pay a bit more and get the online version plus a USB thumb drive with the same content for $59.97! That way you can get it now and have it for ready reference should SHTF.
The Prepper Bundle Bonuses…
As if all that's included weren't enough there are some awesome bonuses as well, such as a very good savings on the All American Sun Oven (my personal favorite solar oven), access to the Pioneering Today Academy, the Trayer Wilderness Academy, and plenty more… but you're going to have to see them for yourself.
After I'd went through this massive list myself I was looking for the "buy" link myself, no kidding. Turns out I get a free copy for having contributed to the bundle. With that in mind, I'm willing to go above and beyond the call of duty…
My Prepper Bundle Giveaway To You
Seeing as though I want YOU to get prepared and to utilized this information, I'm willing to buy an online only copy for one of my readers.
Just share this on Facebook, Twitter, or Pinterest and then add a thoughtful comment below by this coming Friday night, I'll pick a random winner, announce it on Saturday, buy a copy, and then reach out to you via email to hand off the login details.
Again, please share this using the provided share buttons and leave an actually useful comment as to why you can make use of this bundle. (Obviously useless comments will be ignored.)
The thing is that I'm leaving on Sunday for a full week and won't be around to check emails and whatnot… so, if I don't hear back from you on Saturday via email you're simply going to have to wait until I get back for your login details. And if I still don't hear back by then I'll move on to someone else… you snooze, you lose.
Your Special Offer On My Own Survival Course
Now, I must be feeling generous today since I'm also willing to offer everyone who's bothered to read this far a full 25% off my own survival course, The Prepared Path, during this 6 day prepper bundle event as well.
If you're a long time reader then you probably know about my course but, if not, you should check it out and get your discount while you can.
Be fully aware: this offer on MY course has absolutely NOTHING to do with the prepper bundle offer. They are completely separate offers.
Please DO NOT contact the prepper bundle folks about my course or me about the prepper bundle.
To be perfectly clear: if you want the prepper bundle you must buy the prepper bundle. If you want my course then you must buy my course. If you want both then you must purchase both separately. Got it? Good.
Now, stop procrastinating and go grab your own copy of the Prepper Bundle before the sale ends on June 12 and while you're at it grab The Prepared Path too at 25% off and be so prepared you won't know what to do with the rest of your day. 🙂