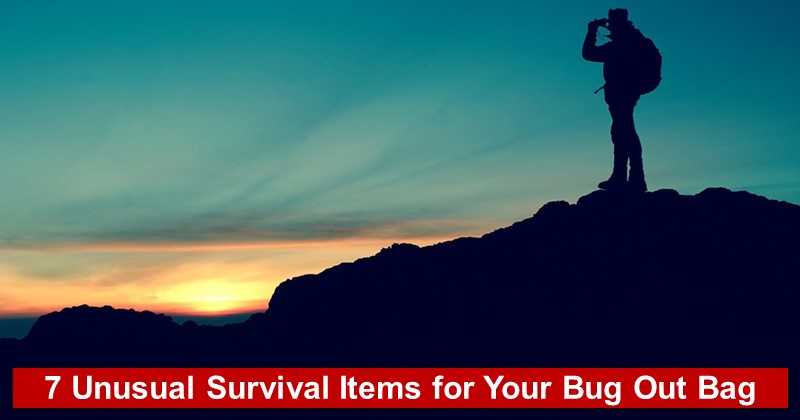 Do you really have everything you would need in your bug out bag? Enough to last you at least 72 hours, possibly even longer? I cannot emphasize enough the importance of doing your own research and picking the most appropriate bug out bag backpack, which you can do so by checking out the post here. Choosing the correct bug out bag (along with the correct gear and supplies) will surely increase your chances of survival if and when you must evacuate.
After choosing your bag, it's time to consider what you need to put inside it. Most folks include common items such as a flashlight, poncho, water filter and so on, as well they should. In this article, however, we'll explore something different: those unusual items that you could pack in your bug out bag which could potentially save your life! Or, at the very least, make life a bit easier.
Have you ever wondered what additional items you may need to pack inside your bug out bag, especially those unusual items that you may not have thought of? Here are the 7 unusual survival items that you need to pack in your bug out bag…
[Editor's note: If you'd like my take on the subject, consider these 53 essential bug out bag supplies.]
Alcohol (vodka)
Besides using alcohol for drinking–which I wouldn't suggest during a bug out–you will find a few additional benefits of storing a spare bottle of alcohol in your bug out bag. For instance, due to the high alcohol content, liquor, such as vodka and rum, are highly flammable which means you can use them for fire starting. Soak a piece of cloth with alcohol and put your tinder on top of the soaked cloth, the alcohol vapor will help you to start a fire easier.
Alcohol can also be used as a disinfectant. Dousing your open wound with alcohol will help clean and disinfect the injured area before protecting it with a bandage. Similarly, if you need to disinfect your survival knives, simply add alcohol into a container and soak the survival tool inside for a few minutes.
[Editor's note: I'm not sure I would use just ANY alcohol for this purpose. Something which is, say, at least 80 proof and doesn't contain any dyes or additives would be best. Vodka or gin, for instance, would likely suffice.]
Finally, alcohol can also help to remove any bad odor from your body, clothing or equipment. It would be handy to have a spray bottle in this situation to ensure the deodorizing agent is spread across a larger area. Otherwise, simply put on a rag soaked with alcohol and apply it to your body. In fact, you can also rinse your mouth with alcohol to flush out any bacteria in your mouth.
[Editor's note: You would've had to stumble into something REALLY smelly for this to be the better smelling option, lol. Use as an oral disinfectant could be useful though.]
Pocket Chainsaw
A pocket chainsaw, as the name implies, is a "chainsaw" that fits in your pocket. It is basically made of a chain of blades attached to a pair of handles at both ends. This design is particularly handy due to its compact and lightweight features which allow a person to cut firewood or logs without an axe. For bushcraft, I would recommend getting a folding saw instead which has a better cutting efficiency compared to the pocket chainsaw.
With that said, a pocket chainsaw does make a good lightweight alternative cutting tool. Simply wrap your chainsaw around a tree branch and start cutting by pulling it upwards left and right alternately. A few features that you will want to look for when purchasing a pocket chainsaw is the length of the chain. A 36-inch chain would have faster cutting time with blades sawing 3 sides of a limb at once compared to a shorter chain like the 24-inch. Make sure the saw is made to cut in bi-directional with teeth that are made of high carbon steel. Before cutting, ensure the piece of log is well-supported to prevent injuries when using the pocket chainsaw.
Pstyle or SheWee
If you are female or have female family members who are bugging out with you, consider getting a Pstyle or SheWee as a personal hygiene product which aids women with urinating while standing up. With this device you would not have to worry about poison ivy, trouble squatting due to weak knees, or even any creepy-crawlies waiting below you on the forest floor.
I would recommend getting one of these devices as it allows you to urinate while standing and without removing any of your clothing. They are reusable, washable and highly functional.
Tecnu with Wash Cloth or Loofah Sponge
If you expect to bug out into the woods, it is not uncommon to stumble upon poison ivy at some point, a plant which produces an oil called urushiol and leaves a rash if the oil had remained on your skin for a lengthy period of time.
Including some dish soap or, better yet, a bottle of Tecnu would be useful to remove the oils from your skin, clothing and gear. Liberally apply the dish soap or Tecnu with a wash cloth and scrub the contacted skin area thoroughly. Rinse and repeat to prevent any severe rash from occurring.
If you ever had a bad case of poison ivy rash then you know just how important quick removal of the oils can be! The key is to scrub thoroughly as soon as possible to remove any oils which leads to the allergic reaction.
Shoe Goo and Duct Tape
Another important aspect in a survival situation is to take great care of your feet and, by extension, your shoes.
Imagine that as you are evacuating one of the soles of your shoe began to come loose! Of course, you shouldn't be walking around in the woods with one shoe falling apart. Therefore, keeping a tube of shoe goo in your bug out bag may be the solution. The adhesive will not only affix your soles to the upper part of the shoe again, but it also offers a protective or waterproof coating for your footwear.
Alternatively, you can opt to use duct tape to secure the soles of your shoes. These strong, cloth-backed and waterproof adhesive tapes have numerous uses and you might be surprised at just how many. For example, duct tape can be used for making a rope by twisting the duct tape into a cord, repair your tent, as a makeshift bandage, remove warts, sealing food packages, remove splinters, repair leaking items and the list goes on and on. Pack duct tape in your bug out bag and you will be glad you did.
[Editor's note: I would suggest that duct tape is a far more expedient repair for shoes than shoe goo which, in my experience, takes several hours to a day or longer to fully cure.]
Safety pins
Safety pins can also come in handy due to several potential uses. You can store your safety pins on your key chain or hook it on your bug out bag so you know where to look for them when you need them. It would be even more useful if you have some thread and needle with you that can act as a sewing kit but, for our purposes, safety pins are the faster repair.
Safety pins can be used to pin gear to your bag out bag, repair tears in clothing, create a fish hook or just simply used to hang lightweight items on a line to dry overnight. You could also use safety pins to remove splinters under the skin and create an arm sling from a T-shirt, if you have no other choice.
Because safety pins are cheap and readily available make sure you include several safety pins of varying sizes into your bag today.
Sarong (or Shemagh)
The final unusual item on our list is the sarong. Sarong is a large fabric that is usually used to wrap around the waist worn in Southeast Asia and Pacific islands. Essentially, a sarong is a big piece of fabric that you can use as a towel, blanket, shelter, hammock, bandage and makeshift carry bag. Sarongs are also a great way to carry small children when used like a maya or moby wrap. Make sure your sarong is made of sturdy material like rayon fabric so that it would not easily tear in an emergency.
[Editor's note: you might actually be better off with a Shemagh for such purposes, though, I don't personally have one and it seems they're all made of cotton these days.]
I hope you found the list interesting and useful as I did. There were a few additional items that I had left out which I felt were interesting but might not be as unusual, such as tablet towels (very compact towels for camping, hiking, etc.) and waterproof socks.
So, what did you think? Are these bug out bag items THAT unusual? What items would you have included that weren't?
Note: This was a guest post.