A few months back I posted this Review of RazorPit Men's Razor Blade Sharpener because I just despise spending money on new Mach 3 blades. By and large I'm glad I purchased the RazorPit but it's not as awesome as I hoped it would be; that said, I think it will work out to be a good purchase. Anyway, I decided I needed some more Mach 3 blades while at Wally World the other day and almost had sticker shock at what I saw, here's a screenshot of the online price for a 5 pack (the in store price is actually a dollar or two more):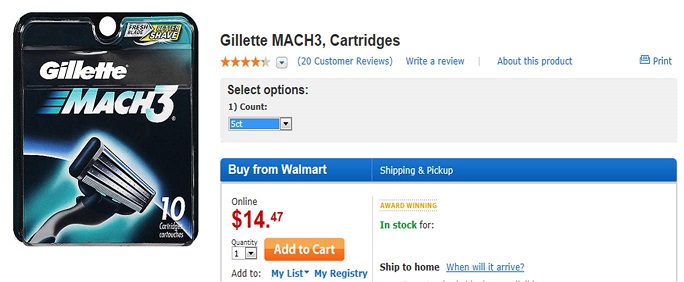 Ignore the image that says "10 count" the price is really for a "5 count." And, like I said above, it's actually a dollar or two more in the store. You know what the problem is? It wasn't that long ago that the price for a 5 count was about $8!  In fact, I can honestly say I thought I was looking at the wrong stickers. Now it's over $15, which is roughly double the price I was accustomed to paying. And let's not even talk about the prices of 10 and 15 count blades. I truly felt like it was a smack in the face.
So, what happened? I honestly haven't a clue. I looked for information online but couldn't find anything, though, I did find some sites that claim the cost to manufacture these blades is–and has been–dirt cheap which didn't make me feel any better whatsoever.
Is this a case of inflation? Or, is it just something very specific to these Mach 3 blades?
What I can say is that I let my guard down and wound up paying for it… perhaps it's time to invest in a straight razor. 😉