I was contacted a few weeks ago by the folks at HandiRamp.com to see if I would be interested in reviewing their non-slip stair treads, as such, I need to point out that I received a set of three treads in exchange for an unbiased review.
At first, I balked at reviewing these treads because I didn't quite see the need from a survival/preparedness perspective but I quickly changed my mind because I remembered that survival means more than just preparing for SHTF… it's every bit as much about the day-to-day actions you can take to ensure that bad things don't happen to you or your loved ones no matter the scenario.
And since slips and falls are a major cause for broken bones, head injuries, and even death–especially as we age–ensuring my family and I don't accidentally slip when I could have prevented it was now a no-brainer.
Truth be told, the steps I installed these treads on have been a concern of mine for quite some time. These steps are slick and I've nearly slipped more than once going down these steps during a heavy rain. I'm honestly surprised that nobody has yet to hurt themselves, especially my kids who fly in and out of the doorways all the time.
In fact, I actually bought some grit tape adhesive strips more than a year ago because I tried to hurt myself on these very steps more than once; I just never bothered to put the grit tape down because, well, I don't know why. I'm guessing I figured they were a poor solution and just never bothered to find a better one… seems fate works out in my favor sometimes. 🙂
So, long story short, I installed these non-slip stair treads on a troublesome set of steps we use a dozen times a day, the very day I got them.
Here's a before shot of the steps (yes, I know they need painting badly):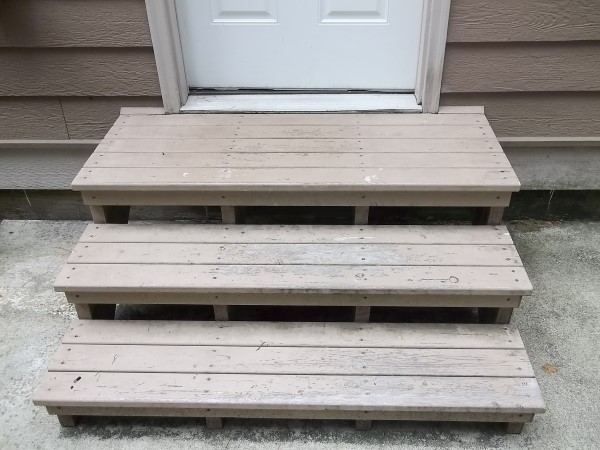 …and the after shot (it rained sometime in between these two photos):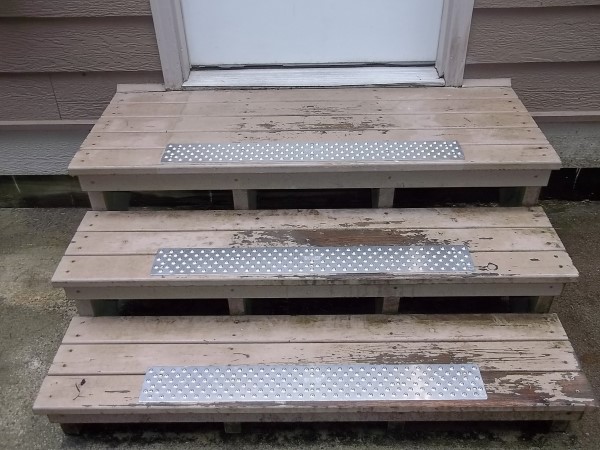 Installation is quite simple: just screw them into place and you're set. They do suggest that you install them roughly 1/2″ back from the edge and give a few additional recommendations on how best to install them, such as starting from the center and working your way out. It really is easy.
Since these treads include raised "bumps" the screw heads won't become trip hazards  themselves (I've circled two of them so they're easier to see):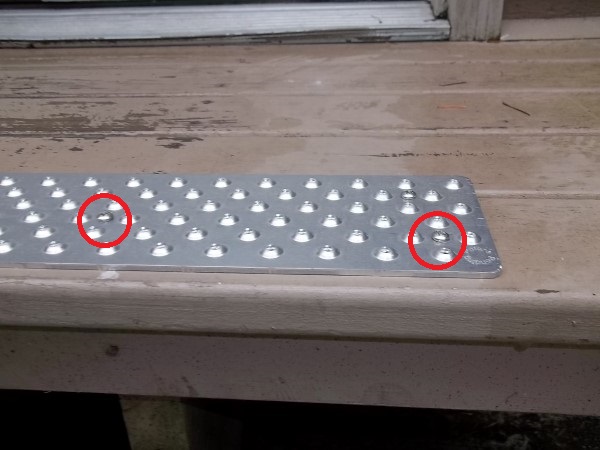 They include a total of eight screw holes for the 30″ treads and give you a few extra screws per tread; I actually had about a dozen extra screws for all three treads which made me wonder if I'd missed some screw holes, I didn't.
Also, when I removed them from the box the first thing I noticed was how sturdy they felt. I knew they were going to last a long time without worry. The treads, in fact, are made of aluminum and are as thick as two quarters: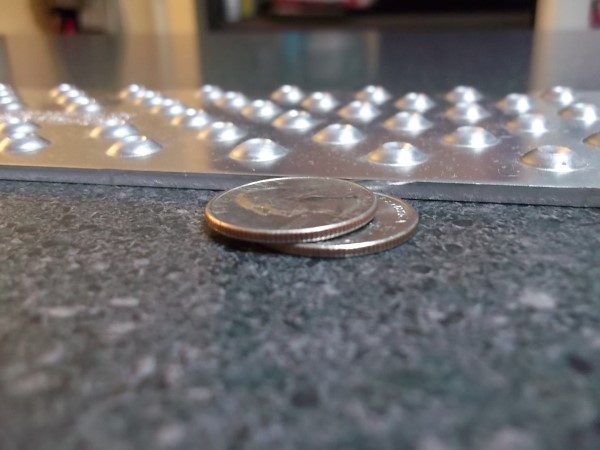 You can learn more about their non-slip stair treads on their website here but my 100-foot overview is that they come in both 30″ and 48″ wide versions with a handful of colors, including silver, black, brown, yellow, and clear-coat anodized. There are other options besides these, including non-slip nosings and much more.
So, how well do they work?
Though I've only had them for a few days I was fortunate enough that it rained all day long the day after I installed them and so I had the opportunity to try them out immediately.
I can say that I was a bit hesitant to step on them because somewhere in the back of my brain I said, "that's metal, it may be slippery" but that unfounded fear was quickly washed away after I walked up and down them a few times and realized they really did make the steps less slick, even while actively raining.
I do still need to test them in a really heavy rainfall but thus far I'm impressed; I'm actually considering adding them to the other sets of steps I have, though, we use these other steps far less.
If you have a similar situation with some steps that may be slick or just to ensure you won't slip and fall, try handiramp.com, they're a good solution and far better than grit tape, in my opinion. Use code "BLOG2015" for a 10% discount on your order on their website or search "handi ramp non slip" on Amazon.com if you prefer, though, the prices I found on Amazon don't seem to be any better than what you would find on HandiRamp's website.