I received this OxyLED® Q6 Led Lamp / Lantern for review and I can honestly say that I was surprised at how useful of a light it's turning out to be.
Thought I have many lights–in the form of flashlights, lanterns, and headlamps–I've never had a flashlight like this, in that, it's sort of like a lantern but it only illuminates 180 degrees. The best I can describe it is like a self-contained handheld fluorescent light that you would otherwise hang from the ceiling of a garage or workshop… that's how I see it, anyway.
For starters, here's some specs on the light from Amazon:
4 brightness settings (dim, normal, bright, and supernova) + a blinking flash mode
High-power natural spectrum led provide 200 lumens of illumination, CRI(color rendering index)>70
Built-in long life rechargeable battery with Mini USB cable
Durable, drop resistant construction; Long Life, Energy saving, Rated for 36,000 hours of use
Now, the OxyLED came delivered in a rather sturdy box that reminds me of a long-neck matchstick box. In fact, it makes a good carrying case: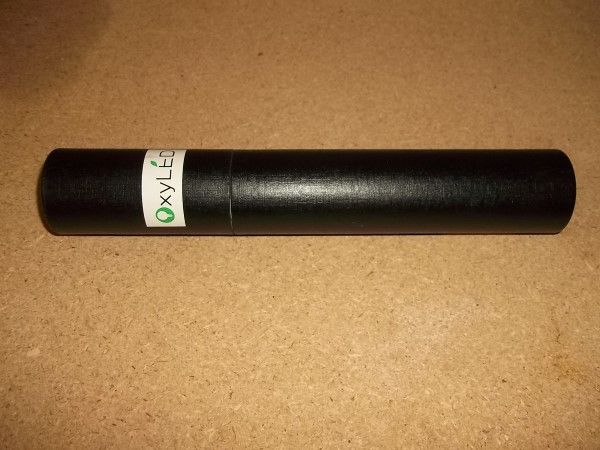 The first thing I noticed when I removed the light from the box was how lightweight it was. The stats say it weighs in at a mere 4.2 ounces which is among the lightest (if not the lightest) flashlight I own. I think it weighs even less than the d.light LED Solar Area Lantern which is without a doubt the lightest actual lantern I own (mostly since it doesn't use any batteries). Overall dimensions are 8″ x 1.3″.
There really isn't much to the light. On one side is the light, the other side is shielded. There's also two lanyards that you can attach to the ends of the the light: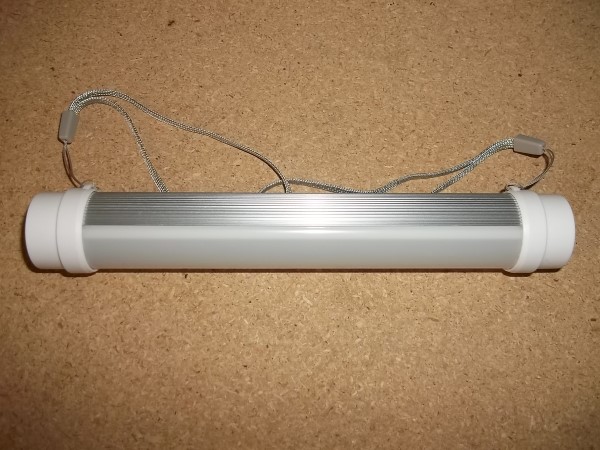 On one end you'll find a mini USB port for charging the light and a small button that acts as the on/off and brightness selection button: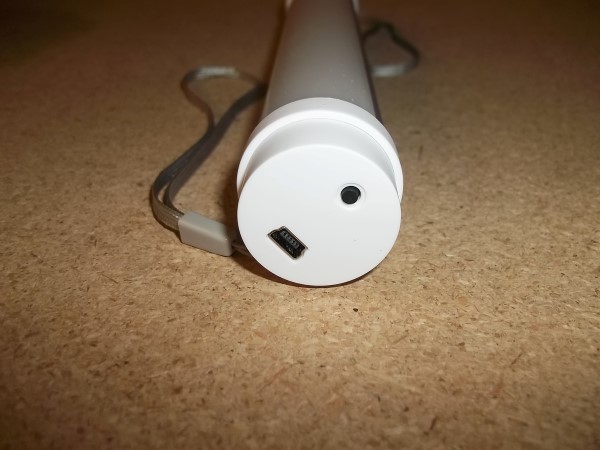 Battery / Charging
The battery is expected to last 3 to 72 hours depending on mode selected. The life of the light is expected to be >36,000 hours but that's assuming 2% brightness and/or 500 charges. Honestly, this light should last for years of use camping, hiking, or for preparedness.
If it wasn't clear, the light is mean to be rechargeable and does NOT use or take external batteries. To charge the light simply plug into a computer/laptop or portable powerbank and a few hours later you're back in business. While charging there's a small red led that blinks next to the USB port. When fully charged the led stays solid red. If the battery is getting low the red led will blink fast three times when cycling during use. It's all really easy.
Cycling Through Modes
As for use, you simply cycle through the settings using the on/off button. These settings are: dim (2% of full brightness), normal (50% of full brightness), bright (75% of full brightness), and supernova (100% of full brightness). There's also a flashing mode which, like all lights that include them, is annoying. I still have no idea why anybody thinks that's useful… unless you're a bicyclist perhaps.
I do want to point out that I feel there's at least one cycle that's not needed, most likely the 75% brightness mode as it just makes you have to cycle through one more setting than needed. Again, I would do without the blinking mode too. Now, I do like the dim (2% brightness) mode quite a bit and I do like that it's the first mode when cycled on.
The difference in brightness between modes is readily discernible, a problem that many LED lights seem to have. In other words, some lights are difficult to tell if it's on low, high, or something else… this one is easy to tell.
You can also hold down the on/off button for two seconds to get it to turn off rather than cycling through the modes.
Handling
Overall, it's quite comfortable to hold. With a lanyard around your wrist you shouldn't drop the light but it would have been nice if the lanyards were adjustable. Beyond that, you can slip it in your pocket and probably have a bit of it sticking out but not too bad. With the provided lanyards you can even hang it easily. Here's the light hanging from a hanger in my boy's closet (the darkest room in the house) and on dim mode: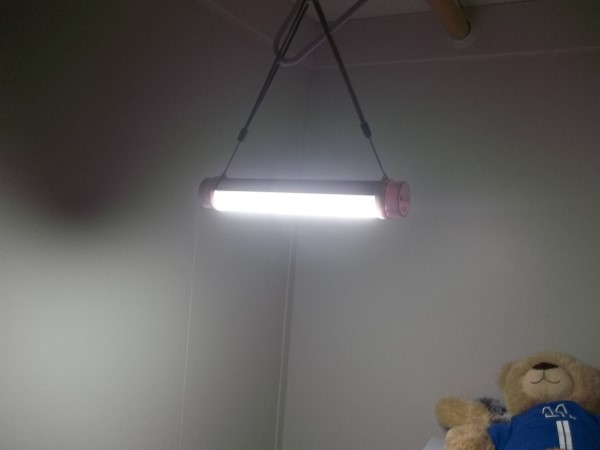 Some Concerns
I can say that I was at first concerned that the on/off button was so small and barely sticks out beyond the end of the light. After days of use this is no longer a concern as it's easier to push and cycle than I originally feared but I'd imagine that if you're in a hurry to turn on the light it's not the easiest of buttons to find simply by feel.
If for some reason a lanyard breaks the small attachment points are not wide enough to, for example, fish paracord though as a replacement. You would have to remove a single strand of paracord and fish that through. I can see why they made the eyelets so small (to keep them from snagging) but it would have been nice to somehow make them larger and/or include a folding attachment option to one or both ends. No big deal, just something I noticed.
It's not rated for getting wet, even in the rain. In fairness, none of the lanterns I own are rated for that. With that in mind, the OxyLED is put together in such a way as I would be surprised if it couldn't withstand a good amount of rain before giving out. I haven't tried it, that's just a guess.
Brightness
This is where the  OxyLED® Q6 Led Lamp / Lantern really "shines" through, if you will. I compared it to a few other lanterns that I have, including an inexpensive Dorcy Mini LED Lantern which runs on 4 AA batteries and is great for kids, the d.light LED Solar Area Lantern which is solar recharged, and the Rayovac Sportsman LED Lantern which runs on 3 D-cell batteries.
Overall, I was quite surprised at how bright even the dim setting was. In fact, it was as bright as the AA-cell Dorcy if not brighter (Dorcy is on left, OxyLED is on right):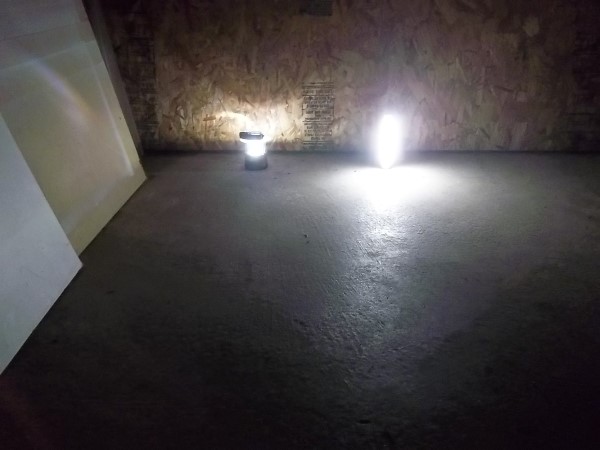 I did other comparisons, even comparing full brightness modes to the Rayvac D-cell (Rayovac is on the left, OxyLED on the right):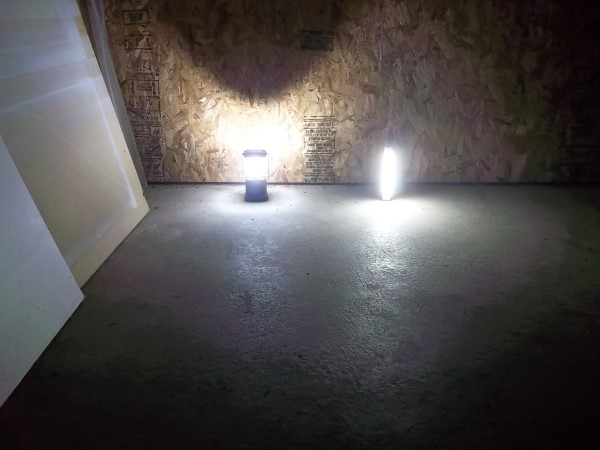 Granted, the OxyLED disperses light differently than a traditional lantern and I know it's a bit difficult to tell but I'd say the OxyLED might even have been brighter than the Rayovac. Technically, that's not true (the OxyLED is 200 lumens whereas the Rayvac is 240 lumens) but it sure seems that way. Beyond that, the OxyLED isn't going to last nearly as long as the Rayovac on a single charge but I was surprised at the brightness nonetheless.
Overall, I currently have no problem recommending an OxyLED® Q6 Led Lamp / Lantern to you for the price. It seems to be a well-built, compact, rechargeable light that I'll happily take camping and hiking time and again.