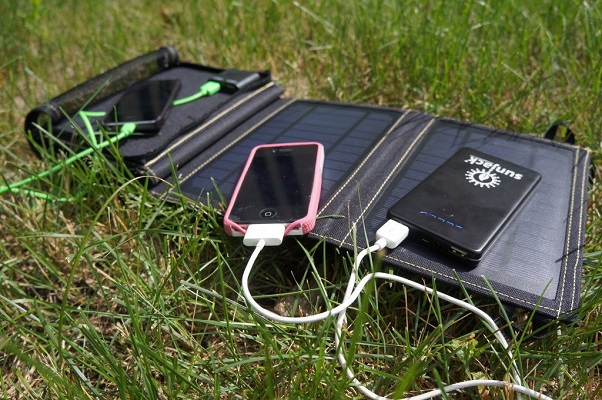 I was sent this SunJack Solar Charger not long ago for review along with the SunJack CampLight (sold separately).
Since then I had the opportunity to test out the SunJack Solar Charger (and CampLight) a bit since then I can say that I'm quite impressed.
Granted, I've never owned a portable solar panel like this one so this is coming from somebody who has no experience with a portable solar charger. I do, however, have some experience with solar panels.
The SunJack Solar Charger
FYI, here's some specs so you know what we're talking about:
The 14 Watt SunJack comes with an 8,000mAh battery with 2 amp output that gives you enough power to charge four iPhones after 5 hours in the sun
The battery can also charge from any standard micro-USB plug and can output
The SunJack is able to get more electrons flowing into the battery faster than any solar charger available
The battery also is able to take in a full 2 amp charge from the solar cells, and discharge a full 2 amps – which allows for very rapid energy storage unlike anything else available.
The efficiency ~19%, which is higher than average. Weight 2.3 lbs.
So you know, the SunJack solar charger is approximately the same length and width as an iPad but significantly thicker due to the four solar panels that get folded up inside the convenient carrying case. Here's a comparison of it to my iPad 2: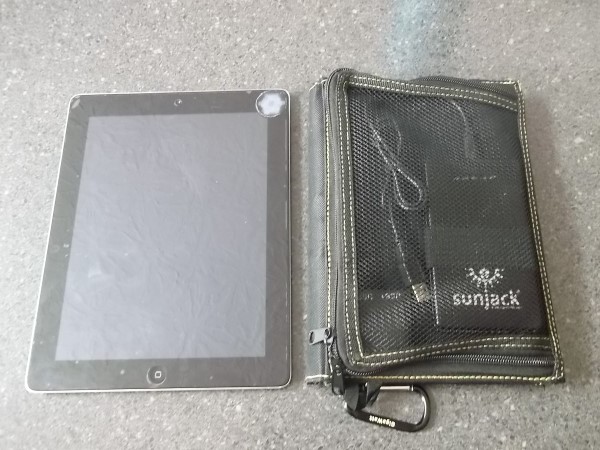 The first thing I was curious about was the CampLight so I decided to connect it straight to the battery without having bothered to charge it first. I let the CampLight run for almost 10 hours overnight and it was still going! I was surprised that it actually put out a decent amount of light, enough to illuminate our bedroom as shown below and plenty to read by if you're close enough (this is is near pitch black and with the camera flash off):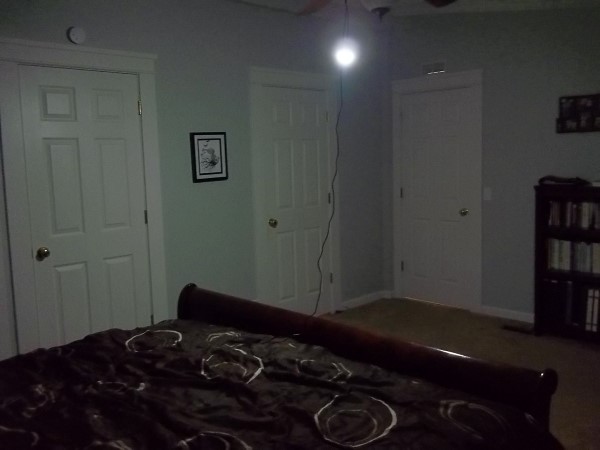 I should point out that I then tried to charge my iPhone after the ten hour CampLight experiment and was able to get a bit more juice out of the battery but it eventually died. No big deal. I then choose to try and charge it from my computer to see how that went… uhm, don't do that. It was SUPER slow!
I do want to quickly point out one slight annoyance and that's the provided cable that goes between the connection to the solar panels and the battery. As you can see from the photo below the cable is short, way too short if you ask me. I actually had to move the battery down from where it's supposed to be retained so I don't stress the connections: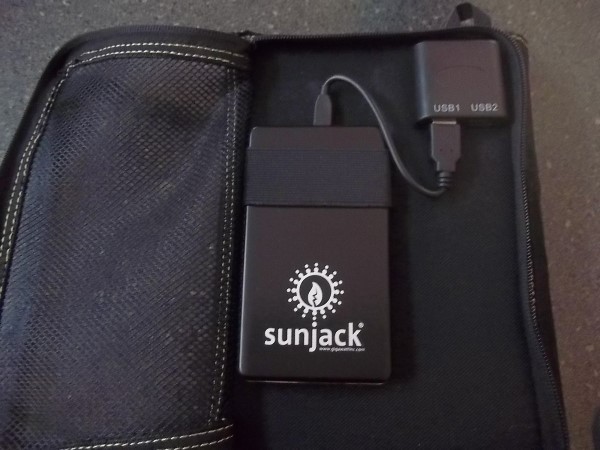 This was easily remedied by replacing the cable with a longer one and, of course, you don't have to keep the battery in the sleeve while charging but I like things nice and tidy. 😉
Anyway, the next day I wanted to know how well the panels worked to power my iPhone without using the battery and so I took the SunJack outside, strung it up on my deck railing with some paracord and the provided carabiners, connect my iPhone and streamed some music: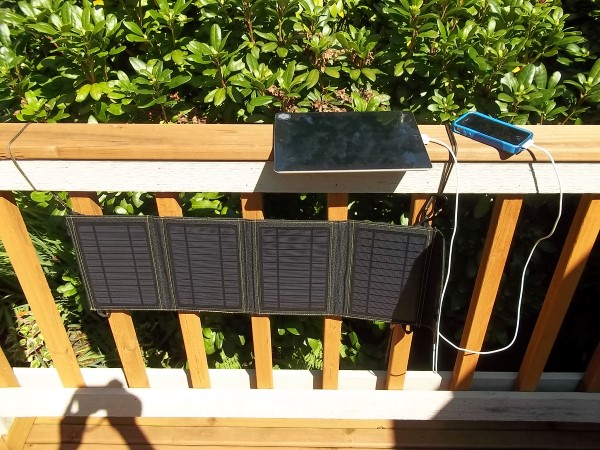 The SunJack solar charger worked like a champ and charged my phone fast. I then wanted to stress the panels and so I connected my iPad too and let them charge both at the same time. Because the iPad has a much larger battery the charging slowed down substantially but still managed to charge the iPhone and slowly charged the iPad but it probably would have taken all day to do so.
I think you can also charge the included battery while also running other equipment but I didn't bother to try that.
A few things to note that I haven't yet:
The SunJack panel comes with two USB outputs for charging more than one device at a time
The battery comes with two USB outputs as well but one output delivers 1 amp and the other delivers 2 amps (for charging things like tablets and iPads) which is a nice feature
The battery has approximate charge indicators with blue flashing lights and will blink two lights at a time when low on charge
The battery includes a small light that may keep you from tripping over your sneakers but not much more
I did notice that there are very similar portable solar panels such as this Anker 14W Solar Panel. The thing is that the Anker panel is about half the price of the SunJack panel but does NOT include a battery which is certainly necessary, in my opinion. That said, it wouldn't be a big deal to purchase a portable power bank such as this EasyAcc 10000mAh External Battery and include it with the Anker panel. For the cost you could purchase both the Anker and EasyAcc battery for less than $100 and have similar capabilities.
To be clear, I don't know if there are very serious technical or quality differences between the SunJack and Anker panels but they sure do look a lot alike.
Overall, I'm a fan of the SunJack Solar Charger.
As a camping/hiking portable power charger (and definitely as a bug out option) I like this charger a lot.
It's compact, not ridiculously heavy, charges fast, and has enough standby power to charge the devices I would need charged when on the move during a disaster.
Ultimately, I have no problem recommending the SunJack solar charger to you, though, I would research the possibility of combing the Anker Panel and EasyAcc Battery (or similar) as a lesser expensive option.