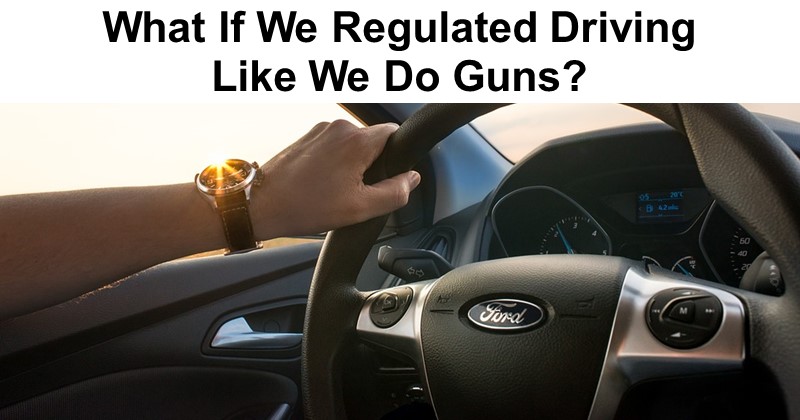 Yesterday I shared a brief video about Washington's I-1639 passing that seriously restricts gun ownership, and I clearly wasn't happy about it. I'm still not happy about it passing and, like the guy said in the video, most of the law won't directly impact me whatsoever. Regardless, it's still the wrong way to go but first…
Today I woke up at about 3 am still thinking about it… and still upset. Then, this morning I turn on the news to hear about another shooting, this time in a California bar.
What a shame. I simply don't understand what these shooters hope to gain by doing this; it must be the infamy of going out in a blaze of glory. Odds are this guy had mental problems that weren't properly dealt with, but only time will tell.
The thing is that we always seem to blame the gun for such deaths, but that's just not the case. Now, I'm hesitant to use the saying, "guns don't kill people, people kill people" but it's true.
Saying that guns kill people because they exist would be like saying that cars kill people because they exist. Literally. But we both know that's not true. Cars don't actually kill people… it's the driver's behind the wheel who do. There may be extenuating circumstances (such as poor road conditions) but it's still up to the driver to drive safely.
The statistics are staggering
According to these CDC stats, America averages between 30-40 thousand deaths by firearm (homicides and suicides combined) each year, give or take a few thousand, and it appears to be rising. I'll certainly agree that's a lot and the trend is moving in the wrong direction.
And if firearms didn't actually exist then, yes, these deaths in this manner would not have occurred. Would they have occurred in another way, say, with suicides? Well, Japan has very strict gun laws and a relatively high suicide rate… you do the math.
What about deaths on the road? Although motor vehicle fatalities were trending lower over the past decade, the trend seems to be on the rise again, totaling as many or more deaths per year as firearms at about 37,000 per year, according to Wikipedia.
Clearly, firearm deaths and motor vehicle deaths are not equal. People certainly use a vehicle in their daily lives far more than a firearm. I get that. But the fact still remains that as many or more people die from vehicle-related deaths as they do with guns.
And if we're truly interested in reducing preventable fatalities then we should consider all major causes of preventable death, including firearms, vehicles, drug overdoes (many of which are prescriptions and cause more deaths than either firearms or vehicles), and so on… but only firearms get vilified day in and day out.
Initiative 1639 highlights
So, what would it be like if we treated your car just like Washington state want's to treat guns?
Let's find out…
Washington Initiative 1639 includes quite a bit. Once enacted, the law would:
Raise age limits for purchasing certain firearms
Require waiting periods after purchasing a firearm
Impose additional fees when purchasing a firearm
Require proof of firearms safety training
Increase background checks before purchasing a firearm
Require firearms to be securely stored or disabled by use of trigger-locks
Require approval from local police or sheriff to own a firearm
I'm sure there's more in there that I missed, but these are the biggest problems I see. Now, on the surface, they sound reasonable enough. But, let's substitute the word "firearm" for the word "vehicle" and see how reasonable it would be if this were your car and your lifestyle that we're legislating…
Raise age limits for purchasing certain vehicles
One thing the initiative does is to raise the age limit on purchasing certain firearms from age 18 to 21: "This initiative would make it illegal for a person under 21 years of age to buy a pistol or semiautomatic assault rifle. It would make it illegal for any person to sell or transfer a semiautomatic assault rifle to a person under age 21."
What if we applied this same logic to a car? What if we said that a legal adult at age 18 couldn't buy a sports car, such as Ford Mustang, until they were age 21 because of the perceived risk a sports car brings? Would that be acceptable?
Or, better yet, why not say they can't buy a sports car until age 25 when insurance rates tend to drop even more? After all, young male drivers are known to be most at risk for making poor decisions behind the wheel, especially when speed is involved. A sports car surely makes it easier to speed, I can attest to that.
Why not apply the same logic to motorcycle purchases? After all, most motorcyclists I've seen on the road tend to speed or weave in and out of traffic, and they're certainly more at risk of dying from an accident than the driver of a vehicle.
Let's target SUV's while we're at it… most of "those people" drive poorly too, particularly in bad weather.
And if I kept trying I'm sure I could figure out how to target almost every car or group of drivers out there. Eventually nobody will be driving!
What about upper age limits?
Here's another take that's just going to upset quite a few people: what if we had an upper age limit on who can purchase–or even drive–certain vehicles?
What if, for instance, we said anyone who was retirement age couldn't purchase specific vehicles or, worse, once you hit age 70 (an arbitrary number I just made up) that you couldn't drive anymore?
Would you be fine with that? After all, older drivers may be just as much of a hazard on the road as the younger ones. Don't get mad at me, though, we're just trying to do everything we can to stay safe on the road!
Require waiting periods after purchasing a vehicle
Another requirement of I-1639 is to "…require a dealer to wait at least 10 days before delivering a semiautomatic assault rifle to a buyer." Of course, this could take much longer due to background check backlogs, lost paperwork, or who knows why.
What if we did the same thing with vehicles?
What if, instead of being able to drive off the new car lot with your shiny new sports car (now at age 25) you had to wait? Possibly for weeks? You wouldn't be very happy at all!
Now, what if we made everyone wait before they could take possession of any new car they buy, even from a private seller?
Dealerships wouldn't be very pleased, that's for sure. It kind of ruins their whole sales pitch and there may be a few "buyer's remorse" returns too. That may hurt the economy a bit.
Insurance companies may not be very happy either, especially if there's damage to a vehicle during the interim period where the dealer still holds a car due to the waiting period and when the owner takes possession. Though I'm sure they're figure out a way around that or, more likely, they'll charge you a "new vehicle holding" fee.
And, of course, new car owners won't be very happy either.
Impose additional fees when purchasing a vehicle
The initiative would also "…allow the state to impose a fee of up to $25 on each purchaser of a semiautomatic assault rifle. This fee would be used to offset certain costs of implementing the initiative. The fee would be adjusted for inflation."
Wait, we already impose new car fees, lol.
That's just more money for the state to grab and do whatever they want with. Granted, the fees probably wouldn't amount to very much, but it's still YOUR money that they're taking.
Require proof of vehicle safety training
The initiative states that: "Buyers would be required to provide proof that they have completed a recognized firearm safety training program within the past five years."
What if we made anyone who wants to purchase a new car show proof that they completed a vehicle safety course within the past five years? Would you want to take a safety course every five years? How quickly would this become redundant? After a handful of these safety courses you could probably teach the course yourself.
Firearms are no different; once you understand the basics of firearms safety and familiarize yourself with the firearm (assuming it's new to you) there really isn't much else you need to reeducate yourself about. Requiring proof of training every five years is just silly.
Increase background checks before purchasing a vehicle
Continuing their intrusive behavior: "Background check and record keeping requirements that currently apply only to the purchase of pistols would also apply to the purchase of semiautomatic assault rifles. The same requirements for collecting and maintaining information on purchases of pistols would apply to purchases of semiautomatic assault rifles."
What if dealerships were now required to pull your DMV record to determine if you were fit to drive? Would you be fine with that?
Granted, I know we have laws in place to revoke your driver's license if you've had too many violations (or specific ones such as a DUI) but what if we did the same thing before purchasing your next car? Who gets to decide precisely what makes you a bad driver? And how far back to they get to look? I know I'm a very different driver today than I was in my youth; I'd suspect you were too.
Require vehicles to be securely stored or disabled by use of trigger-locks
I-1639 continues: "The initiative would create new criminal offenses for the unsafe storage of a firearm if a person who cannot legally possess a firearm gets it and uses it in specified ways. These crimes would apply to a person who stores or leaves a firearm in a place where the person knows, or reasonably should know, that a prohibited person may gain access to the firearm."
Basically, it's saying that you, as a legal gun owner, are now responsible for the actions of another should your firearm be stolen (or taken without permission, such as by your child) and then commits a crime with your stolen gun if you failed to "reasonably" secure it.
So, what if we make the same requirement of your car? Should you be required to not only lock up your car each day at home, but to securely store it in some fashion? What about at work or while you're at the grocery store?
Maybe you're only required to "lock up" your keys. Would you be willing and able to do that each and every day, every time you use your car? And if you didn't, you could be charged with a felony in some cases!
In fact, just yesterday I heard about this 11 year old kid who stole his parent's car and led police on a high-speed chase. Fortunately, nobody was seriously injured and, while they're filing felony charges against the child in juvenile court, according to this law they may also be able to file felony charges against you in some cases when you had nothing to do with it. Is that fair to you?
What if, for instance, you locked up your keys in a gun safe like you're supposed to, but a thief stole the safe, eventually broke into it, subsequently stole your car, and ended up getting into a fatal accident? Are you responsible then? What's reasonable in this situation?
That said, the initiative does state that: "Those crimes would not apply if the firearm was in secure gun storage, meaning a locked box, gun safe, or other locked storage space that is designed to prevent unauthorized use or discharge of a firearm."
We'll see how long that wording stays in or how much wiggle room a prosecutor wants to apply to the law.
The initiative does attempt to clarify: "The crimes would not apply if the person who gets the firearm is ineligible to possess it because of age… [or] in cases of self-defense… [or] if the person who is ineligible to possess a firearm obtains it through unlawful entry, if the unauthorized access or theft is reported to law enforcement within five days of the time the victim knew or should have known that the firearm had been taken."
Right. Like I said, we'll see how judiciously such wording gets used and abused when there's an overzealous prosecutor or judge involved.
Require approval from local police or sheriff to own a vehicle
"Finally, the initiative would require [law enforcement] to verify that people who have acquired pistols or semiautomatic assault rifles remain eligible to possess a firearm under state and federal law… [and] to take steps to ensure that persons legally ineligible to possess firearms are not illegally in possession of firearms."
What if we did this with your car? What if authorities went so far as to track what car your're driving and were able to revoke your driver's license if they found out you were driving the wrong type of car for whatever reason?
Think this can't happen? Nearly everything can be tracked these days, especially with the use of smartphones, GPS, and other smart devices. If they wanted to track which car you're driving, they can figure it out.
Then it's just a matter of tracking you down physically and revoking your license… or maybe they'll just send you a text, lol.
Concluding thoughts
I get the purpose behind the law. I do. And on the surface it sounds like a good step towards solving the problem, but we always have to remember that criminals don't care about the law. Initiatives such as this really only hinder law-abiding citizens.
We also need to recognize that we already have laws in place to prevent or remove access to firearms from those who are most likely to harm themselves or others, specifically the mentally ill.
Of course, there's also the duty of gun owners to recognize situations where easy access to your firearms may be a bad idea. If, for instance, you have a teenager (especially a male teen) who is showing signs of depression, lock up your guns!
Statistics consistently show that suicides are the primary cause of death by firearms, year over year, and that firearms are the chosen tool here in America. We cannot ignore this fact. But it shouldn't be up to the government to tell us responsible gun owners how to act.
It's up to us to take the initiative (no pun intended) and to do the right thing where we can, and if that means locking up your firearms when you never have before because your teenage son is now moody little shit, then do it.
Bad things do happen, but they can happen a lot less if we, as law-abiding and responsible gun owners, take the initiative on our own… pun intended.