We finally ran out of the Method Toilet Bowl Cleaner that my wife likes and, for the most part, I've got no complaints…. especially since I avoid cleaning toilets whenever possible. 😉
FYI, here's what hiding in your commercially-made cleaners which should make most people want to make their own cleaners from now on.
Regardless, since I'd much prefer to make my own cleaners these days I went searching for a good recipe. Of course, I found plenty of options, from just plain white vinegar to various additions to it (such as baking soda or borax) and even ideas on how to use it, such as a daily "quick" cleaner using vinegar to letting the cleaner sit in the bowl overnight.
Needless to say, I was confused. So, I set off and tried a few recipes and settled upon a mixture of vinegar and borax.
I actually intended to use the squirt bottle from the Homemade Goo Gone Recipe from last week since I figured a typical spray bottle wouldn't work too well for spraying a toilet, especially under the lip. Sadly, the squirt bottle didn't work out so well because–I assume–the borax powder kept clogging up the squirt nozzle. Plus the borax and vinegar never mixed real well and separated if I let it sit for more than a minute. I wound up just removing the nozzle and dumping the entire contents into the toilet which worked OK but wasn't what I wanted.
But you know what seems to work the easiest of all?
The DIY Sink Scrub I made a few weeks ago: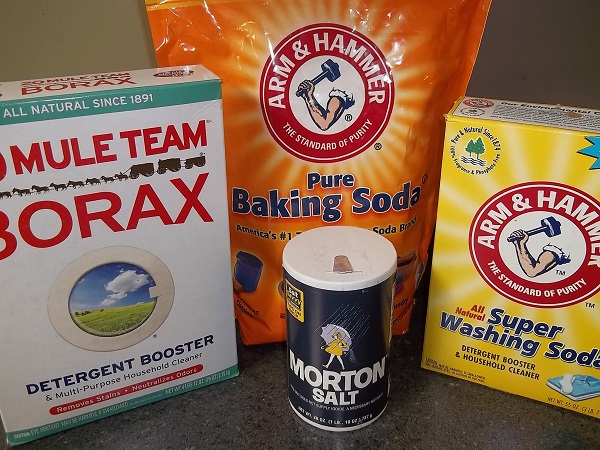 That sink scrub happens to contain two of the oft-mentioned ingredients that usually show up in DIY toilet bowl cleaner recipes and I figured it would work for scrubbing toilets too. Thus far it seems to work just fine but it's not like I scrub toilets very often. 🙂
To use: just sprinkle it into a wet toilet bowl (you can flush it first) or try squirting a bit of vinegar into the bowl first. Now scrub to your heart's content. That's it. Give it a shot and let me know what you think.