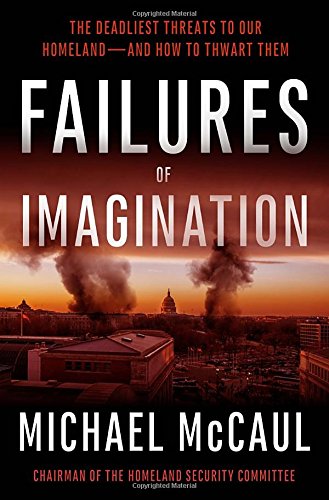 I was recently sent this book to review written by Congressman Michael McCaul titled Failures of Imagination: The Deadliest Threats to Our Homeland – And How to Thwart Them and I must, this was a good book!
Congressman McCaul also happens to be the Chairman of the House Homeland Security Committee and is, therefore, someone we should pay close attention to.
In fact, the author had a very interesting writing style and one that I appreciated quite a bit. That is, rather than being a good, yet monotone discussion of terrorism such as with the book Lights Out: A Cyberattack, A Nation Unprepared  by Ted Koppel that I recently read, this particular book was written to both entertain and educate and do so in a very unique way.
In fact, the author wrote the book as if it were eight separate short stories which kept the book fresh. Each chapter dealt with a new potential terrorist threat, from dirty bombs to mall shootings and more, I was intrigued with each turn of the page.
You see, Congressman McCaul starts each chapter as if it were a novel, delving right into the heart of the story and working right up to the specific attack considered. He often does so from several different perspectives, that is, from the terrorists themselves to those affected by the attack.
After the scenario presented, he provides an "After-Action Report to the President" which summarizes the aftermath of each attack, usually within a few pages, explaining what happened, how authorities believe the attack was carried out, death tolls, damages, and so on.
But he's not done…
What really makes the book stand out, in my opinion, is that he then goes on to discuss if this particular scenario could actually happen and, regrettably, he makes a very compelling case as to precisely how and why each attack could happen citing real world evidence and examples… it's a truly chilling and sobering reminder that we are, no doubt, still at war and will be for decades to come.
Last, each chapter then discusses from a high level perspective what we can do to stop such an attack. Obviously, he doesn't go into the minutia but offers several suggestions and recommendations regarding White House policy changes among other fixes we can and should make as a nation.
All in all, the book was good and, if I do say so myself, if his career ever goes belly-up in Congress he sure has a potential career as a novelist.
So, what does each chapter cover?
Here's the breakdown:
Chapter 1 – Unfinished Business: A Decapitation Strike at the U.S. Capitol
Chapter 2 – The Venezuelan Connection: Hezbollah Goes Radioactive on Our Southern Border
Chapter 3 – The Manchurian Campaign: China Plots to Buy the White House (Again)
Chapter 4 – Black Friday: Massacre at the Mall of America
Chapter 5 – Going Dark: Cyberstrike on the World's Financial Capital
Chapter 6 – The Threat We Can't See: Bioterror in the Magic Kingdom
Chapter 7 – Final Approach: Terror in the Skies of Los Angeles on Oscar Night
Chapter 8 – North Atlantic Storm: Russia Launches a New Cold War
I won't spoil the details of each chapter as you can get the idea reading each title; suffice it to say that six of the eight plots are focused on Islamic terrorism whereas the other two are plots from China and Russia.
The book actually made these terrorist threats real again and gave me a few more things to worry about at night. 🙁 Of course, it also offers hope… hope that we can thwart these threats to our great nation with vigilance and determination.
If you're looking for an entertaining read covering real-world threats, this book is a good one.
As for the giveaway, if you're interested in my hardcopy, please leave a useful comment below and after a few days I'll randomly pick a winner. I'll contact the winner by email and give them a day or two to respond… if I don't hear back I'll pick a new winner until I do get a response.
Thanks!