I decided to make a comprehensive list of the top survival gear and equipment for hiking, camping, and bug out survival. The list includes knives, axes, stoves, fire starters, water filters, flashlights, lanterns, backpacks, tools, multi-tools, tents, sleeping bags, emergency foods, and more. Enjoy!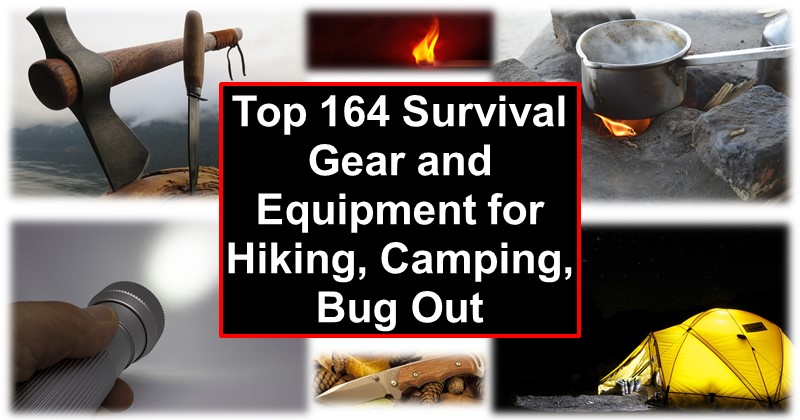 Top 12 Survival Knives
Survival knives are a popular choice among preppers, as well they should be. If you're looking for a solid survival knife, it's hard to beat the KA-BAR design. It's solid, sharp, been around forever, and well-priced. If you'd prefer a smaller knife to accompany it, the Morakniv Companion would be a great choice, or the Morakniv Bushcraft would work well too. Whatever you choose, a solid knife is a must-have for your bug out bag, which I would encourage you to assemble if you've yet to do so.
Top 10 Survival Axes
Although I'm a fan of the Trucker's Friend–it really is a neat survival tool–you won't find a better axe than the Fiskars Hatchet for the price. I've used mine for years to split kindling and I don't think I've had to really sharpen it yet! (Warning: be careful with using your axe after purchase as they can be odd to wield if you've never used one before and since they're very sharp can be quite dangerous to yourself and to others.)
Top 12 Survival Stoves
It's hard to go wrong with any of the survival stoves listed here as most are meant for backpacking, burn wood, and are reasonably priced; If you prefer, however, you can make your own survival stove. The Solo Stove, in any case, is a favorite of mine (and many other folks too) and if you choose the Solo Stove Combo you get a lightweight cooking pot too. If you prefer a lesser expensive option, try the Ohuhu Camping Stove (I've never tried it myself) or the Esbit Folding Stove as an emergency option.
Top 8 Fire Starters
Once you choose a backpacking stove you're going to need a reliable fire starter to go with it, and it's hard to beat a trusty ferro rod or even a magnesium fire starter, if you prefer. There are plenty of good choices below and, as much as it pains me to recommend because of it's namesake, the Gerber Bear Grylls Fire Starter is a good choice for the money. I would also suggest including the Credit Card Fresnel Lens 6-pack so you can include one in your wallet, purse, and bug out bags as an emergency option.
Top 10 Portable Survival Water Filters for Backpacking
Looking for the perfect backpacking survival water filter? Then it's hard to beat the LifeStraw Personal Water Filter for the money. Plus, it's lightweight, reliable, and very easy to use. The Sawyer Mini or Katadyn Pocket Water Filter would both be a great backpacking filters for longer-term "on the go" use, especially the Sawyer Mini for the money (I've got one and it works quite well).

Top 7 Gravity Water Filters
Berkey Water Filters are, IMHO, the best gravity water filters for long-term use, hands-down. I've got a Berkey and it's wonderful! (If you'd like to know the differences between the Berkey water filters, read my post on the topic.) And if you'd like something a bit more portable but still able to filter quite a bit of water in an hour, try the LifeStraw Mission Water Purification System.
Top 12 Survival Flashlights
Survival flashlights seem to be everywhere these days, and for good reason: you need to be able to see! Besides, LED technology has slashed their costs over the years, made them brighter, and smaller too. But, which to choose? Below I've compiled the best flashlights on Amazon, including my person favorite the Maglite LED 3-Cell (which not only acts as a strong flashlight but also as an improvised weapon) as well as smaller pocket-sized flashlights such as the Mikafen 5 Pack Mini Flashlights which you should include in your EDC or bug out bag. I've even included two keychain-sized flashlights, the OLight i3E and Streamlight Nano (which I own and like). FYI, I also included at least two hand-crank flashlights which are another option, though, they surely shouldn't be your first choice.
Top 13 Survival Lanterns
Lanterns, like survival flashlights, are becoming bright, more efficient, and cheaper thanks to LED technology. Also as with flashlights, I prefer to have a variety of lanterns, such as the Supernova LED Lantern and 4-Pack Camping Lanterns for the price (they're also collapsible). And if you have propane and/or kerosene fuel (which you should) then you should include a Coleman Propane Lantern or other dual-fuel lantern.
Top 14 Survival Backpacks for Bug Out
To get your bug out bag in proper order you're going to need a quality bag to put it all in. Fortunately, there are many survival backpacks to choose from, many of which are very good for an emergency situation; however, you really need to spend some time trying bags on see which fit well and what you prefer (not to mention how much gear you can fit inside). As such, I wouldn't recommend buying a bag sight-unseen. If you really must have something now, I would suggest a Maxpedition bag (there are many besides these) or, for the price, the Hannibal MOLLE, though I personally haven't tried that one on myself.
Top 18 Survival Tools and Multi-tools
I just love survival tools and multi-tools, especially my trusty Leatherman Wave; it's a gem of an EDC-tool that keeps on giving! I've also included a few popular–yet similar–multi-tools for comparison, a handful of muti-functional hatchets (like the 13-in-1 Camping Tool), a few pocket or wallet EDC tools (the Victorinox Swisscard would be a good choice), shovels, two pocket-sized survival kits, and even a Ka-Bar Tactical Spork. Yeah, you read that right… a spork with a tactical knife in the handle which I just bought for myself, lol.
Top 10 Survival Tents for Bug Out
Below you'll find ten of the top rated survival tents for backpacking or, for our purposes, bug out survival. Each one is a traditional two-person tent, so they should be able to work with your bag (check dimensions and reviews just to be sure.) And, although I'm not a huge fan of including a tent in your bug out bag, I understand that some folks prefer doing so. If that's you, choose a good quality tent by a well-known manufacturer, such as The North Face Stormbreaker or Kelty Salida. If you need to save money–I honestly wouldn't skimp on a quality tent though–then the Coleman Dome tent may be the best option for the price.
Top 8 Emergency Shelters
While tents are great for camping and sometimes for hiking, I tend to prefer smaller, lighter-weight options for my bug out bag gear, which I explain in the book. As such, the following emergency shelters may be a better choice, particularly the Eagles Nest Rain Tarp or Eagles Nest Hammock, as you prefer. At the very least, I would encourage you to include a true "emergency" shelter, such as the AMK Heatsheets or, better yet, the emergency bivvy as a backup or additional shelter.
Top 12 Sleeping Bags + Top 5 Sleeping Pads
Sleeping bags, like tents, are not something to skimp on. Invest in a quality bag, like the Kelty Tuck or Marmot Voyager. You'll want to pay attention to their rating (e.g., 3 or 4 season or degrees) and, of course, decide whether you prefer a dreaded (to me, anyway) "mummy-style" sleeping bag or not; they're not THAT bad, I just don't like being confined. Remember, you'll also want a quality sleeping pad to go with it!
Top 12 Survival Food for Bug Out and At-Home Preparedness
Survival food should be a top priority. Fortunately, if you don't want to learn how to procure your own food there are many options to choose from these days, from MREs to freeze dried foods, you're sure to find food that works for you and your situation. For starters, I would suggest you get something for your bug out bag; this could be something like the Datrex Food Rations or SOS Food Bars or it could be smaller freeze-dried meals. You're also going to want something that lasts for at-home preparedness; MREs are sometimes a good option (depends on what meals you get) or the Mountain House Food Supply Kit would be a great first choice. Buckets of food by other manufacturers will give you a variety of foods to choose from as well, so don't count them out.
Top 6 Survival Food-Related Equipment for At-Home Preparedness
Following are a few more survival food-related equipment that you should consider if you're wanting to get prepared for longer-term emergencies. I would, however, caution you before buying any of the following UNTIL you know that you will use them due to their cost and because most items serve a very specific purpose. Perhaps the one item I will recommend due to it's overall usefulness beyond storing foods is the Foodsaver Vacuum Sealer since it can be used to protect a variety of items from moisture (e.g., matches, clothes, documents, etc.) for bug out and  more.