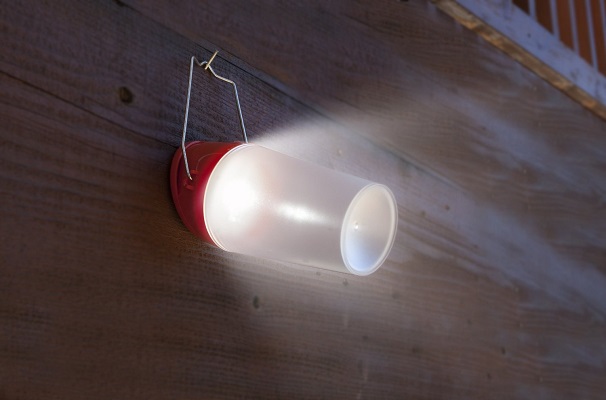 This D.Light Solar Lantern (the d.Light S20 Lantern to be specific) was brought to my attention by the Rev. Dr. Harris who occasionally comments here. I was intrigued so I recently ordered one but haven't had it long enough to thoroughly review the light. That said, I still wanted to point it out here today. According to the dLightDesign.com website:
The d.light S20 provides 8 hours of light on a full battery and uses proprietary, highly efficient LEDs. It provides 360-degree space lighting for any environment or focused light for studying, working, or cooking.
The d.light S20 is designed to be extremely user-friendly and flexible. It has a detachable handle and includes an integrated solar panel that makes recharging simple and easy. The S20 can be carried, hung or placed on any surface to effectively illuminate the surrounding area.
A highly efficient solar panel is conveniently integrated into the d.light S20 to make solar charging simple and easy. The S20 can also be charged from a USB source using the USB cable or a standard Nokia AC charger.
The d.light S20 is designed as a replacement for the kerosene lantern for a rural off-grid household. Its familiar lantern-like shape makes it easy for our customers to use and eliminates the need to purchase kerosene for light.
I should point out that it is fairly lightweight and I thought it would be too top-heavy but seems to stand well on a flat surface. Even though the handle is removeable it stays in place well, though, I'm not quite sure why I would ever want to remove the handle.
I also noticed that the light doesn't come with any instructions. That's not really a big deal since it's relatively straightforward to use and charge, however, I'm not quite sure how long it's supposed to take to recharge either via the provided USB cable (connected to a computer) or via the sun. Regardless, I'm going to take it camping in a month or two for a real test.
At first glance, this d.Light S20 seems to be a quality solar powered lantern option and at less than $20, one or two won't set you back if you want to try it yourself. The best part is that the S20 doesn't require you to have gallons upon gallons of fuel stored, to stockpile batteries, or even to have the ability to recharge AA or AAA batteries, though, you should work towards this capability regardless. And, since it's solar-powered it's young-kid-friendly too.