Microwaves, toaster ovens, stovetops and air fryers are all wonderful amenities that we enjoy thanks to the wonder of technology. Sometimes, though, you have to take it old-school. For the right meal, there's nothing better than cooking over an open flame.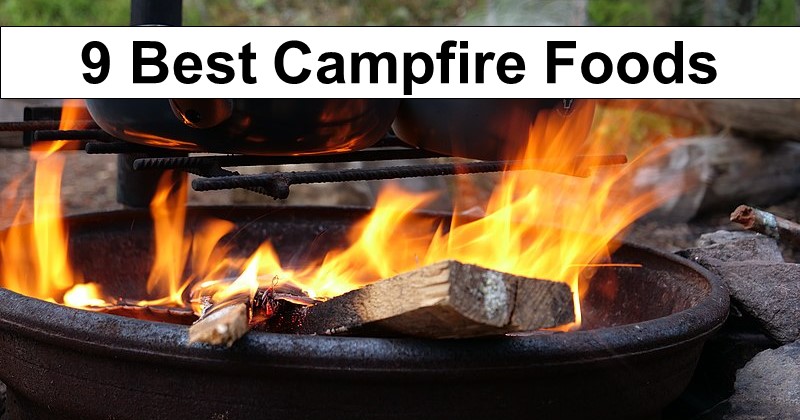 You've probably been to a restaurant that specializes in wood-fired pizza or other dishes cooked using this method. Even though new methods have made for fast and efficient cooking regimes, there's still plenty to know about cooking over a fire.
You can cook over a fire at a campsite using a simple stove or spit, or get fancy and use an oven made of brick or clay. Small changes in the type of fuel used, the heat of the fire and cooking apparatus can impact how the final product tastes. Try cooking these meals over an open flame to experiment with smoky flavors.
1. Kebabs
When you think about cooking things over a fire, meats often come to mind — hot dogs, steaks, jerk chicken. But you can one-up the occasional New York steak or dry chicken breast you accustomed yourself to. Kebabs combine the flavor of fresh veggies with your protein of choice, and you receive the added fun of skewering them up.
Equally as tasty when cooked over a backyard barbecue or with friends over an open campfire, you can customize kebabs to your liking. You can easily cook them with steak, chicken, pork or seafood. Add extra flavor by marinating your protein ahead of time, or use recipes for pre-planned fruits and veggies to achieve a nice harmony of flavors to compliment your meat. Remember to consider cooking time — less dense protein like shrimp and salmon will pair well with softer, fast-cooking company.
When you achieve true kebab mastery, you'll find you can get creative with different veggies and proteins, even when making a quick-cooking protein like fish. The trick is to slice your denser kebab components more thinly. This will allow them to cook at the same rate as thicker cuts of less dense fruits, veggies and protein. So for example, you could do a Polynesian-inspired kebab with thinly cut steak, bell pepper slices, shrimp and thick-cut pineapple.
2. Meats of All Kinds
While we started with kebabs, you naturally can't talk about cooking things over an open flame without talking about cooking all the meats. Steak, chicken, pork, lamb and fish also taste great when cooked effectively over an open flame. If you're reading this, you're probably no stranger to the delicious flavor of a rib-eye or filet cooked over a charcoal grill. Making meat over a fire is a part of any basic cooking repertoire for many, but you can get more creative.
Bacon cooked on a skewer over an open flame tastes amazing, and since it comes neatly packed in plastic, you can carry your bacon with you to a camping cookout or bonfire on the beach. There are many ways to plan a red-meat meal that diverts from the oh-so-traditional steak cooked on a barbecue. A camp stove is just a grated metal separator that you can place over an open flame to make beautifully charred meats.
3. Hot Dogs, Sausages and More
We can't go on without discussing hot dogs. While some people look down on these tube-shaped protein-pops, hot dogs and their upper-class cousins, sausages, are wonderful when cooked over an open fire. For a more authentic flavor, avoid the health-conscious stuff like turkey dogs and go for all-beef dogs with a little more fat. Of course, toppings are a very personal decision — ketchup, mustard and sour relish comprise America's three most popular toppings. It's likely you've seen more creative toppings such as chili, mayonnaise and cheese.
If you enjoy the easy-to-eat nature of hot dogs but want a bolder flavor and a little more provenance, it's time to go with some sausage. Artisan-made sausage can be found everywhere from your organic grocer to the butcher shop to the local farmer's market. Flavors run the gamut from spicy Italian to classic Andouille to sweeter flavors like chicken apple. Serve 'em up on their own, sliced with vegetables and rice, or on a bun.
Don't forget that whenever a bun is involved, you'll enjoy your meal more by brushing it with some butter or oil and allowing it to crisp up on the grill for a couple of minutes. For extra credit, get out the pastry rolls and make some flame-grilled pigs-in-a-blanket.
4. Baked (er, Grilled) Potatoes
Cooked over an open flame, these easy-to-make spuds are a wonderful side dish for all sorts of meals. Plus, they're easy to package and keep for a few days in foil, which means you can take pre-wrapped potatoes with you on the trail for a campfire meal that's a lot more authentic than eating something freeze-dried out of a bag. Here's what to do.
Prepare your potatoes ahead of time by slicing them most of the way in half. Add your seasonings — salt, pepper and any dried seasoning will keep, as will butter in all but the warmest climates. However, don't add fresh vegetables or bacon bits unless you'll cook these the same day. Poke holes in the potatoes for steam to escape, and then wrap in two layers of tin foil. Cook for about 10 minutes and then flip and cook for another 10 minutes before allowing them to cool.
You'll need a small camp stove to cook them on, but otherwise these spuds are a snap. As an easy alternative to seasoning ahead of time, feel free to pack your potato toppings in separately if you don't need to be weight-conscious.
The pre-made tinfoil pouch method is effective for a number of campfire foods and backpacking meals. Those who frequently spend nights on the trail will often use this method to avoid the weirdness and salt-heavy flavors of freeze-dried rations. Camp food doesn't have to be boring.
5. Corn On the Cob
Here's another easy vegetable side dish that takes on wonderful flavor when cooked over an open flame. Making corn on the cob this way is probably easier than boiling it, and much more flavorful!
Begin by removing the husks and silks from your corn. Rinse the corn and allow a little of the moisture to remain on it to steam the corn slightly while cooking. Add salt, pepper, butter and wrap in two layers of tinfoil. You can then set the wrapped ears of corn in the hot coals of the fire. You'll want to arrange some embers so you're not reaching right into the open flame to retrieve your corn, and we recommend using tongs not your bare hands. Don't burn yourself and remember to use safety measures.
Once it cools, you'll have a sweet, crunchy camp treat that goes well with all sorts of other dishes. That was easy, wasn't it!
6. Marshmallows
Another camping classic here. Yes, the natural tendency is to think of s'mores when you talk about making marshmallows over a fire but you can find other uses for them too. Come to think of it, they're pretty darn good just toasted off of a stick, or a more sanitary, food-grade steel skewer. Unless you're one of those twisted people who enjoy "blackened mallow." To each their own.
Toasted 'mallows are of course the critical ingredient in a quality s'more, and you can find square marshmallows that are made specifically for use in this type of applications. Many variations on the standard s'more make it fun to experiment. For example, you might use an exotic type of chocolate, add peanut butter, or get truly gourmet and break out the bacon. Because who doesn't like bacon with, well, everything?
Don't forget to use your 'mallows as topping for hot cocoa as well, or even as topping for a campfire berry cobbler or another dessert. They're not just a one-trick pony!
7. Muffins
Yes, you can make muffins over an open flame. No, they won't taste like wood fire pizza as long as you pay attention to the type of wood you use to create your fire — different woods allude to different flavorings.
Unless car camping, this recipe would be difficult to pull off when backpacking, but these muffins can still make a great treat for a backyard barbecue and put a new spin on a classic dessert or breakfast food depending on the time of day.
Starting with whole oranges, you'll use the peels as your Muffin molds. Slice the oranges in half and scoop out the flesh. Prepare your muffin mix according to the instructions on the package and then add the mix into the orange peel muffin molds. Wrap the filled orange peels with heavy-duty foil wrapping, leaving a little space for your mix to expand on the top side of the molds.
Set the wrapped molds into a hot section of coals and allow them to bake for 6-10 minutes, occasionally checking to see how they rise. After allowing another 10 minutes or so to cool, unwrap and enjoy hot, fresh campfire muffins!
8. Pizza
For a wood-fired pizza experience that saves money and offers a much more authentic setting, skip the restaurant. You can do it with a shallow Dutch oven type stove or a pizza stone. Begin by preparing the dough or bring your dough pre-made. Note that it's easy enough to make the dough in about 20 minutes using a pot, flour, water and rapid yeast.
To achieve the right combination of crispy and doughy texture, you need to shape your pizza dough into your cast iron skillet before putting it on heat. Add some flour so you can flip the dough when the time comes and then press the ball of dough into the shape of the skillet. Once you have a nice even coverage you can place the skillet over the heat and allow it to begin to cook.
The bottom of the dough will become the top of your pizza, so it only needs to cook a few minutes to where it is lightly browned and won't stick to the skillet. Using a broad spatula, flip the dough and add your sauce and toppings. You should have a way to cover your pizza to cook the toppings thoroughly, but if your recipe calls for cheese it's best to only cook the pizza part way through with the top on, otherwise you could end up with a soggy mess instead of the crisp, browned cheesy top you want.
You can remove the pizza from the heat, slice it and serve it right from the skillet. You'll never look at overpriced wood fire pizza the same again now, will you?
9. Canned Pasta
We're not afraid to go there. Sometimes, when you've been on the trail all day and don't want to cook, it's time to get out the beef-a-roni. Similar to other recipes we've covered, cooking over an open flame involves potential safety hazards. In this case, contents under extreme pressure. Do yourself a favor and use a can opener to poke some ventilation holes. Make sure they're located at the top of the can, or your dinner will end up in the fire. Failure to do this can result in pasta explosion and potential third-degree burns.
Okay so making canned ravioli over a fire isn't super complicated but get yourself a grill plate or a least a good stick to move your meal out of the coals when the label has burnt most of the way off. And again, please use safety measures.
Time to Get Cooking
With so many meal options for cooking over an open fire, how can you narrow the list? After you cruise through this list, seek out other open fire cooking recipes as well. You should be pleasantly surprised at how easy it is to cook each of these dishes on the trail or in the backyard.
What's your favorite open-fire dish? Leave a note in the comments!
Note: This was a guest post.
[Amazon Affiliate Disclosure: As an Amazon Associate I earn from qualifying purchases. FTC Disclaimer: I get commissions for purchases made through links in this post.]